A friend of mine that is new to Macs couldn't figure out how to get a CD to eject from the Mac Superdrive, after some frustration he complained that his MacBook doesn't have the paperclip hole like PC to forcibly eject a disc from the superdrive. The Mac doesn't have an external eject button on its CD/DVD drive. Instead, it offers several options for ejecting a CD or DVD. Most of the eject options are for routine day-to-day use.
The standard method
When a disc won't eject from your Mac, try the following: 1) Press and hold the Eject key, 2) Right-click on the disc icon on the Desktop and select "Eject" from the menu, 3) Drag the disc icon to the Trash.
Disk Utility
Launch Disk Utility (Applications > Utilities) and select the troublesome CD or DVD in the sidebar. Click the Eject button at the top of the window.
EaseUS CleanGenius
Use EaseUS CleanGenius to eject the device. The device which can be ejected is marked as small triangle button, click the button and the device will be ejected if it is not being used by other applications.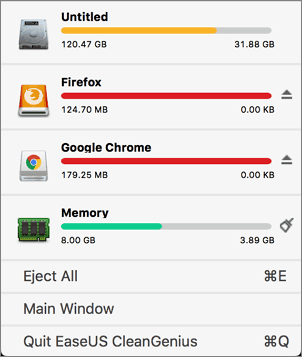 Terminal command
Launch Terminal (Applications > Utilities) and copy the following command: drutil eject
Mouse/Trackpad button
Restart your Mac and hold down the left mouse button (or trackpad if you have a laptop) as it boots up. Keep pressing it until the login screen or desktop displays.
Tilt and shake
Pick up your Mac laptop and tilt it so the CD/DVD drive is pointing downwards. Restart and hold the Eject key down while gently shaking the computer up and down.
The self-fixing Mac
Shut down your Mac, turn it back on, and let it sit for 10-15 minutes. Make sure the power cord is plugged in as you do this and the disc just might pop out on its own.