The following are some tips to free up Mac disk space and you can employ any of the following tips to increase the free space available on your Mac OS X startup disk without altering your hardware.
Empty the Trash
Trash under Mac OS X is just like the Recycle bin under Windows OS. For Apple users, most of them just drag those useless files to the transh and forget to empty the Trash. Day after day, files in the Trash have been piled up and taken great space for Mac disk. In Finder, select Finder > Empty Trash or, under Mac OS X 10.7 or later, you can also select Finder > Secure Empty Trash.
Do not use the Trash as a temporary storage area: only put an object in the Trash if you are sure it is no longer needed.
Some applications, such as iPhoto and Mail, have their own Trash, spearate from the Trash seen in the Dock. Emptying the application's Trash may delete its contents immediately or move its contents to your personal Trash, which you can then empty as noted above.
Archive old files
Archive - move, copy and delete, or backup and remove - files you do not use regularly to CD or another backup medium.
If you have not done so already, this is an excellent time to consider implementing a comprehensive backup and recovery solution.
Mac OS X 10.7 Lion and later include a built-in function for creating compressed archives of files or folders. These archives are generally far smaller than the original files they contain, provided the original is not already in a compressed format.
Uninstall unused applications
If your Macintosh HD > Applications folder is cluttered with applications you are no longer using or trial software that shipped with your Mac that you do not intend to use, then uninstall them.
Delete old iTunes Library file backups
Recent versions of iTunes create a backup of your current iTunes Library file whenever the iTunes application is updated. After you are satisfied that an iTunes update is performing nominally, trash old iTunes Library files with your Home > Music > Previous iTunes Library folder, then empty the Trash.
There are other more ways that can greatly free up disk space. If you want to do this all in once, I mean quickly remove those useless files with a click. You can use disk space free up utility – EaseUS CleanGenius software to do this. It also has app uninstall function.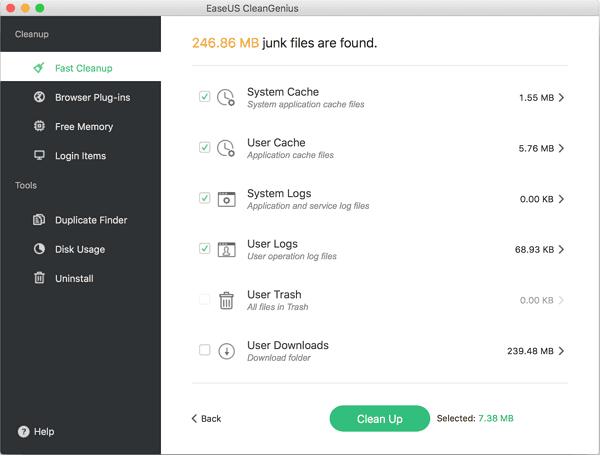 .