Your Mac is running slow? Then you need to get a PC cleaner for your Mac! We recommend you to use EaseUS CleanGenius. This pc cleaner utility will find and safely delete any useless files and uninstall useless applications. It will fix the Mac slow issue and solve many other Mac-related problems.
Free up disk space
Why is your Mac running slow? One of the reasons is hard drive cluttered with junk files and useless applications which will be started automatically. With EaseUS CleanGenius you can safely remove all of junk files and uninstall the useless applications.
How to clean your Mac?
EaseUS CleanGenius's Fast Cleanup tool will perform instant full system cleanup, being an ideal slow Mac solution.
Clean up caches and logs: As a result of active use Mac apps create caches and log files that store specific data needed by these apps. This may also result in Mac slow. You should remove caches and log files from time to time to avoid hard drive cluttering.
Empty trash and downloads: Some files will be stored in the user trash after you delete them. It means that they are not deleted completely. It also occupies the disk space on your Mac. Since the downloaded files and applications will be stored in user downloads folder. So, it will occupy many of the disk space. You can clean up them to free disk space.
Uninstall application: Some useless applications will be started automatically when your Mac is on which will make your Mac slow. Besides, some of the applications cannot be deleted completely by dragging it to trash. Then, you should use CleanGenius to uninstall it.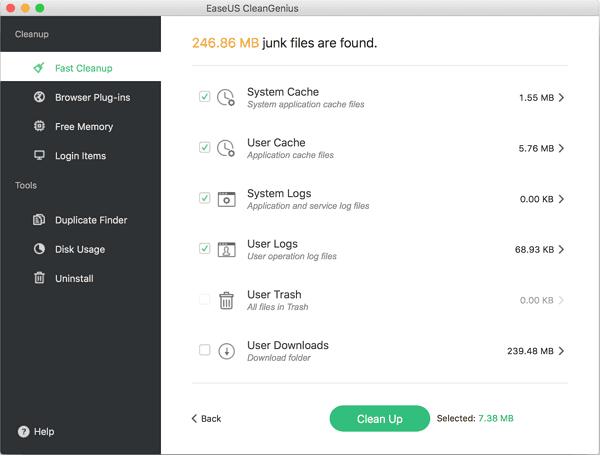 Other features of CleanGenius:
Disk Space Monitor: Show disk space available, monitor disk space usage and alert you in advance when the disk space is low. Then, you can react to clean or move files in advance, keep your Mac running smoothly.
Disk Ejector: Safely eject your mounted drives, such as External storage disks, CD and DVD disks, SuperDrive, network storage, disk images.
Browser Plug-ins Cleanup: Support to clean up and remove browsers such as Safari, Chrome or Firefox plug-ins, cache and cookies. Your browsing histories, bookmarks and downloaded files won't be cleaned.