"Hi, everyone I need to clean out my Mac, it is getting slower and slower, so I need a cleaning app which gets rid of all the junk on my Mac. short for money so need it to be free or really cheap. I was looking a MacKeeper that is great but too expensive for now. Any alternative for Mac cleaner?"
This is a typical example from the forums. In the Market, there is few freeware which can clean your Mac. Some app is great but too expensive, like MacKeeper, the other is cheap but has limited features. So it is important to look for a professional Mac cleaner.
Mac doesn't have a Registry so doesn't accumulate Junk like PC does. Usually slowing performance indicates less than 10% hard disk space free which slows down memory usage (Swap File). To keep your Mac running smoothly and efficiently, freeing up disk space is imperative.
EaseUS CleanGenius is an easy-to-use and Mac cleaner software
It can remove useless files and applications to free up more disk space for Mac OS X 10.7 or higher. Following is its features:
Fast clean up your Mac: Free up disk space and keep your Mac in health. Just by one click, the system caches, user caches, system logs, user logs, user Downloads, Trash, Safari internet cache and more will be removed in seconds.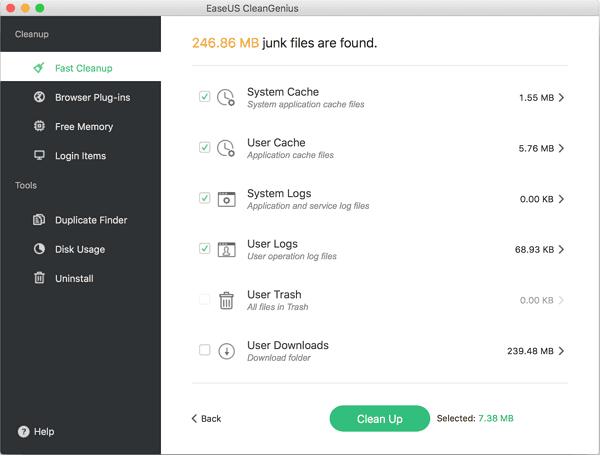 App uninstaller: App uninstaller lets you remove unwanted or unused applications completely. When you drag an application to the Trash bin, it will leave behind the leftover, such as preferences, cache and log files, they still remain on your drive and waste precious disk space. That is why to remove the applications completely.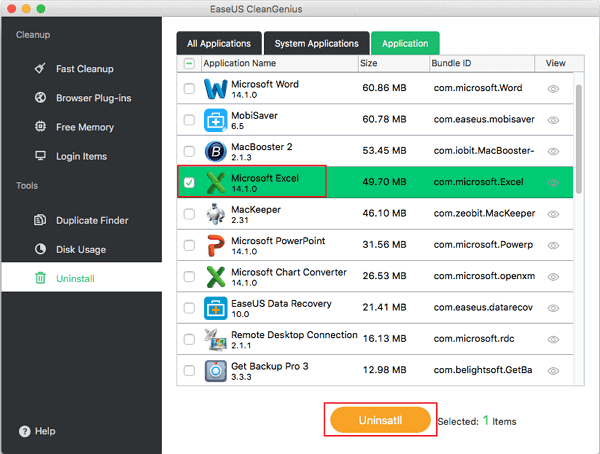 Disk Space Monitor: Show disk space available and alert you in advance when the disk space is low. Then, you can react to clean or move files in advance, keep your Mac running smoothly.
Disk Ejector: Safely eject your mounted drives, such as External storage disks, CD and DVD disks, SuperDrive, network storage, disk images.
Browser Plug-ins Cleanup: Support to clean up and remove browsers such as Safari, Chrome or Firefox plug-ins, cache and cookies. Your browsing histories, bookmarks and downloaded files won't be cleaned.
Since the EaseUS CleanGenius released, it has received high reviews from the users and editors. See reviews of EaseUS CleanGenius...
What are you waiting for? Download this Mac cleaner software to get a quick clean Mac in seconds.