The MacBook Pro is a line of Macintosh portable computers introduced in January 2006 by Apple. It replaced the PowerBook G4 and was the second model, after the iMac, to be announced in the Apple–Intel transition. The MacBook Pro is the high end of the MacBook family and is currently produced with 13-inch, 15-inch and 17-inch screens.
After long time use, your hard drive would eventually be filled up with system caches, user caches, system logs, user logs, Trash, Safari Internet cache and so on, your MacBook Pro would get slower and slower. To boost the MacBook's speed and improve its system performance, you have to clean your MacBook Pro.
Although Apple's product is awesome and totally different, you still can't get rid of this problem. I would say it is not the best approach to deal with this problem if you are thinking about using manual ways to eliminate these files, you are left with a huge burden and this means more work on your part. If you are not familiar with correcting any issues with your MacBook Pro, don't make it look more complicated than it already has. To prevent this scenario, you may need professional Mac cleaner software that will clear thing automatically.
Professional Mac cleaner software automatically clear Mac up
EaseUS CleanGenius is a Mac cleaner software for Mac OS X 10.7 or higher. Fast clean your Mac by removing junk files, such as system caches, system logs, user caches, user logs, trash, user download folder, Safari Internet cache, etc. Monitor free space of hard drive and alarm you with a red alert when disk space is running low so that you can clean your Mac to free up disk space in time to ensure your Mac works smoothly and efficiently.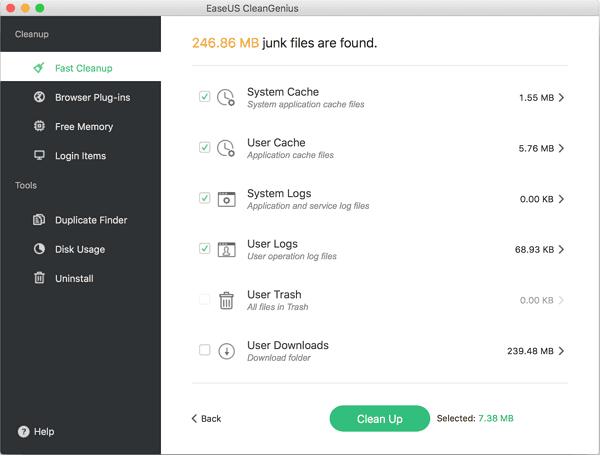 Editor reviewed EaseUS CleanGenius: "You can speed up your Mac computer by performing simple maintenance. Unfortunately, there isn't a fast and efficient way to do this natively in OS X. CleanGenius is a great all-in-one Mac cleanup utility that can clean junk files with one-click and is the easiest way we've found to keep your Mac clean and running smoothly with the performance you expect."