After a long time use, your hard drive would eventually be filled up with system caches, user caches, system logs, user logs, trash, and safari Internet cache and so on, your Macbook would get slower and slower. To boost the Macbook's speed and improve its system performance, you have to clean your Macbook.
If you want to clean your Macbook manually, some of system caches are not so easy to be located and if you are not an expert for the Mac, you even can't recognize system crashes, Internet cache as well as system logs. That 's why here I am talking about Macbook cleanup software, with which you can quickly find those junk files that slow your Mac and quickly get them removed with simple clicks.
The free Macbook cleanup software I find useful to all Mac users
Today, amazing news is that I that I find EaseUS CleanGenius. As Mac cleanup utility, it is remarkable and innovative. The highlight of this cleanup software is that can certainly help you clean the junk files, such as system caches, system logs, user caches, user logs, user download folder, trash, safari Internet cache, etc. And there are additional features it offers:
Monitor your disk space - show you how much space is available on your drives both in graphic & digital manner and alarm you when your disk space is low.
Safely eject any individual connected drive, such as external storage disks, CD and DVD disks, SuperDrive.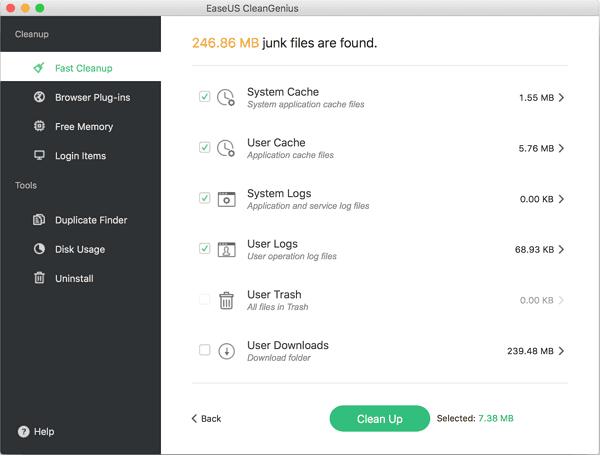 Editor reviewed EaseUS CleanGenius: "CleanGenius is not just a junk file cleaner. There are other several options that make it a must have for every Mac user. The disk space monitor lets you monitor the amount of disk space being used and left."
With the help of EaseUS CleanGenius, your Macbook's junk files will be removed in seconds. What are you waiting for? Just have a try, it is worth of having this software.