Getting frustrated with your slow Mac Mini? Tried to uninstall useless apps, empty the trash, and delete large files, but still it doesn't help? Get a universal cleaning software for your Mac that combines a set of helpful cleanup utilities is a better choice for the situation. EaseUS CleanGenius, the handy Mac Mini cleaner with its simple operation of clean up Macintosh system, can perform Mac scan searching its hard drive for files that take up space within seconds, and you'll be surprised with the amount of junk detected. One single click on Clean will remove all unnecessary files, and you'll get a clean Mac as if it was brand new!
Why use CleanGenius as Mac Mini cleaner?
The main advantage of EaseUS CleanGenius over other software apps is its simple concept. You won't need to install and run numerous apps - you'll have to install only one app and clean up your Mac from all types of junk with just one click!
EaseUS CleanGenius features:
Fast clean: Scan your Mac Mini hard drive and search for files that waste your hard disk space. Just one single click, the found system logs, system caches, user logs, user caches, user trash, user downloads and more will be removed in seconds. Free up more disk space and keep your Mac Mini running smoothly and faster.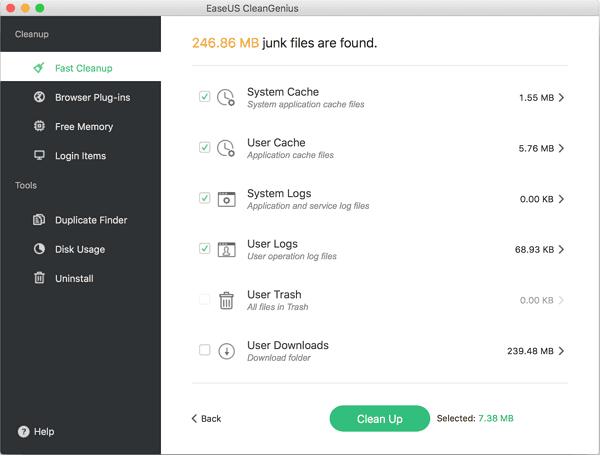 App uninstaller: When you drag an application to the Trash bin, it will leave behind the leftover that still remains on your drive and waste precious disk space. That is why to use the specialized app uninstaller remove the applications completely.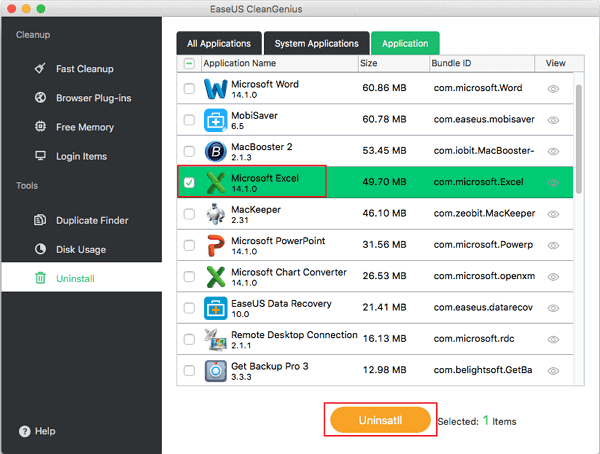 Disk Space Monitor: Show disk space available, monitor disk space usage and alert you in advance when the disk space is low. Then, you can react to clean or move files in advance, keep your Mac running smoothly.
Disk Ejector: Safely eject your mounted drives, such as External storage disks, CD and DVD disks, SuperDrive, network storage, disk images.
Browser Plug-ins Cleanup: Support to clean up and remove browsers such as Safari, Chrome or Firefox plug-ins, cache and cookies. Your browsing histories, bookmarks and downloaded files won't be cleaned.
Since the EaseUS CleanGenius released, it has received high reviews from the users and editors:
"EaseUS released a new Mac utility with many new features for your Mac OS. A free and all-in-one Mac cleanup utility CleanGenius, removes Mac unwanted documents, displays space available on disk, warn when the disk space is running low with disk space monitoring and drive ejection making your Mac quicker."