Although Mac is featured by advanced technologies, innovation as well as creativeness, its speed and data access still are considered as the most important thing that every user. Mac OS X operating system is used and admired in almost all types of class including business professionals and home users. Mac also fills the need of those users who use it to run heavy graphics and multimedia applications. When you use your Mac laptop for a longer period of time, you feel a little bit upset system performance in terms of computer startup and processor speed. This is because of those unwanted applications and startup programs that you don't want to use any more. This is why now so much people talk about Mac optimization. Besides you can download any type of Mac cleaning software from software websites to cleanup your system and free up disk space.
EaseUS CleanGenius - a Mac cleaner for Mac laptop and desktop
This free Mac cleaner has the following benefits:
1. Fast clean junk files such as system caches, system logs, user caches, user logs, trash, user download folder, etc under Mac OS X 10.7 or higher.
2. Keep an eye on free space of HDD and alarm you with a red alert when disk space is running low.
3. Monitor all mounted drives. It would keep an eye on every mounted drives and display them out in graphic.
4. Eject the mounted devices, like external storage disks, CD and DVD disks, SuperDrive, network storage, disk images.
5. Browser Plug-ins Cleanup: Support to clean up and remove browsers such as Safari, Chrome or Firefox plug-ins, cache and cookies. Your browsing histories, bookmarks and downloaded files won't be cleaned.
With EaseUS CleanGenius, you can safely remove gigabytes of junk and get a clean Mac for system optimization and maintenance.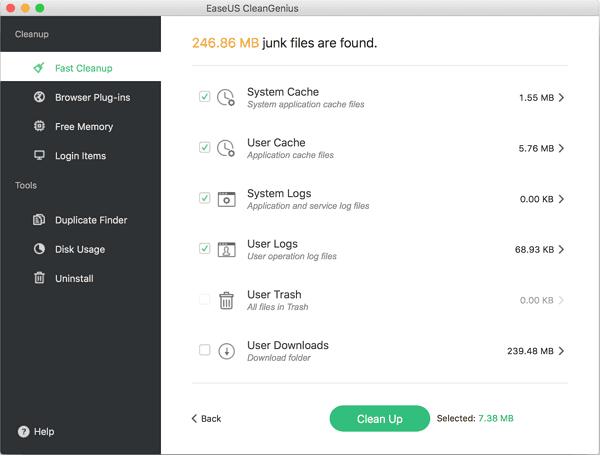 Editor reviewed EaseUS CleanGenius: "CleanGenius is a drive monitoring and cleanup tool for OS X 10.7 (Lion) or later. Not only does it give you a quick overview of your drives' free space from the menu bar, but it also provides a "fast clean" option for clearing out certain parts of your hard drive."