Why to Clean up Your Mac?
The obvious reasons to clean your Mac are:
For better Mac performance
Saving disk space
Many Mac users are seeking the ways to clean up the Mac for a better performance. The most basic concept of all is to understand of why we clean Mac in general.
Many people do not realize that Mac and other software programs store information (i.e. caches, logs) about what they have done, what documents they have used, what web sites they have visited, and various other activities they have performed.
Therefore, anyone else can see what you have been doing on your computer, which raises several privacy concerns. Furthermore, much of your activity information takes up disk space, and recovering this space can be very beneficial.
So, to clean up the Mac not only makes your Mac system running faster, but also protects your privacy. However, for a common user, it will be not an easy job for you to find out where the cache or log files are stored. Even you were told that the system caches are stored in /System/Library/Caches, it is still a hard task for you to clean up all the places one by one. This is boring and time consuming. Here an easiest-to-use Mac cleanup software is recommended – EaseUS CleanGenius, which can help you to completely clean up all the cache, log files just by a click.
How to Clean up Mac System?
EaseUS CleanGenius offers a free and easy way to clean the caches, logs, system junk files, Safari Internet Cache and more just by one click for Mac OS X 10.7 Lion or later. It thus offers an easy way to keep your Mac clean and healthy and lets it run smoother and faster. All types of Mac machine are supported like Mac Mini, Macbook Air, Macbook Pro, iMac, Mac Pro. You can free download this Mac cleanup software to have a try now.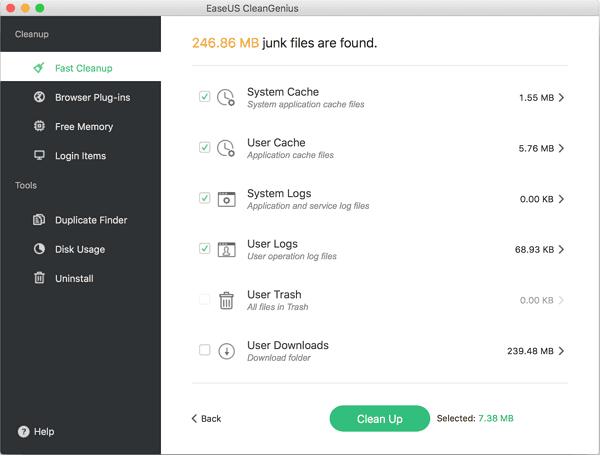 Besides cleaning features, EaseUS CleanGenius also offers the function to monitor the disk space, warn when the disk space is running low.