Mac OS X is a product of Apple Inc. It is widely known for their operating system that is simple compared to the complex Windows OS. Like any other hard drive, the Mac itself can get slower with a lot of files and applications stored on it. Here are simple steps to clean Mac hard drive to free up some disk space and make Mac run faster.
Clear out your Library/Application Support folder
Have a look in your Mac HD Library/Application Support folder and there may be some old folders from applications you have deleted but no longer use. You can delete them.
Empty the Trash
As obvious as it may sound, some folks regularly Trash files but neglect to periodically empty the Trash. In Finder, select Finder > Empty Trash.
Some applications, such as iPhoto and Mail, have their own Trash, separate from the Trash seen in the Dock. Emptying the application's Trash may delete its contents immediately or move its contents to your personal Trash, which you can then empty as noted above.
Clean up system junk files
Junk files are temporary files that are created when programs are executed and require some information to be temporarily stored in system. They are not automatically removed by the executed program that generated these files. When these junk files left in the system, they not only take precious disk space but also slows down the system performance when hundreds and thousands of them are stored and are totally useless.
EaseUS CleanGenius offers a free and easy way to clean the caches, logs, system junk files, Safari Internet cache and more just by one click for Mac OS X 10.7 Lion.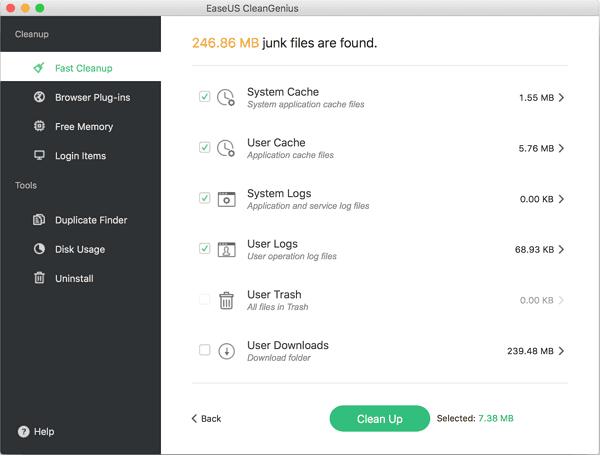 Uninstall unused applications
If your Macintosh HD > Applications folder is cluttered with applications you are no longer using or trial software that shipped with your Mac that you do not intend to use, then uninstall them. With EaseUS CleanGenius, you can easily uninstall the applications completely you want to remove and delete its associated components & files (preferences, cache files and log files).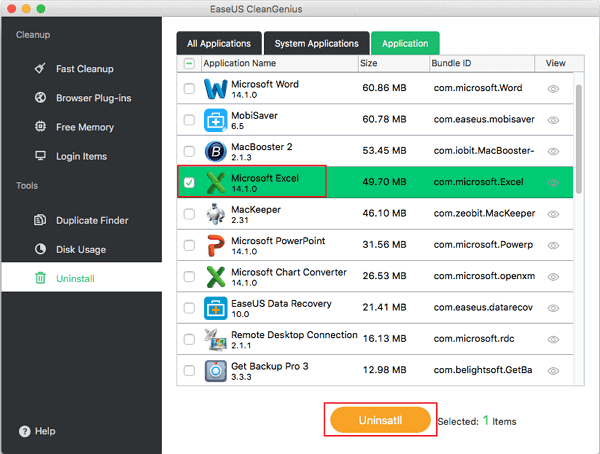 Browser Plug-ins Cleanup: Support to clean up and remove browsers such as Safari, Chrome or Firefox plug-ins, cache and cookies. Your browsing histories, bookmarks and downloaded files won't be cleaned.