Wish you had a clean, faster and health Mac machine just by a click? If so, you will get what you want here. This article will introduce a Mac cleaning software to keep your Mac clean and why you need to clean the Mac system?
Why is Mac cleaning software a must-have tool for Mac users?
With the frequent use of your Mac machine, your apps and the Mac OS create tons of junk files, like caches files, logs, etc, which will waste a lot of disk space and make your machine running slow. Following are the main four causes to let your Mac running slow:
Cache files were originally intended to help content load faster. But when cache files accumulate, they slow the browsing experience and waste disk space. Cache files include system caches and user caches.
Log files including system logs and user logs capture the activity of different applications and system services. These files clutter hard drives and use up valuable disk space.
Downloaded files, like applicaions will be kept in Downloads under Finder unless you remove them by manual. However, users always forget to do this unless your disk space is full.
Trash is a place to keep your unwanted files. These files are not completely deleted until you empty the Trash by hand.
To keep your Mac system health and running smoothly, you'd better clean these junk files as soon as you can. If you are a computer expert, you can find the place where the log and cache files are, and delete the junks. However, for a common user, it will be not an easy job for you to find them. Here a Mac cleaning software – EaseUS CleanGenius is recommended to clean all the junk files mentioned above just by a click, saving your time and disk space and keeping your Mac running faster.
Mac Cleaning Software - CleanGenius
EaseUS CleanGenius is an all-in-one Mac cleaning utility to fast your Mac and monitor the disk space. It offers a quite easy way to clean the caches, logs, system junks, Safari Internet Cache and more just by one click. Just free download it, install this Mac cleaning software, click Clean, all the system junk files will be completely removed from your Mac.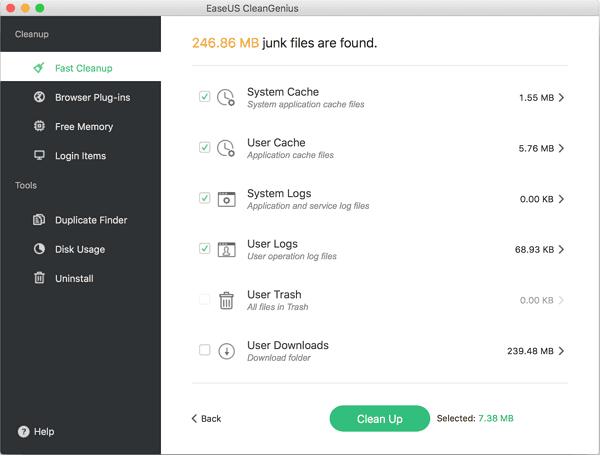 Besides cleaning features, EaseUS CleanGenius also offers the function to monitor the disk space, warn when the disk space is running low.