Is your Mac getting slower? Maybe it's slowing down because your Mac is keeping a lot of junk files that is taking up more disk space. These applications, data files, software, and even temporary internet files, system caches bring a lot of gigabyte capacity and if they are left unused, then it will slowly rot in your Mac unless they are cleared out.
Fixing your Mac's problems manually is not the best approach. If you are not familiar with correcting any issues with your Mac, don't make it look more complicated than it already has. To deal with this problem, you may need Mac ccleaner software that will clear thing automatically.
The best Mac ccleaner alternative -
EaseUS CleanGenius
Windows users have it very easy because they have Ccleaner. For those who are very familiar of Ccleaner, it's a free utility software that clears all unnecessary junk files to free up hard disk space, especially cache files or temporary internet files. These types of files literally take over your disk space so they need to be disposed, and that is what Ccleaner is for. Luckily, Mac users can use Mac ccleaner alternative - EaseUS CleanGenius to clean your Mac junk files and free up disk space to boost the Mac's speed and improve its system performance.
EaseUS CleanGenius is an easy-to-use Mac cleaner software that can remove junk files, such as system caches, system logs, user caches, user logs, user downoad folder, Safari Internet Cache, etc. Following is its features:
Fast clean up your Mac: Free up disk space and keep your Mac in health. Just by one click, the junk files will be removed in seconds, including System Caches, User Caches, System Logs, User Logs, User Downloads, Trash, Safari Internet Cache and more.
Disk Space Monitor: Show disk space available and alert you in advance when the disk space is low. Then, you can react to clean or move files in advance, keep your Mac running smoothly, sparing you a lot of time.
Disk Ejector: Safely eject your mounted drives. External storage disks, CD and DVD disks, SuperDrive, network storage, disk images are all supported. It will also indicate you when mounting or ejecting a device has completed.
Browser Plug-ins Cleanup: Support to clean up and remove browsers such as Safari, Chrome or Firefox plug-ins, cache and cookies. Your browsing histories, bookmarks and downloaded files won't be cleaned.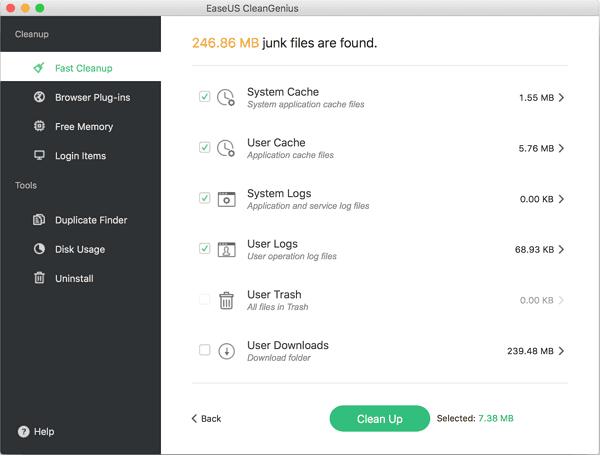 Download this Mac ccleaner software to get a quick clean Mac in seconds.