Just like PC, Macbook Pro also needs regular cleanup and we need to do it. The purpose of course is to make our Macbook Pro work smoothly and efficiently.
Tips for speeding up Mac computer
Here, several tips that you can do so your Mac computer can work faster just like the first time you bought it:
Delete useless files that are on the desktop
Sometimes, you are not realize every time you boot Mac OS X, it takes time to read all files on the desktop, creates thumbnail icons for every file, and fills catalog for every content for each folder. All of the processes will need time. That's why delete useless files that are on the desktop.
Delete start-up applications that you don't use
Some applications will be opened automatically when you start your Macbook Pro. These applications can slow down your Mac performance. So, it will be better if we delete them or turn them off.
Turn off system options that is not needed
If you rarely use Bluetooth, Speech Recognition, Wireless or Internet Sharing or only use them occasionally, you should turn them off. If you turn them off, you can keep your Mac performance. Also save battery endurance.
Empty trash bin on your system
The Trash icon in your Dock is not the only trash you need to empty. Empty iPhoto's, iMovie's and Mail's built in Trash too.
Clean up system junk files
Junk files are temporary files that are created when programs are executed and require some information to be temporarily stored in system. They are not automatically removed by the executed program that generated these files. When these junk files left in the system, they not only take precious disk space but also slows down the system performance when hundreds and thousands of them are stored and are totally useless.
EaseUS CleanGenius is an easy-to-use Mac cleaner software. With this Mac system cleaner, junk files like system caches, user caches, system logs, user logs as well as Internet safari caches will be removed with one click.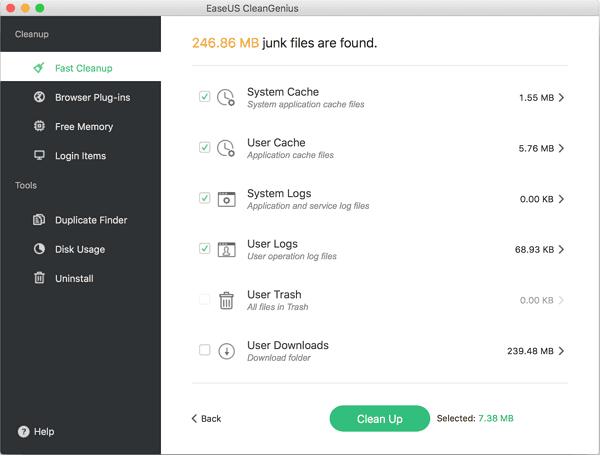 Uninstall useless applications
When you drag an application to the Trash, its preferences, cache and log files still remain on your drive and waste valuable disk space. Trashing works only for the most recent "package" apps that come as one file. For other apps trashing removes only the core part, while other components still remain on the hard drive and waste the space. With EaseUS CleanGenius, you can easily uninstall the applications you want to remove and delete its related components & files (preferences, cache files and log files) once and for all.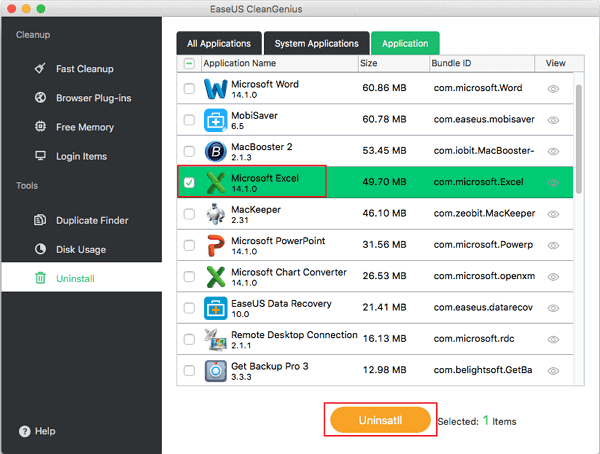 Clean up your download folder
Every time you download an email attachment, .pdf document, zipped folder, or any other media that you import into your folder from the Internet, it remains in the folder until moved to the trash. Sometimes you might have multiple copies of a single document from downloading the same message, but you totally forget they are still there. Open up the download folder in the Finder, right click on the items that you no longer want, and select "Move to Trash." Empty the Trash.
Clean up Mac fast: You can free more space on your Mac disk keeping your Mac healthy at all times. With a simple click from the utility, all junk files (System Caches, User Caches, System Logs, User Logs, User Downloads, Trash, Safari Internet Cache and more) will be removed in just a matter of seconds.
Monitor disk space: It will show you the disk space available and will alert you in advance if the disk space is already running low. You can clean or move files to free up disk space to ensure that your Mac is running smoothly.
Disk Ejector: Using this one will allow you to eject the mounted drives, such as external storage disks, CD and DVD disks, SuperDrive, network storage and disk images.
Browser Plug-ins Cleanup: Support to clean up and remove browsers such as Safari, Chrome or Firefox plugins, cache, and cookies. Your browsing histories, bookmarks and downloaded files won't be cleaned.
Mac Uninstaller: "Uninstall Applications" safely and completely remove applications and their components, preferences, log files, etc. Select an application, just one click, the application and its additional components will be removed.
Duplicates Finder: Duplicate files have the identical contents and waste the precious disk space. CleanGenius can easily find and remove duplicate files to reclaim the wasted disk space.
Disk Usage: Visualize the size of your files & folders and remove the unwanted large files to free up more disk space.
Free Memory: When the free memory of your Mac is insufficient, you can easily use CleanGenius to free memory and speed up your Mac for better performance.
Set Login Items: Unneeded applications may auto run every time when you start Mac. This will reduce your Mac performance. If you don't want an application to start every time you launch your Mac, just open CleanGenius and disable the startup items you find annoying.