EaseUS Software has released the free disk cleaner for Mac OS 10.7, CleanGenius. It is a handy all-in-one utility to fast clean Mac junk files, uninstall applications, show disk space available, monitor the disk space usage, and eject removable drives. It maintains and keeps your Mac at the peak performance.
The new release enters an increasingly crowded market for free cleanup tools and will compete against the similar products as it bids to establish a foothold on the Mac platform.
CleanGenius for Mac runs on OS X 10.7 or later, and offer the fast clean to the potentially unwanted files in the system cache, user cache, system log, user log, downloaded folder and trash, to save the previous disk space, especially for SSD.
The temporary files generated by internet browser can also be cleaned swiftly. To improve performance, all web browsers store downloaded pages and files in a cache so that they can reuse those files (instead of re-downloading them) if you visit those same pages again. Clearing the cache could provide some free space, also for security reasons.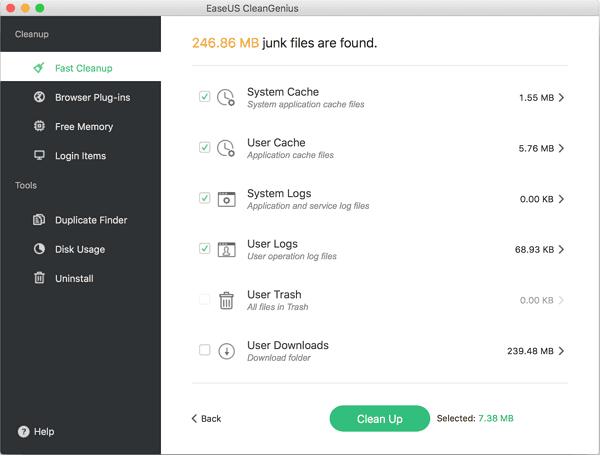 The app includes uninstalling applications function as well. Sometimes dragging and trashing the application in Mac system leaves program preferences, support files and other associated files of the application. This can be removed manually and safely but this can take up the hard disk space when left unnoticed. The Preference files are usually located in the Preference folder found in the Library options. Support files of applications can be located anywhere on your hard drive and this can also take up a lot of memory space. The CleanGenius can find the application core files, preference files and support files, then clean them completely.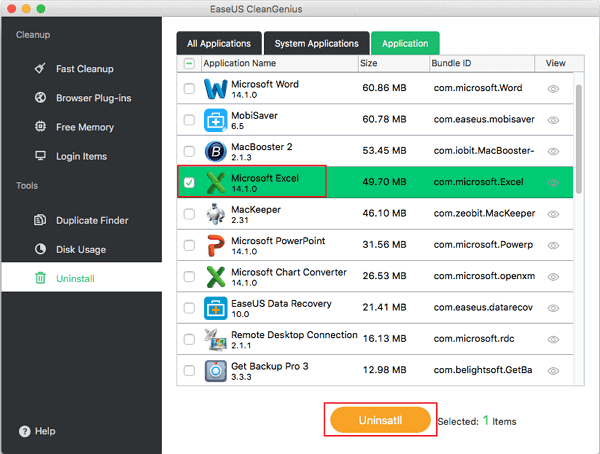 Monitor disk space: It will show you the disk space available and will alert you in advance if the disk space is already running low. You can clean or move files to free up disk space to ensure that your Mac is running smoothly.
Disk Ejector: Using this one will allow you to eject the mounted drives, such as external storage disks, CD and DVD disks, SuperDrive, network storage and disk images.
Browser Plug-ins Cleanup: Support to clean up and remove browsers such as Safari, Chrome or Firefox plug-ins, cache and cookies. Your browsing histories, bookmarks and downloaded files won't be cleaned.
Duplicates Finder: Duplicate files have the identical contents and waste the precious disk space. CleanGenius can easily find and remove duplicate files to reclaim the wasted disk space.
Disk Usage: Visualize the size of your files & folders and remove the unwanted large files to free up more disk space.
Free Memory: When the free memory of your Mac is insufficient, you can easily use CleanGenius to free memory and speed up your Mac for better performance.
Set Login Items: Unneeded applications may auto run every time when you start Mac. This will reduce your Mac performance. If you don't want an application to start every time you launch your Mac, just open CleanGenius and disable the startup items you find annoying.