Too many junk files are very harmful to your Mac. It will slow the Mac performance, waste the disk space, increase the data loading time. You need clean your disk for better performance. Mac OS keep all the logs of software activity. The unused or junk file made when you install or uninstall your application, During Internet surfing: The Internet Browser auto download cookies, temporary files or internet History. These junk files will slow your Mac and create some unwanted problem then you may need Mac OS Service Junk Clean. With the help of EaseUS CleanGenius, you can free clean junk files on the Mac.
Accumulating Junk
In the process of using your computer you accumulate files. Now, many of them are files that you actually want. Things like data files, text files, documents, databases, spreadsheet files, photos, graphics and music files. Others are files installed by programs, and you have no control over these files. Unfortunately, however, you also accumulate files that you don't want or need. I've found that many programs don't really uninstall files and folders when you uninstall the program. Instead, often the files and folders are left on your machine, taking up space and slowing things down.
Another source of file clutter is the Internet. When you surf the Internet, regardless of which Web browser you use, the browser establishes a cache. These are your "Temporary Internet Files" only they aren't all that temporary. The premise is a good one, it just gets carried away. Your browser creates a cache so that the Web pages you visit frequently will load faster. It does this by putting pages, graphics and other files in the cache. So, for example, if you visit a news site in the morning and go back to it later in the day, it will load faster. Why? Because many of the files needed to make up that page are on your computer! If they're on your computer they can be loaded into the Web page much faster. They can also take up a lot of room on your hard disk.
Removing Junk
There are a number of ways to remove and/or eliminate these junk files. If you just want to remove junk files from your Internet cache, every browser gives you the tools to do it. With Mozilla Firefox, for example, you can simply click Tools -- Options -- Privacy -- Cache. You can then clear the cache. The same is true in Internet Explorer, Opera, and other browsers. Yet another option is to use software that specifically goes in and removes junk files.
There are a wide variety of programs that are designed not only to clear out your Internet cache, but also to find other junk files. If you've never used one of these programs, you might be amazed by how much junk they can find. A friend of mine was recently using EaseUS CleanGenius and it found over 570 megabytes of garbage on his Mac. EaseUS CleanGenius is the most effective Mac disk cleanup software. It allows you swiftly clean up unused applications and junk files, such as System Caches, User Caches, System Logs, User Logs, User Downloads, Trash, and Safari Internet Cache, etc. It also monitors the real time disk space usage and shows you the space status by the visual graphic. What is more, this amazing software allows you easily access the contents on the device, safely remove the mounted network drive and other removable devices. It maintains and keeps the Mac at the peak performance to ease your Mac life.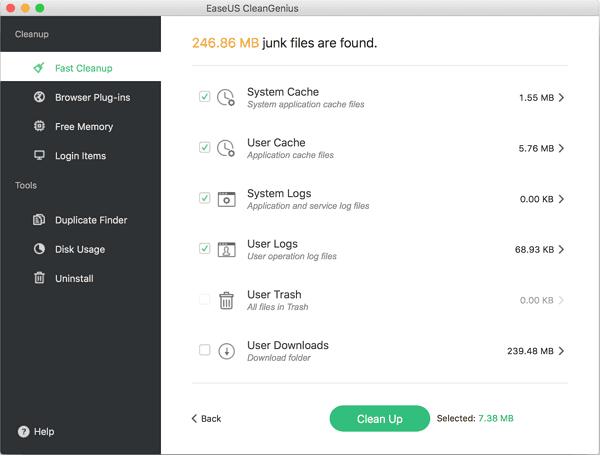 Clean up Mac fast: You can free more space on your Mac disk keeping your Mac healthy at all times. With a simple click from the utility, all junk files (System Caches, User Caches, System Logs, User Logs, User Downloads, Trash, Safari Internet Cache and more) will be removed in just a matter of seconds.
Monitor disk space: It will show you the disk space available and will alert you in advance if the disk space is already running low. You can clean or move files to free up disk space to ensure that your Mac is running smoothly.
Disk Ejector: Using this one will allow you to eject the mounted drives, such as external storage disks, CD and DVD disks, SuperDrive, network storage and disk images.
Browser Plug-ins Cleanup: Support to clean up and remove browsers such as Safari, Chrome or Firefox plugins, cache, and cookies. Your browsing histories, bookmarks and downloaded files won't be cleaned.
Mac Uninstaller: "Uninstall Applications" safely and completely remove applications and their components, preferences, log files, etc. Select an application, just one click, the application and its additional components will be removed.
Duplicates Finder: Duplicate files have the identical contents and waste the precious disk space. CleanGenius can easily find and remove duplicate files to reclaim the wasted disk space.
Disk Usage: Visualize the size of your files & folders and remove the unwanted large files to free up more disk space.
Free Memory: When the free memory of your Mac is insufficient, you can easily use CleanGenius to free memory and speed up your Mac for better performance.
Set Login Items: Unneeded applications may auto run every time when you start Mac. This will reduce your Mac performance. If you don't want an application to start every time you launch your Mac, just open CleanGenius and disable the startup items you find annoying.