Solution to Fix Mac Startup Disk Low Disk Space Issue
Mac users may get a message "your startup disk is almost full please remove some programs" when booting up the Mac. This issue is caused by file system errors or too many junk files on the startup disk. To fix Mac startup disk low disk space issue, we need to find the root cause first.
If you know you have much free space on the disk but still get this message, it more likes the file system records the space usage incorrectly. You can fix this by the "Repair Disk Permissions" in the Disk Utility. Navigate to Applications > Utilities > Disk Utility. Select your Macintosh HD and select Verify Disk Permissions. If needed you can then Repair Disk Permissions.
But in most cases, this issue is caused by too many junk files on the startup disk. After using the Mac for years, you may save many photos, videos, documents and applications to the disk. And ton of system logs, user logs, system cache files, user cache files, internet browser cache files and etc are consuming your previous disk space.
To fix this issue, you can back up your personal data files to external disk. These files include any word processing files, spreadsheets and database files. Then Delete the personal data files you haven't open recently from your startup disk. Since you have saved them to the external disk, you still have copies of the files in case you need them later. Manually delete the junk files is time consuming and require some computer knowledge. You can simplify this job by some third party clean software.
EaseUS CleanGenius, is an all-in-one Mac system cleanup utility combined with app uninstaller, disk space monitor and disk ejector. It cleans junk files by one-click, completely removes the unwanted applications and related files, and shows the available disk space.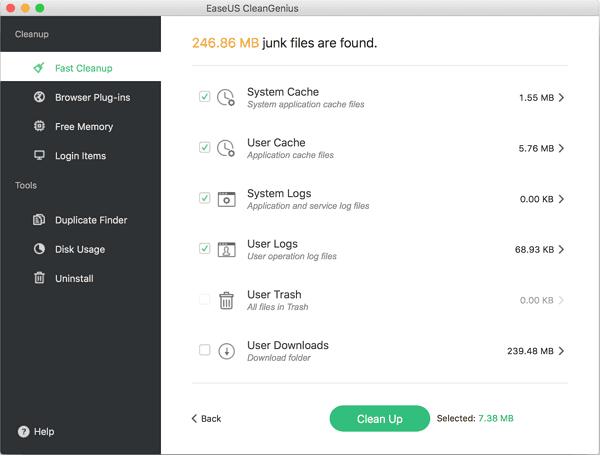 Delete any unused applications you have downloaded or put on the startup disk since you purchased it. Do not just simply trash the application. That method cannot remove all component of the program. With EaseUS CleanGenius, you can uninstall multi applications simultaneously and clean them more.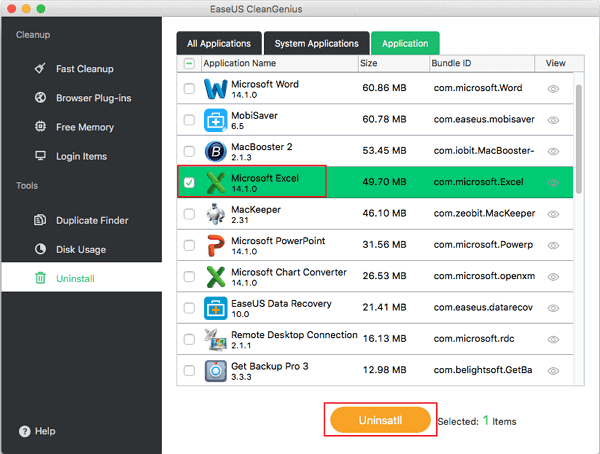 Highlighted Features of EaseUS CleanGenius
Clean up Mac fast: You can free more space on your Mac disk keeping your Mac healthy at all times. With a simple click from the utility, all junk files (System Caches, User Caches, System Logs, User Logs, User Downloads, Trash, Safari Internet Cache and more) will be removed in just a matter of seconds.
Monitor disk space: It will show you the disk space available and will alert you in advance if the disk space is already running low. You can clean or move files to free up disk space to ensure that your Mac is running smoothly.
Disk ejector: Using this one will allow you to eject the mounted drives, such as external storage disks, CD and DVD disks, SuperDrive, network storage and disk images.
Mac Uninstaller: "Uninstall Applications" safely and completely remove applications and their components, preferences, log files, etc. Select an application, just one click, the application and its additional components will be removed.
Duplicates Finder: Duplicate files have the identical contents and waste the precious disk space. CleanGenius can easily find and remove duplicate files to reclaim the wasted disk space.
Disk Usage: Visualize the size of your files & folders and remove the unwanted large files to free up more disk space.
Free Memory: When the free memory of your Mac is insufficient, you can easily use CleanGenius to free memory and speed up your Mac for better performance.
Set Login Items: Unneeded applications may auto run every time when you start Mac. This will reduce your Mac performance. If you don't want an application to start every time you launch your Mac, just open CleanGenius and disable the startup items you find annoying.
Browser Plug-ins Cleanup: Support to clean up and remove browsers such as Safari, Chrome or Firefox plug-ins, cache and cookies. Your browsing histories, bookmarks and downloaded files won't be cleaned.