Generally, you may not realize how many duplicate files you have after downloaded many files from the Internet or duplicate files scattered over your local Mac or corporate network.
Why removing duplicate files?
Unnecessary duplicates waste the Mac valuable disk space. Your Mac may be full of documents, iTunes, iPod, MP3, Photos, and Videos, however, some are redundant. Duplicate remover finds and removes the duplicates, saving disk space. Deleting duplicates will also help to speed up indexing and reduces back up time and size.
Duplicates of EaseUS CleanGenius will deep scan for all types of files - photos, music, video, office documents, text files and so on. After scan, the unnecessary copies can be deleted or removed.
How to get rid of duplicate files with CleanGenius?
EaseUS CleanGenius can easily find, view and get rid of duplicate files with identical content, regardless of name or location. Following is the step-by-step instruction to find and get rid of duplicates:
Step 1. Launch EaseUS CleanGenius and click on Duplicate Finder;
Drag and drop folders to scan or click Folder icon to add folder for finding duplicate files;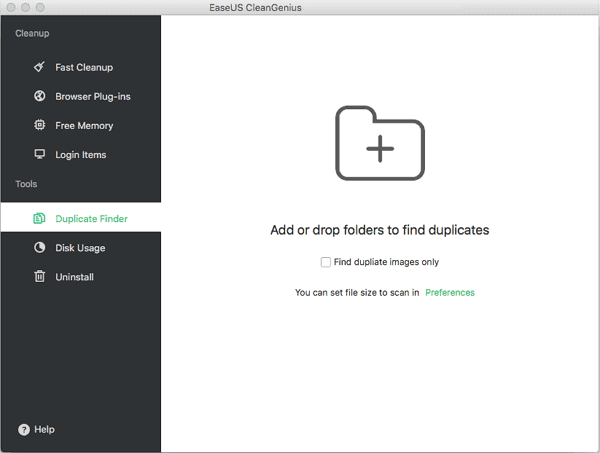 Step 2. Select target folder and click Open so to scan and find duplicate files;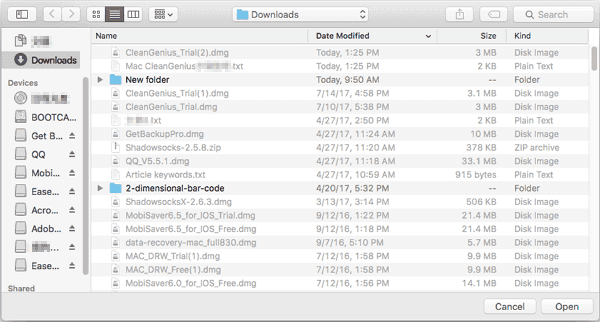 Step 3. Right-click found file and select View to identify which one is the file that you want to keep;
Select unwanted duplicate files and click Delete to remove from Mac.