"Does anyone know of a good application to find and delete duplicate photos. I'm trying to work with a massive photo library (40k+ images) and get rid of duplicates including thumbs created by Iphoto. I'd prefer freeware but am willing to pay if there is a particularly effective program. Thanks!"
"I am still using Aperture 2, on a Macbook Pro running Lion. I generally only look at and examine my projects (with folders and albums contained in them). The other day I took a look at my All Photos (in the library) and found that I had lots and lots of duplicates, and many triplicates of my photos (which don't show up in my albums). I have no idea how I got so many of them, but they must add up to hundreds if not a thousand or so."
How to delete duplicate photos on MacBook?
EaseUS CleanGenius is an all-in-one Mac maintenance utility combined with fast clean, app uninstaller, duplicate finder, disk usage, free memory. disk space monitor and disk ejector. It cleans junk files by one-click, completely uninstalls the unwanted applications, get rid of duplicate files, spot and delete unwanted large files, increase free memory, etc. CleanGenius keeps your Mac clean and healthy, makes your Mac running smoothly with an intuitive interface.
Duplicated files may have different file names and lurk in different folders, but they have the identical contents. EaseUS CleanGenius can easily remove the duplicated files at the specified location with its duplicate file finder.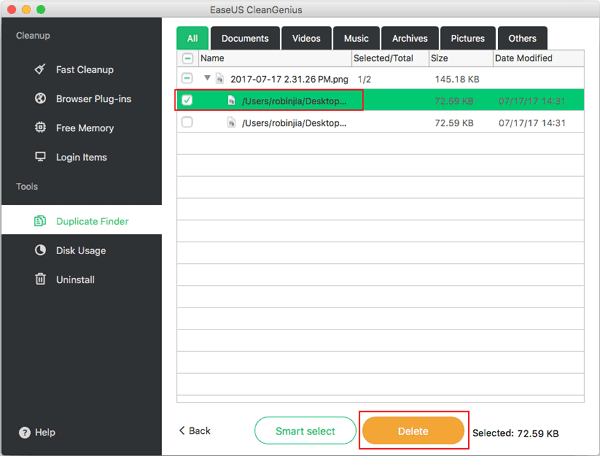 EaseUS CleanGenius is an all-in-one Mac cleanup utility to clean up your Mac for better performance. Free download it now.