App won't delete from launchpad
"I can't delete an application from launchpad as usual. Why am I prevented from uninstalling an unwanted app? Is there any other way to help completely uninstall applications on Mac?"
Stubborn software, program or application won't delete? Be aware! This might be some malicious software that would do damage to your Mac machine. When you find it difficult or impossible to remove and uninstall the suspicious software using the uninstall option on Mac, do not hesitate any more, you need the help of EaseUS CleanGenius.
Why do you need EaseUS CleanGenius?
EaseUS CleanGenius is an easy and practical Mac maintenance utility that aims to make your Mac machine run faster and perform better, by means of uninstalling useless and seldom used software, cleaning temporary cache data or deleting duplicate files produced by certain programs.
It's significantly helpful when you have no idea how to uninstall an application on Mac, what's more, stubborn virus infected applications can't be removed.
How to completely uninstall applications and programs on Mac in seconds?
Step 1. Launch EaseUS CleanGenius and click on Uninstall under Tool;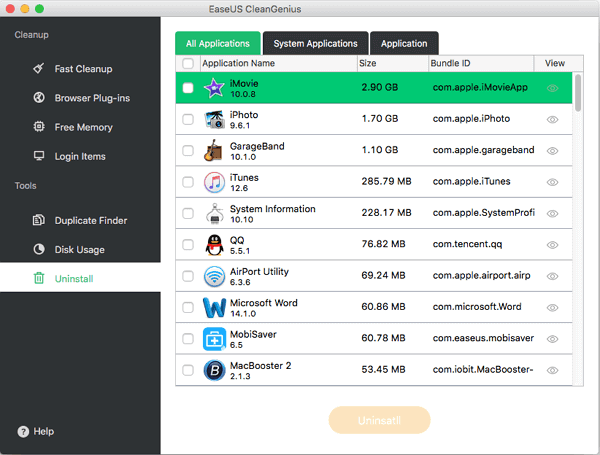 Step 2. Find and select applications or programs that you want to remove and click on Uninstall;
Selected application, software or program will be removed in seconds.