As we know, Mac OS X 10.7 is upgraded from Mac OS X Snow Leopard, a simpler, more powerful, and more refined version of Mac OS X. It delivers a wide range of enhancements, next-generation technologies, out-of-the-box support for Microsoft Exchange Server, and new accessibility features. It's the world's most advanced operating system, finely tuned from installation to shutdown.
How to clean Mac OS X 10.7 startup disk? Tried to uninstall useless apps and delete large files, and still it doesn't help? Then download EaseUS CleanGenius - a universal application for your Mac that combines a set of helpful cleanup utilities. With just one click all of these utilities will perform Mac scan searching its hard drive for files that take up space, and you'll be surprised with the amount of junk detected. Another click will remove all unnecessary data, and you'll get a clean Mac as if it was brand new!
The process of cleaning your Mac goes far beyond just uninstalling the apps you no longer need. It's actually quite a tough process, as there are different types of junk originating from different places.
1. Cache and log files. These files appear as a result of active usage of apps and over time turn from useful into annoying, as they consume more and more disk space.
2. Useless applications. When you delete a specific program, you get rid only of its core parts, leaving other components intact. That is the main reason why you might not see the difference between your Mac's performance before and after the cleanup.
How they can be dealt with?
EaseUS CleanGenius offers a simple and intuitive interface to make your Mac clean and faster, completely uninstall Mac apps, and monitor your disk space usage at any time. You will find out what and how CleanGenius can do for you by exploring the main features of it. You can download it to deal with all the problems which are list above.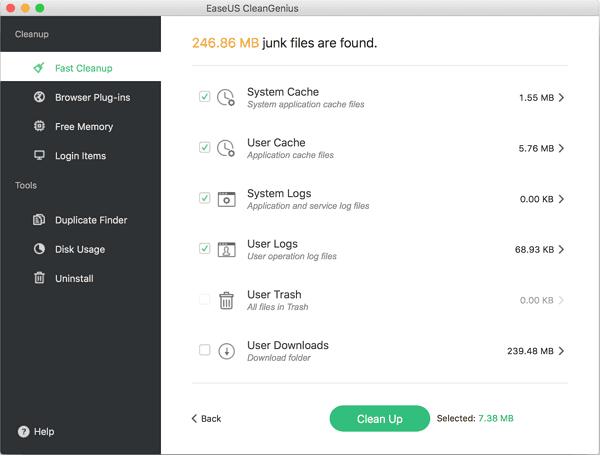 Clean up Mac fast: You can free more space on your Mac disk keeping your Mac healthy at all times. With a simple click from the utility, all junk files (System Caches, User Caches, System Logs, User Logs, User Downloads, Trash, Safari Internet Cache and more) will be removed in just a matter of seconds.
Monitor disk space: It will show you the disk space available and will alert you in advance if the disk space is already running low. You can clean or move files to free up disk space to ensure that your Mac is running smoothly.
Disk ejector: Using this one will allow you to eject the mounted drives, such as external storage disks, CD and DVD disks, SuperDrive, network storage and disk images.
Mac Uninstaller: "Uninstall Applications" safely and completely remove applications and their components, preferences, log files, etc. Select an application, just one click, the application and its additional components will be removed.
Duplicates Finder: Duplicate files have the identical contents and waste the precious disk space. CleanGenius can easily find and remove duplicate files to reclaim the wasted disk space.
Disk Usage: Visualize the size of your files & folders and remove the unwanted large files to free up more disk space.
Free Memory: When the free memory of your Mac is insufficient, you can easily use CleanGenius to free memory and speed up your Mac for better performance.
Set Login Items: Unneeded applications may auto run every time when you start Mac. This will reduce your Mac performance. If you don't want an application to start every time you launch your Mac, just open CleanGenius and disable the startup items you find annoying.
Browser Plug-ins Cleanup: Support to clean up and remove browsers such as Safari, Chrome or Firefox plug-ins, cache and cookies. Your browsing histories, bookmarks and downloaded files won't be cleaned.