The hard drive is full, and the computer is slow when accessing files and running applications. Running your Mac with low disk space is not only slowing down its performance, but also putting your system at risk for a crash. How to return some much needed space and speed? Do Mac cleanup.
Some tips for Mac cleanup
1. Go through your application folder, removing all unused applications.
2. Remove all localization files not used for your language, this can free up to 2GB of space.
3. Open iPhoto and delete photos you no longer need. iPhoto has its own application trash so remember to empty that.
4. Open iTunes and delete all of the music and podcasts you no longer need.
5. Go through your Documents, Movies, and Pictures folder, deleting any junk you no longer use.
6. Clear out old email messages in Mail or other email program.
7. Go to ~/Library/Caches/, and delete anything you see from applications you no longer have installed. Repeat the process in ~/Library/Preferences/.
8. Go to ~/Library/Safari/, and delete the "Icons" folder.
9. If you don't need it, remove the Xcode installer, located in /Applications/Installers/.
10. Remove unnecessary iChat icons from ~/Pictures/iChat Icons/.
Once you have done everything on the list, you should have a nice, clean hard drive, with plenty of free space. However, it is time-consuming job and hard to operate by yourself. With the help of clean my Mac software, everything is easy.
Clean my Mac software
EaseUS CleanGenius is a clean my Mac software for Mac OS Lion.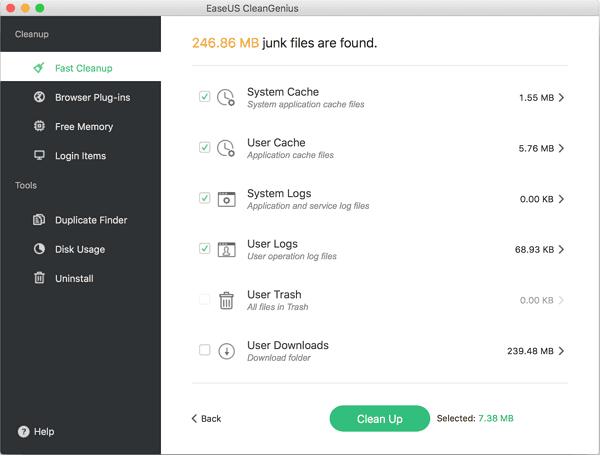 It offers an easy way to keep your Mac clean and healthy and lets it run smoother and faster. All types of Mac machine are supported like Mac Mini, Macbook Air, Macbook Pro, iMac, Mac Pro.
EaseUS CleanGenius Features:
Fast clean up your Mac: Just one click, the system caches, user caches, system logs, user logs, user Downloads, user Trash, Safari internet cache and more will be removed in seconds. And then more disk space will be reclaimed.
App uninstaller: App uninstaller lets you remove the applications completely and safely. When you drag an application to the Trash bin, it will leave behind the leftover which still remains on your drive and waste precious disk space. That is why to remove the applications completely.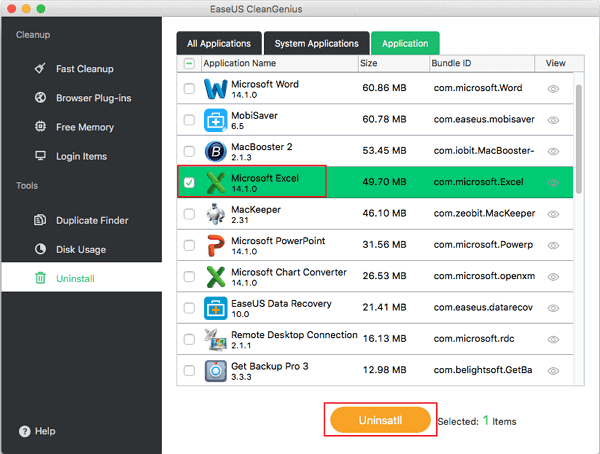 Disk Space Monitor: Monitor disk space and alert you in advance when the disk space is low. Then, you can clean or move files to free up disk space in advance, keep your Mac running smoothly.
Disk Ejector: Safely eject your mounted drives, such as External storage disks, CD and DVD disks, SuperDrive, network storage, disk images.
Browser Plug-ins Cleanup: Support to clean up and remove browsers such as Safari, Chrome or Firefox plug-ins, cache and cookies. Your browsing histories, bookmarks and downloaded files won't be cleaned.
Since the EaseUS CleanGenius released, it has received high reviews from the users and editors:
"You can speed up your Mac computer by performing simple maintenance. Unfortunately, there isn't a fast and efficient way to do this natively in OS X. CleanGenius is a great all-in-one Mac cleanup utility that also combines a disk space monitor and disk ejector. It cleans junk files with one-click and is the easiest way we've found to keep your Mac clean and running smoothly with the performance you expect."
"CleanGenius is one of the must-have utilities for Mac users. It offers one-click disk clean and keeps track of the space available on your drives, informs you immediately if the volume is out of space. This is great!!!"