Using a Mac can be much greater than any standard personal computer; however, it remains hardly perfect. You must have realized that at some point your Mac will start to decrease its speed right up until it eventually goes down. You keep wondering why your Mac is getting slower and slower, and how to revive & speed up your Mac again? Fortunately, there are a lot of ways provided on the Internet making your Mac working all over again. You just need to choose the most suitable one and execute a complete Mac cleaner to perfect your Mac better performance again.
The greater you utilize your Mac, the slower it performs. At the meantime, system junks such as System Caches, User Caches, System Logs, User Logs, User Downloads, Trash, Safari Internet Cache, etc. blocks your drives and drag down the speed of your Mac. You may be aware that it's not necessary to spend a huge amount of cash over a brand new computer. Your Mac may totally need in restoring its utmost performance with an excellent Mac cleanup software. Macs generally turn out to be sluggish not simply because they are outdated, however, because most of their spaces are jumbled with excessive system junk.
Keep your Mac staying perfectly with the best Mac cleaner software
The simplest way to have it fixed is actually to remove the junks which is making it slow. Since these items usually become cluttered within your hard drive over the time. You may realize that you may able to quicken things fairly through getting rid of a few of your applications. But this could not be the final solution.
The truth is you can always find regular remains from these removed programs around only if your hard drive is thoroughly cleaned, and these remains will continue scaling down things. It's highly recommended to keep your Mac staying perfectly using an awesome & Mac cleaner such as EaseUS CleanGenius.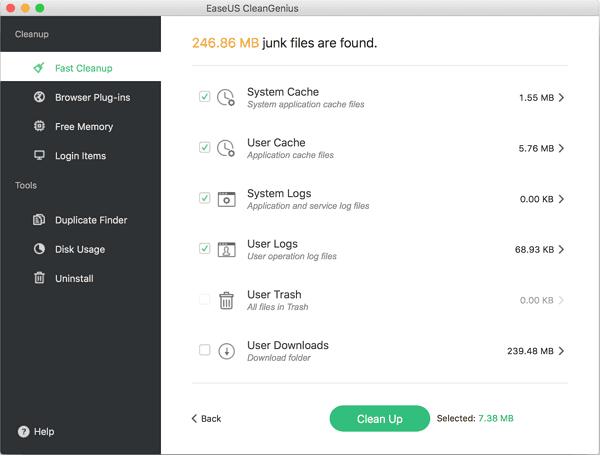 With a large number of features, EaseUS CleanGenius is totally easy-to-use and unquestionably worthy of having. Therefore, the next occasion you believe your Mac has grown to be ineffective, it is recommended to rethink again. Perhaps all it truly wants is a superb Mac clean up.
Using this remarkable and innovative Mac cleaning software, you are able to give a new life to your Mac and have it working like new once more. Believe it or not, it can certainly help stop your Mac through slowing down from the beginning with one single click. Check out and download the EaseUS CleanGenius to get a quick clean Mac.
Right after downloading and making use of this awesome Mac cleaner, your Mac is up and working with its complete pace again. Apart from a Mac cleanup function, this tool has much more features to provide. It can be a lot more exciting finding out the exact additional features it has:
Monitor your local and external drives in real time - show you how much space is available on your drives both in graphic & digital manner and alarm you when your disk is running low.
Uninstall the applications with app uninstaller.
Pin the graphic free space information of system drive.
Any drive can be opened in Finder.
On Windows, CCleaner is the go-to program when it comes to keeping your PC's hard drive spotless, as well as uninstalling programs without having to go through operating system's sluggish interface. CleanGenius, with is slick UI and bevy of options, looks like a contender for an equivalent app for Mac."