Overview of making a bootable backup of Mac
Unexpected system crash, hard drive failure or data loss disaster can happen to users at any time for different reasons. And following all these issues, tedious jobs like system & applications reinstalling and challenging tasks like data recovery are coming to disturb.
Here, the best way to deal with all these possible frustrating situations is to make a bootable backup of Mac.
Bootable backup vs standard data backup
Unlike a standard data backup, a bootable backup can offer you not only a quick access to your data but also your system and installed programs. It is quite helpful when your Mac system is failed and cannot boot properly or your hard drive is dead.
What will you need to create a bootable backup of Mac?
When it comes to Mac backup, most users think of Time Machine first. It definitely a nice tool for data backup, however, it doesn't work to create a bootable backup.
That means you need a third-party software. We recommend you EaseUS Mac backup software for its advanced disk cloning features and wizard-like interface.
And besides, you also need to prepare an external hard drive which is at least of the same size as your internal Mac drive.
Tutorial - how to create a bootable backup of Mac
1. Connect the external hard drive to Mac computer and launch EaseUS Mac cloning software.
2. In the From drop-down list, select the volume you want to clone. Here is the one which installs Mac OS X.
3. In the To drop-down list, select the external hard drive as the destination disk where you want to save the duplicate.
4. Set up the disk cloning properties. Here, you are allowed to exclude files or folders if necessary.
5. Finally, click the Start button to execute the cloning operation.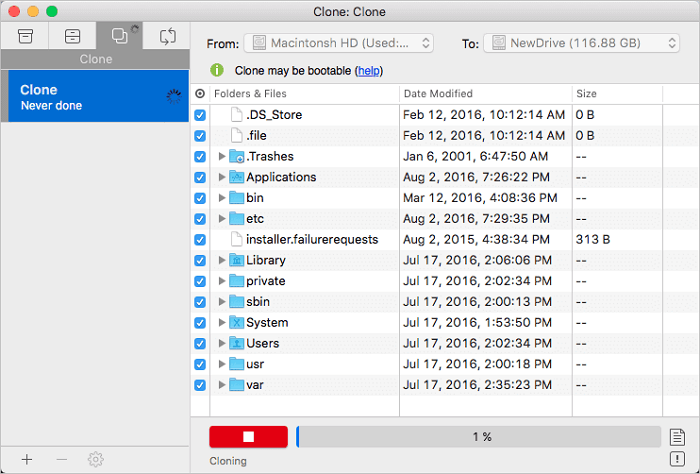 USEFUL TIPS:
To make sure your bootable backup of Mac work properly:
Please make sure your hard drive is in the Mac OS Extended (Journaled) format. If not, format it using Disk Utility.
It is recommended that you quit all programs before cloning your drive.