CCC cloned disk not booting
"I've formatted my new disk as Mac OS Extended (Journaled), cloned my existing hard disk to it using Carbon Copy Cloner, but it won't boot. What am I missing here? Thanks."

This is an exact user story picked from macrumors forum, which tells a commonly seen difficulty in booting Mac from a cloned hard drive, let it an HDD or SSD. And we feel released after reading many similar posts on various forums, the causes are always coming from the following aspects.
Why Mac cloned HDD or SSD won't boot?
Viewing from our experience in disk cloning, operating system migration on both Windows OS and Mac OS X, we have a lot to share why you would encounter such frustrating moments, in which trying to boot Mac from a cloned HDD or SSD, however, only to get stuck at the white screen with an apple logo and a spinning wheel on the screen. Booting Mac OS X from cloned hard drive failed!
When trouble comes in this way, check the possible reasons that disable Mac to boot from the cloned drive as it could.
1. Use fake software to clone hard drive on Mac.
2. Incomplete hard drive clone.
3. Cloned hard drive wasn't properly partitioned GUID and formatted as Mac OS Extended, Journaled.
4. Go to a wrong way to startup Mac from the target hard drive.
What's the easiest way to make Mac cloned drive boot correctly?
There are many ways to clone Mac hard drive to SSD or HDD, such as the built-in Disk Utility or third-party Mac disk cloning software. Upon the discussed causes, apart from users did not boot Mac from the cloned drive in a correct way, most of the problem is coming from an improper way of cloning drive on Mac.
So, to easily fix the trouble and make Mac boot from cloned drive without failure, simply find a reliable tool that provides a one-stop solution for perfectly cloning a source drive to the destination drive, after which lets you easily boot from the destination without learning extra Mac OS X boot steps.
EaseUS Todo Backup for Mac is all-in-one Mac data backup software that integrates disk clone and file synchronization in it. It guarantees a high success rate of cloning Mac hard drive to another one and booting Mac from the cloned drive.
How to clone Mac hard drive with EaseUS Todo Backup for Mac?
Step 1. Connect both hard drives to Mac computer and launch EaseUS Mac cloning software.
Step 2. In the From drop-down list, select the volume you want to clone, which should be the source disk.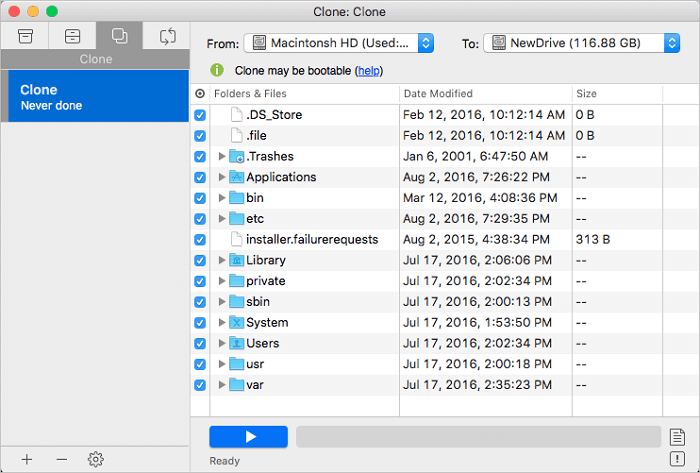 Step 3. In the To drop-down list, select the other hard drive as the destination disk.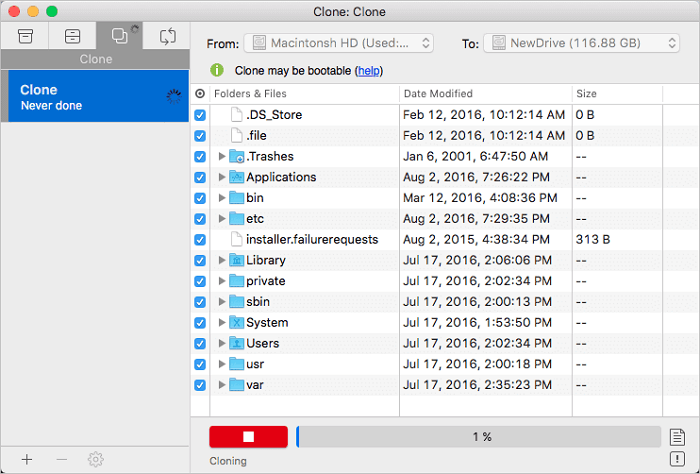 Step 4. Set up the disk cloning properties. Here, you are allowed to exclude files or folders if necessary.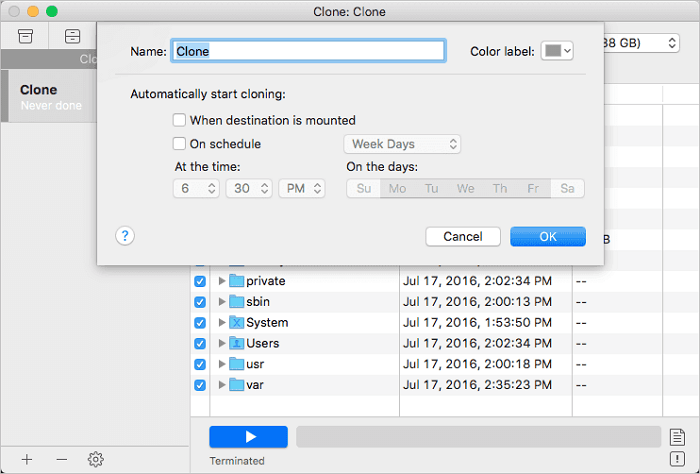 Step 5. Finally, click the Start button to execute the cloning operation.
How to boot Mac from EaseUS Todo Backup for Mac cloned hard drive?
You need to boot your Mac from cloned hard drive by holding the Option/Alt key on the keyboard, selecting the volume to boot and set in System Preferences > Startup Disk.