How to backup specific Mac data and folder?
Question 1. I want to backup specific files and folders on Mac, how?
"I have some useful files and big file folders in Mac and I want to create a backup for those files and data. But how can I backup all these files and folder into an external hard drive at one time? I don't want to copy each file one by one and paste them to my backup drive.
Do you know how to backup specific files and data on Mac at one time?"
Question 2. Time Machine cannot exclusively backup target folder and data, any solutions?
"Hi there, do you have any solutions or methods that can help to exclusively backup data and folder on Mac? I planned to backup some very useful files and data to my USB drive from Mac computer. But Time Machine cannot do the job.
Time Machine is designed to backup all Mac contained data including app files, preference files, application packages and even setting files etc in Mac computer. This is not what I want. So do you know any ways that can help me just backup wanted data and files on Mac?"
If you are having a similar question or you are trying to find a way to exclusively backup specific files, data or folders on Mac, you are at the right place. Here we'd like to recommend you try a professional Mac backup software to backup target files and data with simple steps.
Free download Mac backup software for help!
So how to get such a powerful Mac backup software? EaseUS Todo Backup for Mac supports you to backup all Mac data or selectively backup wanted data and files under all macOS systems.
How to download this tool? You can directly Google EaseUS Todo Backup for Mac or directly free download it right here and install on your Mac now:
Selectively backup specific files and folder on Mac with EaseUS Todo Backup for Mac
3 simple steps will do!
After installing EaseUS Todo Backup for Mac in your Mac computer, just follow below 3 simple steps to start backing up specific files, data and even file folder on Mac now:
Note: Do remember to connect your external storage device (as a backup destination) to your Mac computer.
Step 1. Launch EaseUS Todo Backup for Mac on Mac;
Click the first Backup tab or simply click + button at the left corner of the left pane to create a backup project - name the backup project and click OK;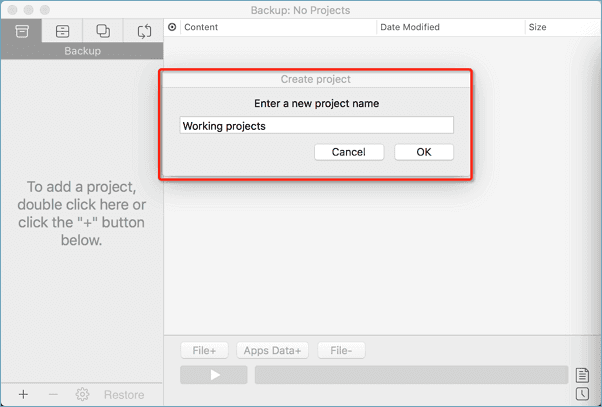 Step 2. Set up the backup destination (external hard drive, USB or SD card) where you want to store Mac files as backups, automatically backup frequency etc and click OK;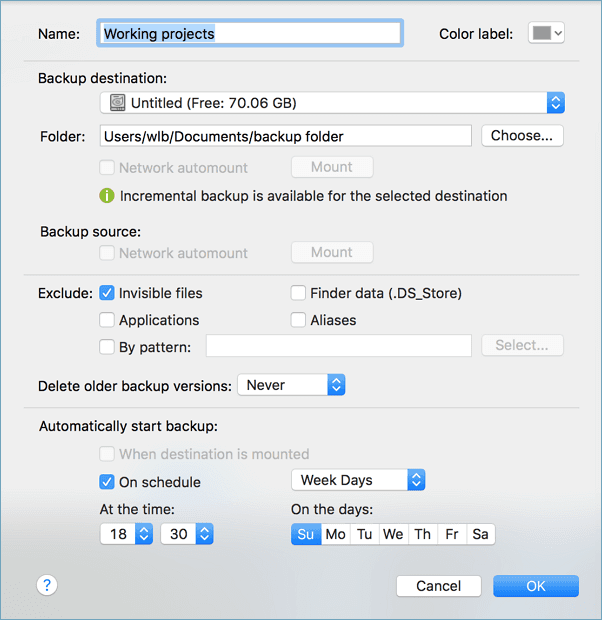 Step 3. Add files and folders to the backup project;
Click File+ to selectively choose specific files and folders to backup and click the blue start button to backup your Mac to an external device now.