Choose Your Version of EaseUS Data Recovery Wizard
Features
EaseUS Partition Recovery
Data Recovery Wizard Free
Data Recovery Wizard
Data Recovery Wizard Professional
Format recovery
-
Partition recovery
Raw drive recovery
-
Deleted file recovery
-
Windows 2000/XP/ Vista/2003/2008/7/8
FAT/NTFS
Ext 2/3
-
Dynamic disk
-
-
Amount of Data you can Recover
Unlimited
2GB
Unlimited
Unlimited
# of Computers to use it on
One
One
One
One
Price

Free

Free

$55.96

($69.95)

$71.96

($89.95)
Purchase Now
-
-
Buy Now
Buy Now
Download
Download
Download
Download
Download
Awards & Reviews
---
Lots of features and functionality make this ideal for those looking to recover lost data quickly. EaseUS Data Recovery Wizard (DRW) can recover files that were lost due to deletion, being formatted, lost partitions, or damaged drives. Besides the usual recovery of files and folders, EaseUS DRW can also recover entire partition tables and boot records– which mean that you could recover a hard disk drive in its entirety.
---

Data Recovery Wizard by EaseUS is an easy to use, straightforward solution to recovering lost data and files. As our "TopTenREVIEWS Bronze Award" winning data recovery software, Data Recovery Wizard provides a unique mix of features, effective file recovery, and a usable interface.
---

Savior of unreadable data and hard disk. EaseUS Data Recovery Wizard is designed to recover lost data and files. The software can recover accidentally deleted files as well as data from damaged or formatted hard drives. The three recovery modes rescue data in different situations. User can restore the lost files and directories if they were found by Data Recovery Wizard.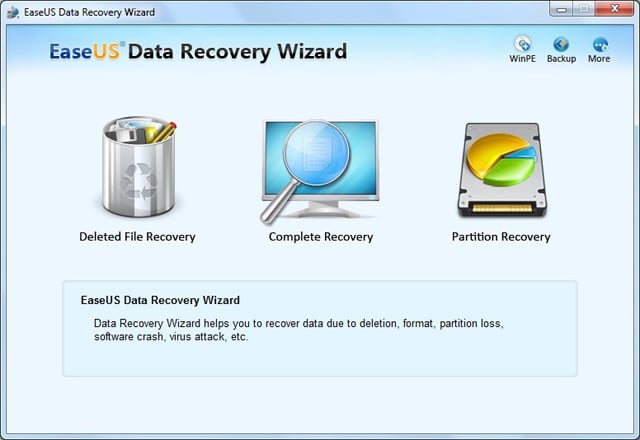 EaseUS Data Recovery Wizard main window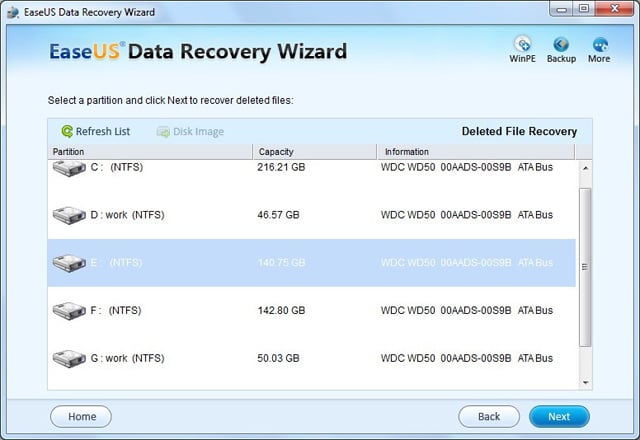 Choose a drive to recover data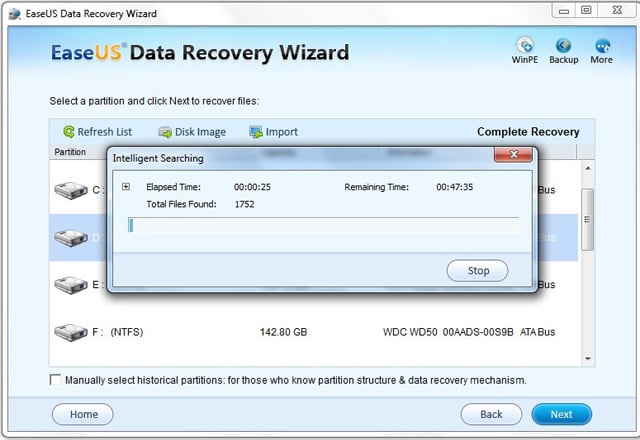 Scan lost files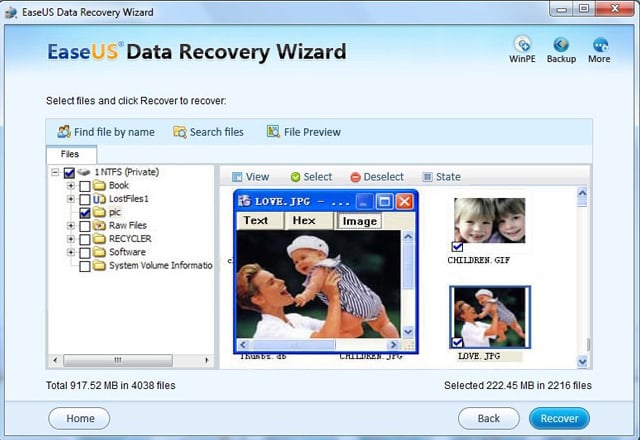 Preview pictures, word, excel files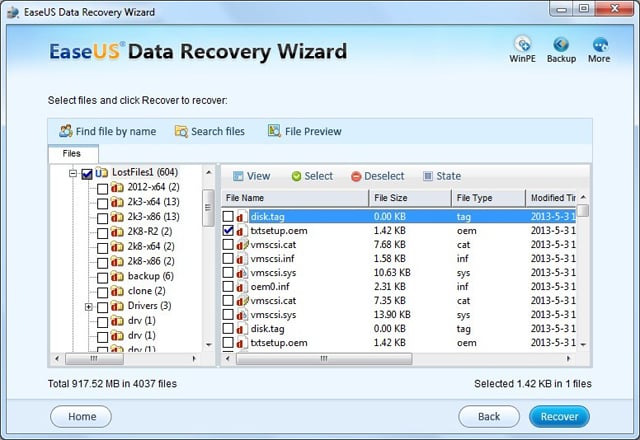 Selcet files you want to recover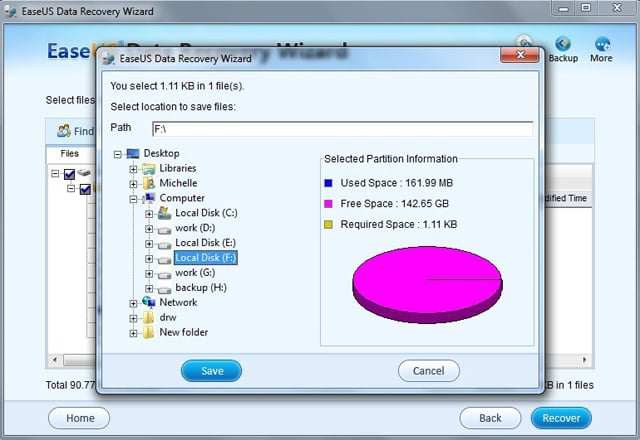 Where to save your recovered data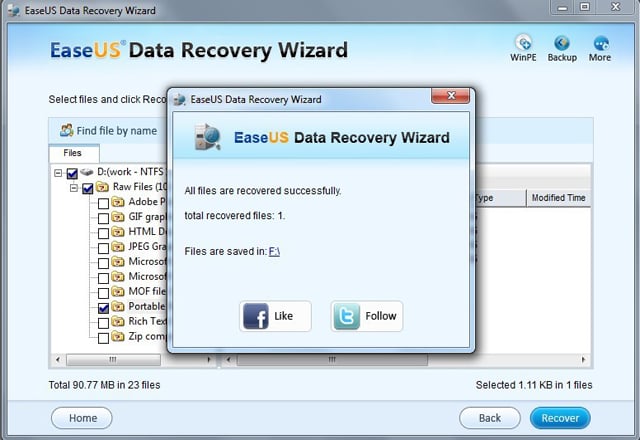 Files are recovered
A big thank you for data recovery software (05/03/2010)
I would like to say a big thank you.....after using your data recovery software, I was able to retrieve thousands of files, including photos, videos and music, all of which are priceless to me!!...your software succeeded where others failed, and has saved me hundreds of pounds...again thank you so much...PS one big back up lesson learned!!
Linda
The product worked perfectly, everything back - excellent software. (04/30/2010)
Just a quick thanks for a fantastic product!
Accidentally formatted an external hard drive with critical data on it.
After 15 years in IT, first time ever losing data and it turns out to be my own!
The product worked perfectly, everything back - excellent software.
Sincerely,
Don McEachern
Recommend DRW highly (04/26/2010)
Am amazed at the ability of the Recovery Wizard to unearth data I imagined long since irretrievable. Used your programme to recover files written 18 months ago on an 8Gb compact Flash card, which had then been re-used several times, the frames between times being deleted using the camera's software. The JPEG files were unusable, but this was of no consequence as the RAW files were recovered in excellent condition.
Recommend DRW highly. The time taken to assemble lost data is a very small price to pay for such impressive performance. Best wishes.
Robin Wilson
HAD MY FILES BACK IN UNDER 2 HOURS (04/08/2010)
THANK YOU !!!
I MORE THEN GOT MY MONEYS WORTH. I RETRIEVED COPIES OF IMPORTANT WORK FOLDERS (ABOUT 3.2 GB) FROM A 4 GB PNY FLASH CARD AFTER MY BACK UP PROCEDURE FAILED ON A REMOTE HARD DRIVE. I HAD ERASED THE FLASH CARD AND THOUGHT I WAS DEAD. A MINIMUM $500 ESTIMATE TO HELP RETRIEVE THE FILES GAVE ME MOTIVATION TO TRY TO DO IT MYSELF. I AM AN "OLD GUY" COMPUTER ROOKIE BUT, YOUR INSTRUCTIONS AND SOFTWARE WERE EASY TO USE. READ IT ALL AND HAD MY FILES BACK IN UNDER 2 HOURS. FEEL FREE TO POST MY LETTER. THANKS AGAIN,
DAVID
Absolutely Fabulous Data Recovery software (03/17/2010)
THANKS A MILLION!!!!!
Its "Absolutely Fabulous".
Went on speed record attempt on lake Gairdner (like Bonneville) but in Aussie, and Camera used compact flash, then deleted all the pictures near the end of the week... to put 14 more on!
Your program recovered all those except the 14 overwritten. I am SO grateful and so will be my grandchildren and their grandchildren ...
Luvyasall
Richard