What is Windows Hyper-V? Windows Hyper-V is a virtualization software built by Windows to virtualize different types of operating systems on a single machine. It technically helps virtualize both software and hardware,  and it is a great tool for cloud service providers, data centers, and also developers who simply want to test their apps.
To learn more about Windows Hyper-V and how to use and run it, continue reading!
What Is Windows Hyper-V?
If you are wondering what Windows Hyper-V is, it is nothing but a virtualization software that virtualizes software and also hardware components. It was launched by Microsoft in 2008 when virtualization was relatively new for many.
Ever since then, virtualization has technically transformed how data centers, developers, and cloud providers depend on it for every step and for their actions.
With Hyper-V, you can virtualize a wide range of operating systems, including server operating systems in data centers, Windows Phone environments on desktops, and most other operating systems.
Additionally, Hyper-V is an excellent system for developers who want to test their software using a safe sandbox.
Why Use Windows Hyper-V?
A virtual machine removes any hardware limitations and lets you use any OS virtually on a machine that is using a different OS. On a Mac, for example, you can install a virtual machine to run Windows or Linux OS, but it is otherwise impossible.
Another added benefit of using a virtual machine is security. If you are using a virtual machine and accidentally downloading a virus, the virus stays within the virtual machine and does not breach or affect the host device.
Administrators can use Hyper-V to create different virtual machines with different operating systems to use on the same physical hardware. This also helps users/organizations save money on buying different machines with different operating systems and so much more.
How to Run Windows Hyper-V?
To enable Windows Hyper-V, you should be running either Windows 10/11 Pro, Windows 10/11 Enterprise, or the Education version of Windows. You will also need a 64-bit processor with SLAT and a minimum of 4GB of RAM. Your CPU should essentially support VM Monitor Mode Extension; on Intel CPUs, it is Virtualization Technology for Connectivity1 (VT-c.)
So, if you're interested in upgrading Windows 10 32 bit to 64 bit without losing data, click this article below: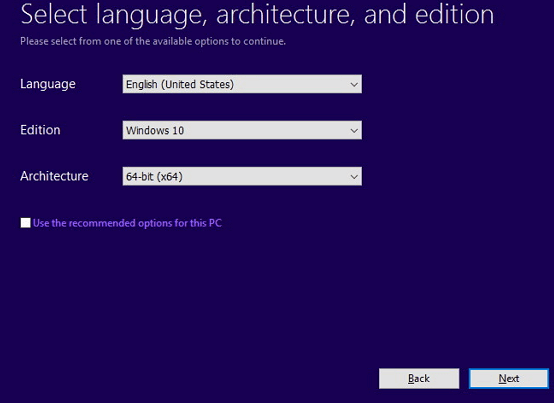 Unfortunately, you cannot install Hyper-V on the Windows 10/11 Home version.
There are 2 different ways to enable Hyper-V on your computer:
Using Powershell
Using Settings
Enable Hyper-V using Windows PowerShell:
Click on the Start button and search for "Windows PowerShell."
Click on "Run as administrator" to open Windows PowerShell as an administrator.
Type the command "Enable-WindowsOptionalFeature -Online -FeatureName Microsoft-Hyper-V -All".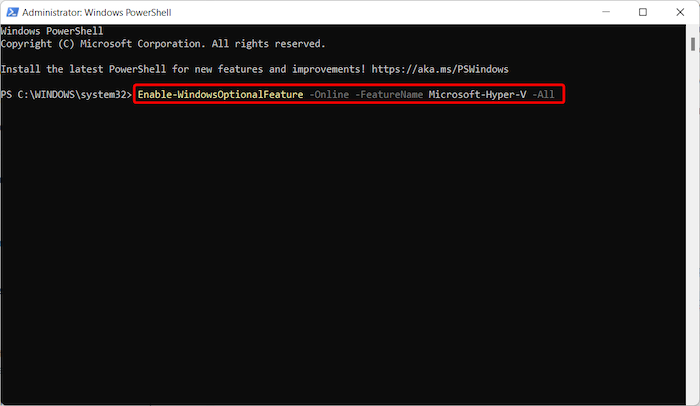 Once the installation is complete, restart your computer.
Enable Hyper-V using Settings:
Right-click on the Windows button, and choose "Settings."

In the search bar type "Turn Windows Features on or off" and open it from the results.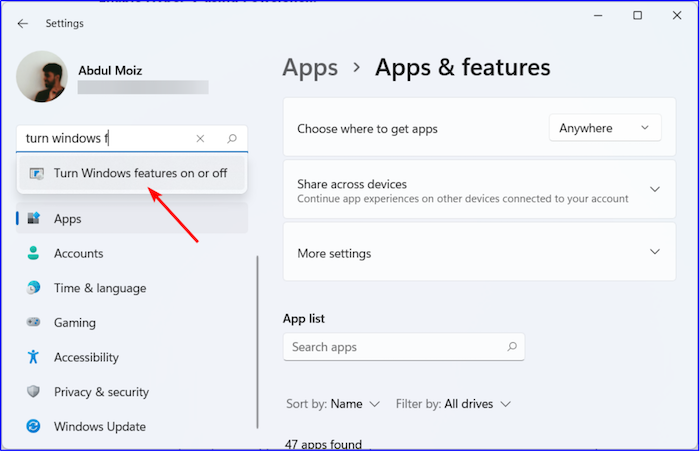 Scroll down and locate "Hyper-V" and then click on it to enable it.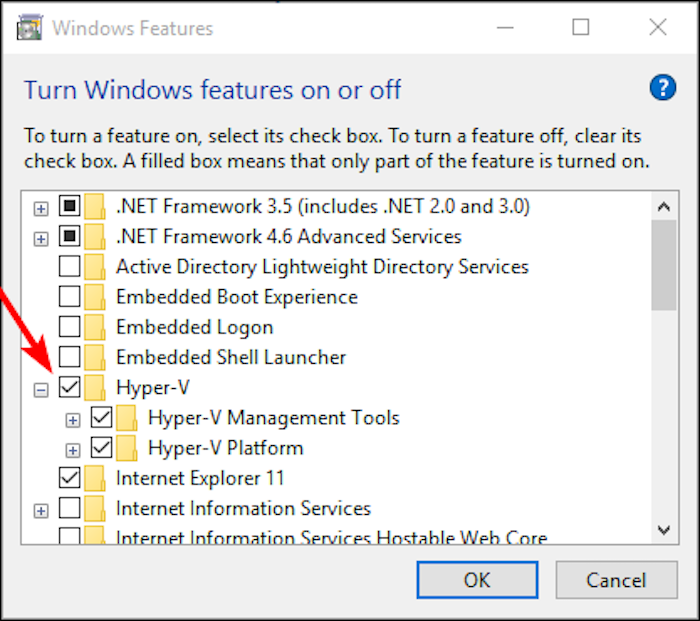 Click on "OK" to enable Hyper-V.
Once the installation is complete, restart your computer.
Conclusion
Virtualization, now, is a big part of most people's workflow. Most virtual machine platforms cost an exorbitant amount of money, but Microsoft includes Hyper-V with all its Windows Pro, Enterprise, and Education edition versions. Activating and using the Hyper-V is also easier.
FAQs
1. How many VM can run on Hyper-V?
Around 1,024 active virtual machines are the maximum limit for Hyper-V.
2. What happens if I disable Hyper-V?
When you disable Hyper-V, you will encounter a list of technologies that are needed to run Hyper-V and whether they are already available on your system.
3. How much is a Hyper-V license?
Hyper-V is a free product, but the cost of using certain tools like clustering, VMotion, and others is not a fixed price and it varies a lot depending on each user, their workflow, and what tools they need.