Looking to understand SNMP? Then let's help you out with it.
In order for the internet to work properly, it goes through many phases. These phases in the industry jargon are called standard protocols, which regular how the internet works and allow servers to manage networks. Thus, SNMP is one of the key protocols of network management.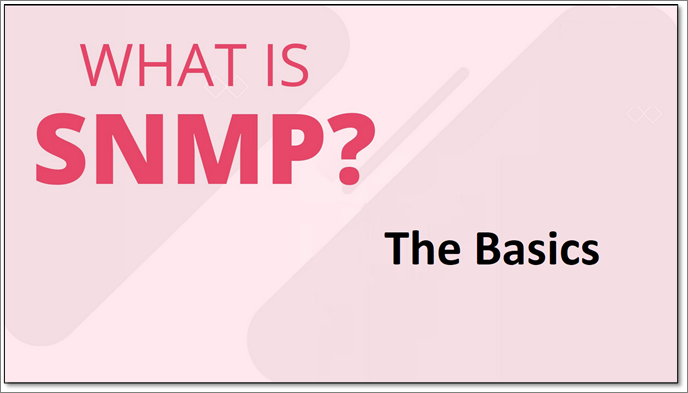 But what is SNMP? How does it work, and what does it do? In this article, we're going to explain its basics and how it works. Besides that, we'll also explore a couple of SNMP benefits. So, let's get started.
What Is SNMP
SNMP is a protocol that is used to monitor and manage the network. It is a standard internet protocol, and most devices use it. SNMP can be used to monitor the performance of an internet connection, the bandwidth, data usage, uptime, etc.
The SNMP protocol enables network managers to configure and monitor their networks from remote locations by using a variety of mechanisms, including email, alerts and traps. The usual framework of SNMP is embedded in multiple local devices.
This includes a variety of network devices, such as a router, LAN switches, cross-network servers, online servers, and firewalls. That's why SNMP is key, as it enables devices to convey management information.
This includes managing and sending this information across a multi-vendor LAN or WAN network. Thus, it's also called an OSI model framework, enabling the application layer to conduct this information through specific protocols.
However, for each layer of information, SNMP is divided into various versions—but we'll talk about that later. But, the primary pillar of SNMP is MIBs (Management Information Bases.
How Does SNMP Work
SNMP requires three basic components to work properly. In order to understand how it works, let's explore each component:
SNMP Manager: this is the key component of an SNMP protocol, and it's also called NMSs (Network Management Stations).
SNMP Agent: This is the client-side of SNMP, which connects a device to the manager/server of the SNMP protocol.
MIB: Management Information Base is the structured data, which makes SNMP relay data from one network point to another.
Managed Devices: Managed devices include, as mentioned before, routers, LAN networks, WAP networks, computers, mobile phones, etc.
OID: Object Identifier or OID is the identification given to each device. This means mac address, IPs, etc.
These are the key components that pull the gears of SNMP.
SNMP Versions
SNMP works in three versions. Each version of SNMP allows it to tend to different aspects of the network protocol. Here's a brief explanation of each one:
SNMP Version 1: this one is also called SNMPv1, as it implements the structure management within an SNMP-controlled network. It's classified as information specification and described as RFC 1157.
SNMP Version 2: this version is the advanced version and qualifies as RFC 1441. It has way more efficiency at handling errors and alternates between RFC 1441 and RFC 1901.
SNMP Version 3: introduced as RFC 3410, SNMPv3 improved security by miles. And it ensured better privacy as well.
These are the three primary versions of SNMP.
Benefits of SNMP
SNMP is one of the key components of modern networking. Without it, the protocol would simply fail—in other words, the device would have no connectivity. Thus, the benefits of SNMP include the following:
Real-time status updates, such as speed, status, ping, etc.
Standardized device monitoring that allows you to monitor data and ensure a smooth network flow
The simplicity in SNMP's design and framework makes it really easy to operate
SNMP is easier to expand, making it future-proof for the foreseeable future
These are some of the key benefits of SNMP and the things that make it an effective protocol today.
Conclusion
There you have it, folks, the key essentials of SNMP and how it works. We talked about the components, benefits and all the important things about it. So, it's not only important but also an essential component of networking today.