The purpose of Mac's Recovery Mode is to allow users to do basic troubleshooting tasks on their own. If you have to fix the startup disk, reinstall macOS, or prevent your Mac from starting up usually, you may do it by pressing Command + R to enter Recovery Mode (check whether Mac won't boot into recovery mode in advance). However, there would be occasions when things go awry. There is a chance that users may be unable to enter Recovery Mode when their Mac first starts up.
However, if your Mac's Recovery Mode isn't functioning, you'll see the regular login window or a blank screen instead of the "macOS Utilities" window. Maybe your mouse or keyboard stopped functioning, and now you can't access Recovery Mode on your Mac. Your admin password might be flawed, which is far worse. This article is for you if you've run across the same issue.
What Is macOS Recovery Mode?
The term "macOS Recovery" refers to the system-wide Recovery Mode included in the operating system. Users can carry out various tasks on the Mac system while in this mode. Some examples of these tasks include repairing or deleting a drive using Disk Utility, reinstalling macOS, obtaining online assistance, and restoring the system backup files using backup software.
Reinstalling macOS and deleting the disk are two recovery methods that should be used with extreme care. This is because after any of these choices has been used, it is impossible to retrieve any previously stored data on the device. When using Recovery Mode to troubleshoot issues on their own, users should always try to resolve them by installing macOS clean since this is the most effective solution.
How to Use macOS Recovery Mode?
The built-in recovery mechanism on your Mac is referred to as macOS Recovery. On a Mac that Intel powers, you may utilize the applications included inside macOS Recovery to fix your internal storage device, reinstall macOS, recover your contents from a Time Machine backup, configure your security settings, and much more. Let's take a look at how to initiate Recovery Mode as well as the way that you employ to do so.
1. How to disable Mac in recovery mode?
Step 1. Startup Mac OS X in Recovery Mode. Restart your computer and press and hold the Command and R ( and R) keys as soon as you hear the boot chime.
Step 2. Launch a Terminal window by selecting it from the utility menu after Recovery mode has been activated.
Step 3. Copy and paste the following into the Terminal window: Csrutil turns off.
Step 4. After pressing the Enter/Return key, a warning will appear indicating that System Integrity Protection (SIP) has been turned off and that a computer restart is required for the changes to take effect.
Step 5. Turning off SIP will take effect after a restart of your Mac. This service no longer interferes with software installations.
2. How to enable Mac in recovery mode?
Step 1. Launch a Terminal window and type: csrutil enable after installing the program, then restart into macOS Recovery mode using the Command+R (+R) keys.
Step 2. When you press the Enter/Return key, a notice will appear letting you know that you've successfully activated System Integrity Protection and that a computer restart is required for the changes to take effect.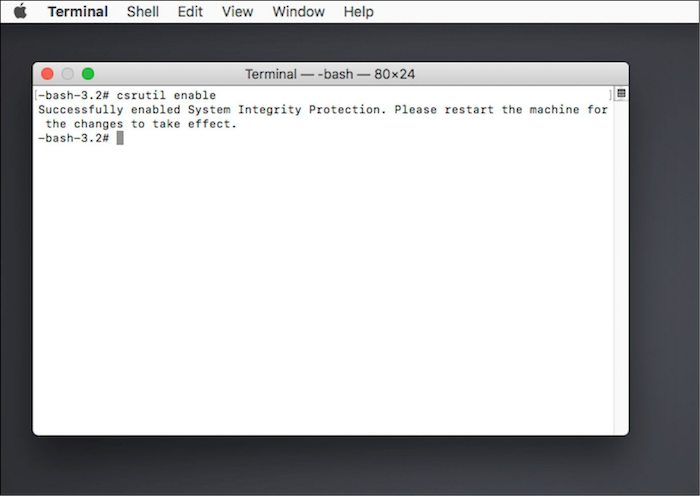 Step 3. After restarting your Mac, you should find that SIP is functioning again.
3. What are shortcuts to be used for macOS recovery mode?
After turning on your Intel-based Mac, you'll need to press and hold one or more of the keys below to boot into any of the macOS's built-in starting modes. Except where otherwise instructed, press the keys as soon as you hear the starting sound.
Restart: Press the Power button until the screen appears
Mac OS X Recovery Mode: Cmd + R
Internet Recovery Mode: press the Command + Option + R or Command + Option + Shift + R.
Safe Mode: Pick a volume, press the Shift key, and click Continue to enter safe mode.
4. What are the options in macOS recovery mode?
On a computer with an Intel-based processor, macOS Recovery gives users access to the following applications:
Disk Utility: You may format or reformat your disk with Disk Utility. Choose Disk Utility and then Continue in the Recovery program. Select Disk Utility > Quit Disk Utility to leave the Disk Utility software and return to Recovery. For details on how to completely wipe and reinstall macOS, see here.
Startup Disk: Choose the disk that will start up your Mac. Select Startup Disk from the Apple menu. Select Startup Disk > Quit Startup Disk to exit the startup disk and return to Recovery.
Terminal: From the Recovery app, select Utilities > Terminal. Select Terminal > Quit Terminal to exit the Terminal app and return to Recovery.
Conclusion
After reading this article, you can learn about the Internet Recovery Mode for Macs. However, when your Mac's Internet Recovery Mode is not operating correctly, you must take the required precautions to safeguard your data. On a Mac, a clean installation of macOS while in Recovery mode is often a straightforward operation. As a safety measure, we have provided step-by-step instructions to disable and re-enable macOS. However, creating a backup of all your files is necessary before you reinstall macOS.
Frequently Asked FAQs
1. Will recovery mode erase everything on Mac?
As far as we know, Mac's Recovery Mode won't remove anything by accident. It's merely a mode that allows people to utilize specialized software, but it doesn't perform anything independently. Time Machine, however, is one of the few Mac apps that allows you to erase files permanently.
2. Why won't my Mac go into recovery mode?
The following are the reasons behind Mac not going into recovery mode:
Using a Mac OS version that does not have a recovery partition, such as Snow Leopard.
Incorrect or broken keypad.
The Mac is not paired with the wireless keyboard.
There was an error or deletion in the recovery partition.
3. How do I force a Mac to boot?
Typically, you may restart your Mac by selecting the Apple menu > Restart. However, there are times when an alternative starting technique is necessary, such as if your Mac suddenly stops responding. Shut off your Mac by pressing and holding the power button. After a short pause, the Mac may be restarted by pressing the power button again.