Routing and data transformation from source to destination is a complete technical process. Many people don't know how the routing system works and how it's helpful for users. If you want to gain in-depth knowledge on dynamic routing, its protocols, advantages, and disadvantages, then you are at the right place! Here, in this post, we will give you detailed information on dynamic routing and its six valuable protocols. So read the post until the end and ask us if you have any questions.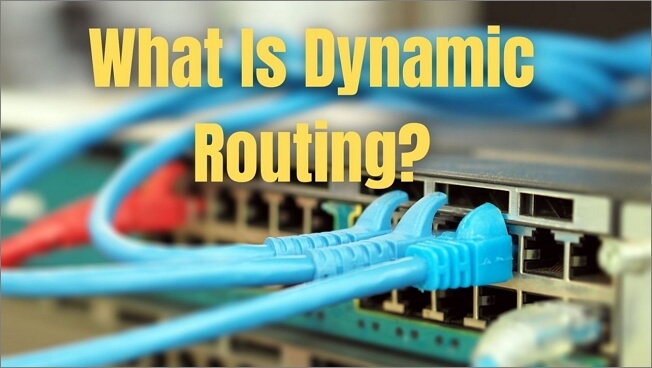 What Is Dynamic Routing
Dynamic routing is an advanced technique of finding the ultimate path for the data to transfer over a network. Overall, in this process, a router can easily transmit data via various routes and reach its target end based on circumstances at that time of communication paths.
Dynamic routers come with advanced technology which always chooses the best path for data based on the condition of the current consequence at that time of the network. Overall, this automated routing methodology needs much less administration and supervision. One of the crucial functionalities of dynamic routing is the capability to change paths in real time over the network by sharing the status among paths.       
Advantages and Disadvantages of Dynamic Routers 
When it comes to dynamic routing has advantages and disadvantages. Let's discuss this in more detail.
Advantages 
Dynamic routing has several advantages like
There is no need to be manually configured by the admin 
Advantageous in operation as well as scalable networking with a high frequency of data on nodes.
There is less chance of mistakes as it reroutes itself associated with other routing protocols. 
Permits the exchange of routing information whenever the network encounters a change in topology.
Disadvantages  
When it comes to disadvantages, it has very few like 
For the execution, it requires reliable, heavy, and robust hardware.
 Dynamic routing requires higher maintenance as compared to static protocol.  
What Are The Dynamic Routing Protocols
There are many dynamic routing protocols. Usually, those protocols could be used within the network. Those protocols are backed by every router and operating systems of the server, like Windows or Linux. We will discuss some of the crucial protocols below in this section.    
Routing Information Protocol (RIP)
Routing information protocol (RIP) is known as an open-source protocol. Version 2 is the old routing protocol. This version suffers scalability problems due to a comparatively low maximum hop count of 15 routing devices. When we compare it with modern dynamic routing protocols, RIPv2's approaches for picking optimal routes and the significant convergence time it manages to recalculate paths provide it nearly obsolete.      
Distance Vector Routing Protocol (DVRP)
Distance Vector Routing Protocol (DVRP) chooses the most appropriate path to a given destination based on the distance. Usually, distance is measured in hops, and the distance metric might be delayed or packets lost. As we know, the distance metric is a hop; each time a packet goes via a router, a hop is believed to have spanned.
The route with the minimum number of hops to a given network is the most appropriate route for that network. The vector displays the direction of that individual network. Distance vector protocols send their whole routing table to associate neighbors directly.            
Interior Gateway Routing Protocol (IGRP)
Interior Gateway Routing Protocol (IGRP) is a proprietary distance vector routing protocol mainly used to communicate routing information within a host network. This protocol manages to route information flow within connected routers in the host network. IGPR usually confirms that every router has routing tables updated with the best access path. IGRP also evades routing loops by revising itself with the adjustments occurring over the network and by error management.     
Open Short Path First (OSPF)
The Open Short Path First protocol, also known as OSPF, is a dynamic routing protocol used in large IP networks. It usually uses a link-state database and link-state advertisements to map the network topology. This is used with the link-state algorithm to define the most appropriate route available.
The unique algorithm used by OSPF to find out the most excellent routes depends on the link-state database and permits OSPF to update its routes quicker than RIP when a network switch is confronted. OSPF utilizes spaces to segment the network, which diminishes the general size of the link-state database and speeds up network merging when changes in the network are proficient.  
Enhanced Interior Gateway Routing Protocol (EIGRP)
Enhanced Interior Gateway Routing Protocol (EIGRP) is an advanced and dynamic routing protocol usually used for routing decisions and configuration in computer networking. EIGRP is a vector routing protocol based on the principle of Interior gateway routing protocol. This protocol has a distinctive characteristic that increases the operational ability and fast converging rate. It always chooses the shortest path distance vector and uses the metrics like load and bandwidth-delay to calculate the shortest optimal network route.    
Border Gateway Protocol (BGP) 
Border gateway protocol, also known as BGP, is the internet's routing protocol. This protocol directs how packets get routed from network to network via the swap of routing and reachability information amongst edge routers. Typically BGP handles packets between autonomous systems, which are networks managed by a single service provider. 
Overall, BGP makes the network steady by guaranteeing routers can adapt to router failures. It works like when one path goes down; it quickly finds a new path. BGP makes routing choices per the paths defined by network policies set by the network administrators.    
Pros and Cons of Dynamic Routing Protocols
In this section, we will discover the pros and cons of all the above-discussed six routing protocols.
Routing Information Protocol (RIP)
Pros 
Very simple to configure and implement
It is loop-free and brings stability to the routing table 
Conserve bandwidth; more minor routing updates sent and received 
Minimized routing table and then quicker lookup 
Cons 
Incompetence to scale large or extensive networks 
The maximum hop count used by RIP routers is 15.
It never supports discontinued networks and has a very high recovery time 
It is slow convergence in the more extensive network.  
Distance Vector Routing Protocol (DVRP)
Pros
DVRP is a stable or proven method that is easy to implement and administer.
It requires significantly less hardware and processing power than any other routing method. 
Negligible bandwidth requirements for a typical LAN environment 
Cons 
Relatively takes a long time to reach convergence because the updates are sent at specified intervals.
Susceptible to routing loops 
Bandwidth requirements can be too great for WAN or complicated LAN environments.
Routers must recalculate their routing tables before forwarding changes.  
Interior Gateway Routing Protocol (IGRP)
Pros 
The configuration of IGRP is straightforward 
The working procedure is uncomplicated 
It uses composite metrics 
It has more scalability as compared to Routing Information Protocol (RIP) 
Cons 
The convergence occurs slowly, especially on large networks.
It doesn't permit numerous pathways for the same route 
The hop count is limited to 15, so if a packet must travel to the 16th number router, it will be discarded.
Routing updates may use a large amount of bandwidth. 
Open Short Path First (OSPF)
Pros 
It supports VLSM and route summarization for a hierarchical design 
It supports all sizes of networks 
It uses the SPF algorithm to provide a loop-free topology 
OSPF uses both incremental and trigger updates to provide quicker convergence. 
Cons 
It requires an experienced network administrator to configure.
OSPF needs loads of information to calculate the best route for each destination.
OSPF runs the SPF algorithm to calculate the best route, which requires additional CPU processing. 
Enhanced Interior Gateway Routing Protocol (EIGRP)
Pros 
EIGRP is designed to be easy to configure, and no technical knowledge is required for the routing configuration.
 EIGRP can converge after link failure in less than a second by using a Feasible Successor 
It is the only routing protocol capable of unequal cost load balancing.
EIGRP routing protocol is efficient enough of routing several distinct Layer 3 protocols using protocol-dependant modules.   
Cons 
The main disadvantage of EIGRP routing is it can only be used on Cisco network devices. 
EIGRP is a distance vector routing protocol that primarily relies on routes provided by a directly connected neighbor.
EIGRP is not extendable and does not support future applications through "opaque" LSA.   
Border Gateway Protocol (BGP) 
Pros 
Load balances over redundant links 
Suitable for ISPs, especially anything with multiple connections to many hosts 
Implementable on a large scale 
It prevents loops when there are several physical links. 
Cons 
Very few alternatives are in use 
No digital identifiers to implicit trust between routers running BGP 
Not stable like other routing protocols 
If misconfigured, chaos can arise by advertising itself as the best path to an unrelated network.
Conclusion
If you are still following this post, you must have a great idea of dynamic routing, how it works, and its essential protocols. We have discussed this post's six most crucial dynamic protocols and their functions. If you have any doubts about dynamic routing and its protocols, feel free to ask us in the comment section.