CIFS stands for Common Internet File System, a protocol used for file sharing across multiple platforms. This protocol is used on Windows operating systems to give access to clients for file sharing and printing services. By providing file access, clients can open, read, and edit the documents, which will be automatically saved on local computers.
Furthermore, clients can also cache data through this protocol to enhance the performance of their networks. Moreover, when a user or a specific client modifies a file, the server provides instant notifications.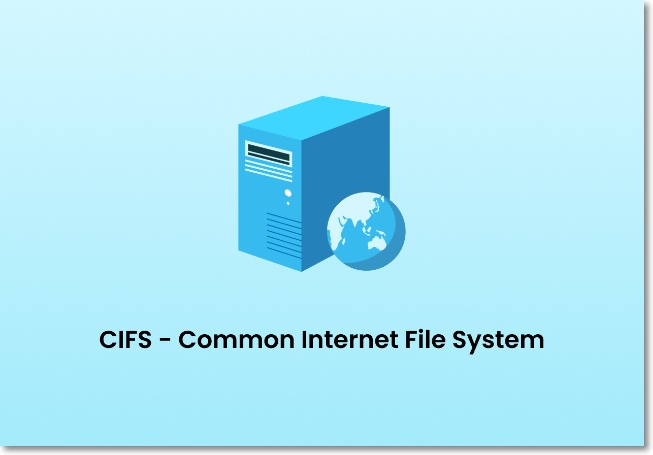 How Does CIFS Work?
CIFS follows the client-server model, which involves three main entities: a client, an application, and the server. Using this model, a client can utilize the services provided by the CIFS protocol. The functionality of CIFS is described below:
1. In the initial process, the client sends a request to the server to begin the operation.
2. After receiving the request, the server fulfills it following the required protocols.
3. Once the request is completed, the server responds to the client.
CIFS Protocol Features
CIFS protocol has various capabilities to facilitate file sharing and other services to the clients. To learn about the key features of the CIFS protocol, check the following points:
Batched Commands: This feature creates single messages from multiple batch requests. It will decrease the round-trip latencies of multiple messages. Moreover, different categories of messages will be made, such as printer messages, connection establishment messages, etc.
Easy File Access: It's a basic feature that enables the clients or users to perform some modifications on the files, like editing, opening, or writing.
Notifications: Through this feature, whenever a client creates some modifications on a file, instant notifications will be sent to the server. This will allow other clients to be notified about the changes made to a particular file.
Additional Attributes: It supports adding attributes like content, description, or author's information.
Verification of Messages: This protocol use message signing for safety so that the communication process won't get modified during transit.
Supports for Unicode File Names: CIFS protocol shows compatibility with ASCII characters.
Support for DFS Functionality: The Distributed File System functionality is completely supported by the CIFS protocol. This functionality enables object naming across multiple servers.
Safe Caching: It allows the clients to cache data safely to improve their networks' performance. Also, it shows support to file locking.
Access to Named Pipes: Named pipes functions as the communicating bridge between a client and server. Thus, clients or users can reach named pipes through this protocol.
Enhanced Connectivity: CIFS offers maximum flexibility to its clients. If required, a single client can establish connections to multiple servers quickly. Also, the client can make multiple connections to a single server.
No Requirements for Transport Protocol: CIFS does not demand anything for the transport protocol. It uses connectionless protocols to pass messages between a client and a server.
CIFS vs. NFS
Do you want to know the difference between CIFS vs. NFS? Check the following table to understand the differences easily.
| Parameters | CIFS | NFS |
| --- | --- | --- |
| Supported System | The main supported system of CIFS is Windows. | The main supported system of CIFS is Unix or Linux. |
| Communication Ability | The communication process can be chaotic or time-taking.  | It does present some errors while communicating but performs relatively better than CIFS.  |
| Preferred Usage | You can use the CIFS protocol if you are a regular Windows user.  | People who are using LINUX or UNIX platforms can easily use NFS. |
| Security Level | CIFS offers advanced security options. Thus, it's highly reliable and secure.  | NFS does not include unique security options to protect data while communicating. Hence, it has a low-security level as compared to CIFS. |
| Communication Time | The communication time or speed in CIFS is average. | It offers fast communication speed than CIFS.  |
| Implementation | It has a complicated configuration setup. Moreover, beginners won't be able to detect any faults. | It can be quickly launched on systems. Furthermore, it offers a friendly user experience as compared to CIFS.  |
| Port Numbers | It utilizes 139 and 455 for TCP. For UDP, it requires 138 and 137. | NFS uses 111 for TCP and UDP.  |
CIFS vs. SMB
Are you looking for the main differences between CIFS vs. SMB? Here is the well-structured table for your convenience.
| Parameters | CIFS | SMB |
| --- | --- | --- |
| Communication  | CIFS can have confusion while the communication process due to the presence of bugs. | SMB utilizes pipelining methods to enhance their communication process.  |
| Usage | It is used in giant corporate companies where employees can handle large data simultaneously. | This is used in high-level applications to store excessive file data safely across a network. |
| Security Level  | CIFS does not have authentication checks during file transfer. | It includes a pre-authentication check to enhance the security level and file transparency. |
| File Size | CIFS was only able to handle limited file sizes. Thus, it caused issues while transferring large-sized files.  | SMB increased the limits of file size during file transfer.  |
| Number of Instructions | Users are required to use hundreds of commands to transfer a file. Thus, it does not offer a friendly user experience.  | It has decreased the number of commands to 19. Thus, it offers a better user experience. |