Samsung plans to roll out an update for the Galaxy S21 series that will allow consumers to protect personal data when sending their devices for repair. The new 'Repair Mode' will keep private data on the phone, but it will lock it down and make it inaccessible to anyone working on the device, including technicians.
What is Samsung Repair Mode?
With the Samsung repair mode setting, a phone user can protect the private information stored on their device while enabling a technician to access the device sections required for maintenance.
Thanks to Samsung's Repair Mode, users will be able to individually shut off data on their Samsung phones before taking them in for repair. If you need to get your phone repaired for any reason, whether it be a physical breakage or a software issue, you may have peace of mind when you leave it with someone to be mended. This applies whether the issue is a physical breakage or a software issue.
Which countries can Samsung Repair Mode?
Samsung has stated that it will release repair mode as a software update. The update will initially be available for Samsung in South Korea and delivered over the air (OTA). Samsung has stated that additional models and locations will receive the functionality in the future.
Which Samsung Phones Can Use Samsung Repair?
Repair mode is coming to Samsung's Galaxy S21 series, and the company plans to roll it out to further phone models in the not-too-distant future. When consumers bring their phones in for repairs, we hope other manufacturers will offer a function analogous to this, making their lives easier.
How to Activate Samsung Repair Mode?
To Activate the Samsung Repair Mode, follow the simple steps below:
Step 1: Locate the setting you need under Battery and Device Care in the Settings menu.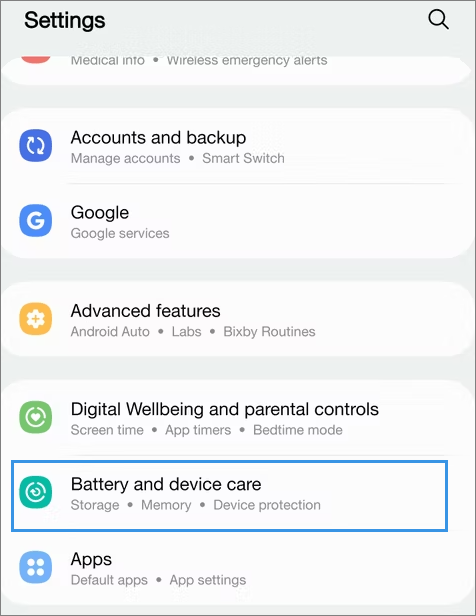 Step 2: Your device will restart after the changes have been made, all of your photographs, texts, and downloaded apps won't be accessible until the phone has been rebooted, and only the phone's default apps can be opened. However, all your important data on the phone will be secure.
Note: Resetting the device and logging back in with your fingerprint or PIN pattern are the only ways to get out of the mode.
If you need more information about Samsung's repair mode, you can check their official website.