Creating bootable USB devices is fastened with Rufus and Win32 disk imager. While both are dedicated software to generate bootable USD drives, both have specific differences. Hence, many professionals look for precise Rufus vs. win32 disk imager details to get the best according to their immediate needs. 
In detail, let us go through Rufus and Win32 disk imager software's key similarities and differences. Starting with the quick definition, it is easy to understand this two freeware and open-source bootable USB makers. We'll compare the two based on different features like performance, functions, features, hardware requirements, system needs, and general characteristics.
What Is Rufus
Starting with Rufus, professionals know about it as a widely used and famous software over other available options. Rufus is the software that offers the transformation of portable drives like USBs or flash drives into bootable drives. It has served a large community of developers and has multiple contributors to the GitHub repository.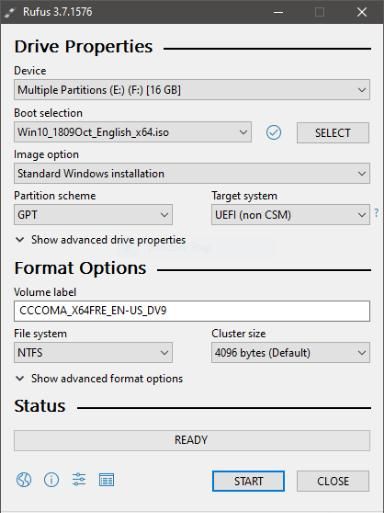 Some of the key use cases of Rufus are running a low-level utility or need of flash or BIOS or other firmware from DOS. It is easy to use Rufus for systems that don't have an operating system installed. Further, it facilitates the creation of USB installation media from different ISOs like UEFI, Linux, Windows, etc.
Features of Rufus:
Popularity: It has a large community that can use dedicated support in more than 38 languages. Further, the documentation offers solutions to all possible issues. Hence, all the specific and code-related issues can be quickly resolved.
System requirements: Rufus is highly portable and only requires around 512MB RAM. It works on Windows 7 or later and doesn't need to be installed. It is easy to download the .exe file from the Rufus website and use it, which is small and convenient.
Functions: It doesn't require removable hardware to be plugged in before use. Some of its essential functions are automatic detection of removable hardware in the system, bad block checking, making customized icons, extended partition labels, etc. Rufus is hence famous over other counterparts.
High performance: Rufus has the highest speed among all the available options. While it is easy to use, it offers advanced options to professional users.
What Is Win32 Disk Imager
After going through the famous Rufus, it comes to the less popular but highly competitive option- Win32 disk manager. It is an ideal software for saving and restoring images from different removable devices like memory cards, SD USB drives, etc. It is easy to write boot images to a USB flash drive or SD flash drive.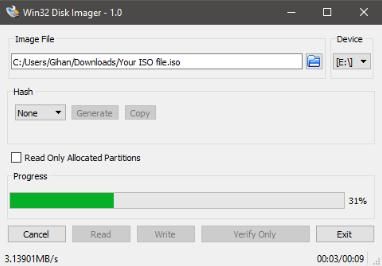 Users can quickly download the files, format the removable drive, select the ISO and start writing the ISO images. The best part is that the win32 disk imager works seamlessly on all possible PCs. It has a simple-to-use interface that makes it easy to write ISO images. It is lightweight and requires only 100 MB of space. It is easy to open the last opened folders or read-only allocated partitions. It further offers additional language translation for global use.
Features of Win32 disk imager:
Popularity: Win32 disk imager is one of the less popular open-source software for bootable USB but is a strong competitor to the top competitors like Rufus. All the daily queries of the developers are quickly answered by the team, which comes quick help to the users.
System requirements: It has minimal hardware requirements and works efficiently on systems having 512MB RAM. It is highly flexible to the Windows systems over Rufus or other options.
Functions: It requires ISO files in advance and is extremely useful for backups. It is one of the significant features of the win32 disk imager, allowing users to back up the SD cards quickly. Hence, users go for win 32 disk imager when backing up photos or other data from mobile devices.
High performance: Win 32 disk imager is decently fast software out of all the available options. It works seamlessly with Windows and Ubuntu operating systems and has a simple graphical user interface with a basic Microsoft Windows GUI look. 
Rufus vs. Win32 Disk Imager
After going through the easy-to-understand and quick definitions of Rufus and win32 disk imager, it comes down to the key similarities and differences between the two. It helps clear understanding of these two free software for generating bootable USBs and solving the winner of Rufus vs. win32 disk. Starting with the similarities first:
Similarities in Rufus and win32 disk imager:
After going through the resemblance, it becomes easy to understand the difference between these two leading bootable USB drive software. So, here are the top standard features of Rufus and win32 disk imager software:
Both are available for Windows and Linux operating systems.
Both are open-source license software.
Both can create amazing bootable USBs.
Both offer dedicated UEFI support.
Both can burn ISO.
Both can create bootable backup and allows the quick download of ISO images.
Both can write ISO to SD card.
Both are lightweight and highly portable tools.
Both offer automatic downloading.
Both possess material design.
Both are available in different languages.
Both offer disk-to-image file conversion and disk imaging.
Both allow quick backup.
Differences in Rufus and win32 disk imager:
After going through the similarities, it comes down to the critical differences between the Rufus and win32 disk imager. Some of the main differences in both are:
| Feature | Rufus | Win32 Disk Imager |
| --- | --- | --- |
| Disaster recovery and incremental backup | No | Yes |
| Cloning to small disks, fast cloning, disk cloning, etc. | No | Yes |
| Formatting SD to NOOBS-compatible format | No | Yes |
| Cleaning unwanted partitioning | No | Yes |
| Live booting from USB | No | Yes |
| Creating bootable CD | Yes | No |
| Arch Linux base | Yes | No |
| Converting Img to ISO | Yes | No |
| Portable and persistent Linux | Yes | No |
| No need for formatting | Yes | No |
| Command line, command line support, and command line interface | Yes | No |
| Utilities for deleting files | Yes | No |
| Installation to internal hard drives or SSDs | Yes | No |
| Creating multiboot USB, multiboot USB, and multiboot | Yes | No |
| UDF extension support | Yes | No |
| Optimal performance | Yes | No |
| Linux or GNU libre | Yes | No |
| USB to UDF, NTFS, and FAT | Yes | No |
| Installing DOS to USB | Yes | No |
| Creating BIOS bootable drive, bootable USB, and UEFI bootable drive | Yes | No |
| Checking bad blocks | Yes | No |
Wrap up
Hence, it is easy to understand the details of Rufus and Win32 disk imager. The key similarities and differences between the two ensure that users can select one based on their requirements. The quick definitions leading to the detailed Rufus vs. win32 disk imager comparison are not to miss.
Win32 disk imager facilitates easy working on Ubuntu and helps create backup files quickly. On the other hand, Rufus has it all to make it a preferred choice for creating bootable USB drives. With no clear winner, it comes down to the individual needs of the users to select Rufus or win32 disk imager.