With the increase in data usage, there is a significant increase in the demand for storage devices. The best solution is to trust cloud technology when managing large data. Cloud solutions don't work like hard disks or external storage gizmos and can quickly save data on different servers located globally. Microsoft offers OneDrive backup and effective storage for personal and professional data.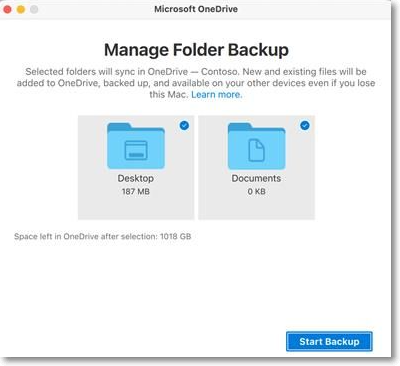 Let us go through all the details about what Microsoft OneDrive is. Starting with a detailed understanding of the OneDrive backup windows 10, followed by its seamless working. We'll also compare OneDrive with the conventional sync feature. 
What is OneDrive Backup Windows 10?
After having a quick introduction to OneDrive, it is essential to know in detail about OneDrive backup windows 10. The leading technological giant, Microsoft, offers OneDrive as a part of its 365 productivity suite. As a result, all Windows 10 systems have preinstalled OneDrive, while other users can quickly access OneDrive using a dedicated app or a web browser.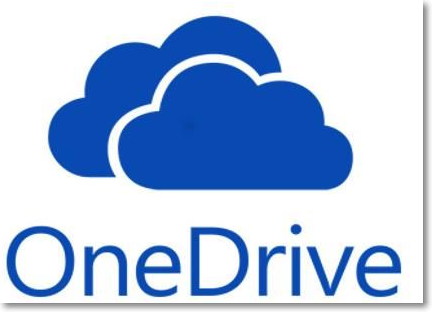 Microsoft OneDrive is one of the most famous storage solutions used globally based on the power of cloud technology. It can back up professional and personal data within a few seconds. Moreover, OneDrive offers quick synchronization with Windows 10 system to upload files on the cloud or even to other Windows systems, smart devices, etc. It was launched on August 1, 2007, and is available in more than 107 languages globally.
Functions of OneDrive:
After going through the quick definition of Microsoft OneDrive, it is easy to go through its top functions. Some of these are:
It is easy for users to protect files from ransomware attacks and go for a quick restore. Users get the time up to 30 days to restore files after the attack.
Microsoft OneDrive offers quick viewing and restoration of different file versions. Users can undo changes from up to the last 30 days in the drive.
It allows users to access files and folders in Microsoft OneDrive without a system. Users can quickly open the OneDrive app or open the website browser online.
OneDrive ensures that users can quickly back up large or small files in the cloud. A single setup of PC folder backup ensures that OneDrive backs up and syncs all files from the picture, documents, desktop folders, etc.
Advantages of OneDrive:
After going through the key OneDrive functions, it is easy to understand its key advantages. Some of the OneDrive benefits include:
It is designed to allow immediate access to the files or folders and quick synchronization of the files from different endpoints.
It is easy for the users to pin certain files and folders that are widely used and can be the ideal files on demand for quick data access.
Users can set the Kbps limit on the bandwidth for OneDrive uploads and downloads.
It is easy for professional users to restrict access to OneDrive files. Further, the type of allowed sharing can be defined for restricting file access.
Users can quickly share different files by right-clicking on the file with email.
Microsoft uses strong encryption to protect data during synchronization and file transfer.
How Does OneDrive Backup Windows 10 Work?
Hence, it is easy to go through the key functions and advantages of OneDrive. Moving ahead, it is time to understand the OneDrive backup Windows 10 working with detailed information using different steps. We'll go through the quick steps to turn on OneDrive, back up folders with OneDrive, and back up Windows 10 system with OneDrive.
How to turn on OneDrive backup on Windows 10?
OneDrive can synchronize all data from Windows 10 system to the cloud. All you need to do is turn on the OneDrive backup on Windows 10. The quick steps for the same are:
Step 1. Go to the OneDrive icon in the Windows notification area.
Step 2. Go to the gear icon at the top-right corner and open the "Settings" menu, followed by the "Backup" option.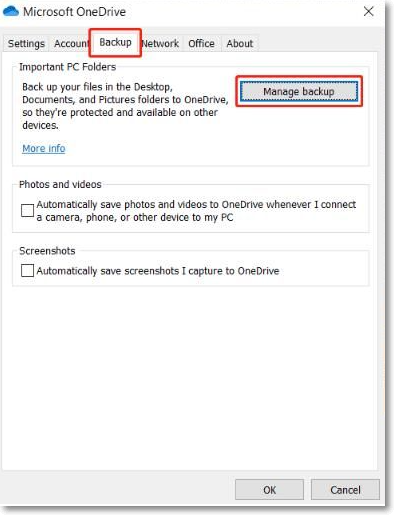 Step 3. Select the folders you wish to backup followed by the "Start backup" button.
How to backup folders with OneDrive?
After going through turning on the automatic backup on OneDrive, you may look for solutions to different backup folders with it. Windows 10 users can quickly backup folders with OneDrive with the following steps:
Step 1. Launch OneDrive on your system.
Step 2. Go to "Help and Settings."
Step 3. Go to the "Backup" option and select "Manage Backup."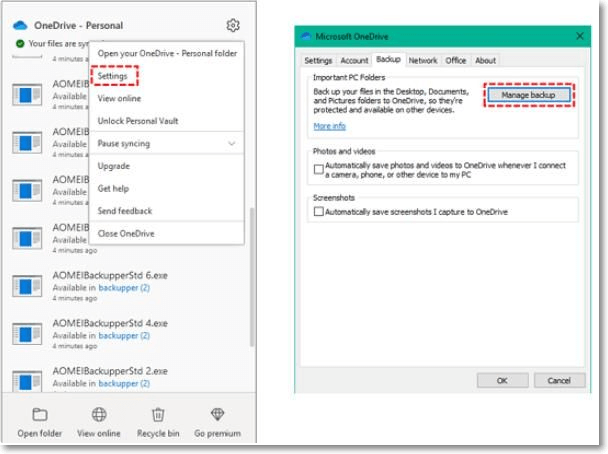 Step 4. Select the folder on the system and click on "Manage Folder Backup."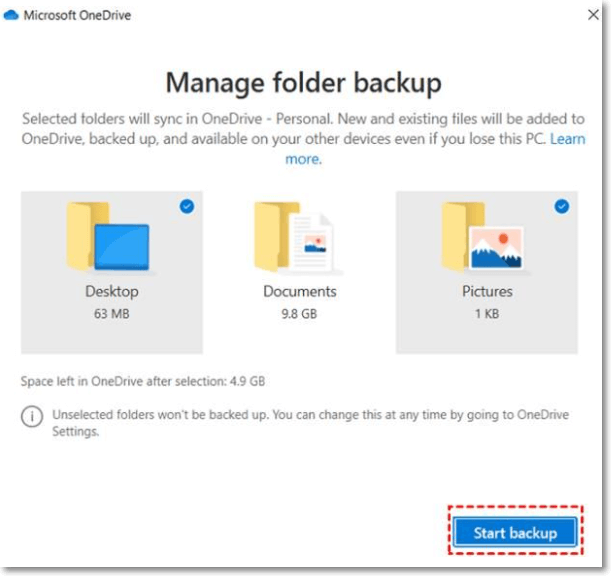 Step 5. Hence, folder backup is achieved with onedrive.
How to backup Windows 10 system with OneDrive?
It is easy to backup Windows 10 system with OneDrive by using the in-built "Backup and Restore Windows 7" tool. It creates a system image and backup the images to network drives, DVDs, external hard disks, hard disks, etc. The quick steps to use it are:
Step 1. Go to the "Search" menu and type "backup" to open "Backup and Restore Windows 7."
Step 2. Go to "Click a system image" and go to the "Next" option followed by selecting a local hard drive to save Windows 10 backup and then selecting "Next."
Step 3. The backup folder is saved with the name "WindowsImageBackup." It can be copied to the OneDrive folder with administrative rights.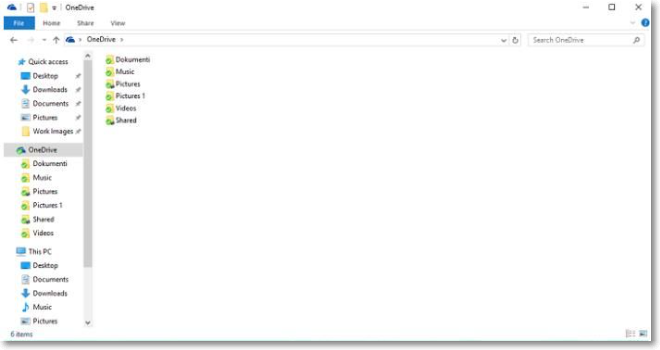 Step 4. OneDrive now syncs this folder to the cloud automatically.
OneDrive Backup vs. Sync: Which is Better? 

After going through the different steps to understand OneDrive backup working, users may need to compare OneDrive backup and sync. Both terms, backup, and sync may be used frequently as same but, professionals understand the difference between them. The following comparison table will help you understand the difference between OneDrive backup and sync.
| Features | OneDrive Backup | OneDrive Sync |
| --- | --- | --- |
| File directions | It is a one-direction process. | It is a two-direction process. |
| Meeting user needs | It creates a copy of the file at another location to prevent the loss of files. | Sync fails to protect the security of different data files. |
| Data security | It offers dedicated protection against malware, viruses, ransomware, etc. | Sync fails to protect the security of different data files. |
| Protecting from disasters | It has poor protection of data from disasters. | It offers reliable protection against disasters. |
Hence, after going through this quick comparison table, it is clear that OneDrive Backup and OneDrive sync can be used in different cases based on the user's needs.
Final Words
So, this is all about OneDrive backup in Windows 10. The ideal cloud storage solution, OneDrive, takes the lead regarding seamless synchronization, PC folder backup, PC backup, etc. In addition, users can turn on automatic backup to stay away from lengthy and time-consuming processes.
The quick steps for different functions of OneDrive backup ensure that users can understand its working in detail. A detailed comparison table between OneDrive Backup and OneDrive sync ensures no confusion in selecting the perfect option according to needs. Hence, Windows users can start using OneDrive easily and quickly after understanding all basic details and its working.
FAQs  
After going through OneDrive backup details, users may have questions about its functioning. Some of the top questions related to OneDrive working are:
1.  Why does my OneDrive not sync automatically?
The different reasons may cause OneDrive to not sync automatically like the following:
Using the old version of the OneDrive app.
Running out of space on the cloud.
The size of the data uploaded is more than 10 GB.
Denial of sync permission on the system using OneDrive.
Bad internet connection
The quick solutions for OneDrive not syncing automatically error include:
Re-establishing the sync by existing from the OneDrive app. Users can restart the system and then allow OneDrive to establish the connection again. It can start working with a simple restart.
If the file size is more than 10 GB, it is recommended to compress the file using WinZip or Windows Native Feature. Once done, you can proceed with OneDrive sync.
2.  How long does it take OneDrive to sync?
The time taken by OneDrive to complete sync depends on the size of the files, the latest updates in the OneDrive app, etc. Generally, it may take around ten minutes for OneDrive to sync.