It is one of the most asked queries when purchasing a laptop or a computer system. If you are also going through this annoying situation now, you must consider several criteria to understand which one suits your needs well. The improving technology has vast differences between the different gadgets these days. If you are eager to know in detail about the criteria for differentiating both and finding the best one per your needs, read this article until the end.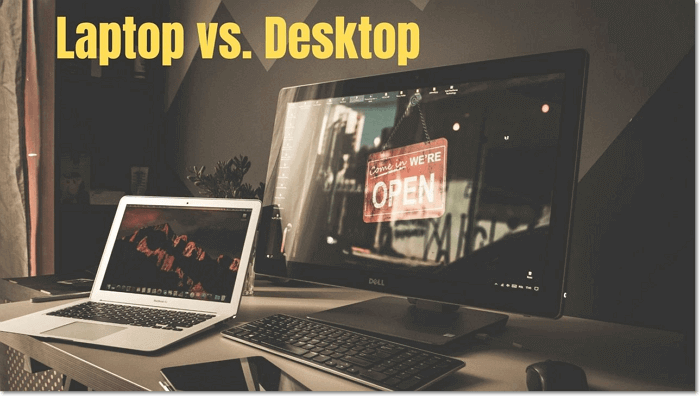 Laptop vs. Desktop: The Differences
Cost: Desktop usually comes up with a wide range of component options, which further works for offering a wide range of pricing options to consumers. The best thing here is that the starting pricing of the laptops is relatively cheap, making it much more affordable. One can quickly get a powerful desktop just at the starting range of $600.
Laptop also comes up with a wide range of component options but are limited compared to desktops. Their pricing is a bit higher than the desktops. If you want to get a powerful laptop with higher speed, better graphics, and more storage space, you need to spend about $1000. 
Portability: Desktops are usually larger and bulkier. They typically have separate monitors and CPUs. Moving a desktop from one place to another is a hectic task. They are typically designed to be used in a single location and can't be moved much.
Laptops are much more portable and do have a compact size. The main motto behind the development of laptops is to provide an extreme level of portability to the users, and it is doing great. Laptops can be easily carried in a backpack or case and are great for use.
Processor: The majority of desktop usually comes with powerful processors. It features new and advanced processors and offers users high-end usability. Yet the laptop somewhere has nearly caught the desktop performance but still needs some improvement to reach that level. One can quickly get laptops with high-end performance, but for accessing them, one has to pay extra as well.
Internal storage: The desktop comes up with multiple storage drives usually. They can easily store a massive amount of data without imposing any extra burden and affecting the device's performance.
Laptops only feature one internal drive for storing the required data. One can easily replace the preferable drive or storage as per their convenience.
Assembly and setup:  It takes effort or extra work to set up a desktop perfectly and start accessing it. One needs to connect everything perfectly so that it runs smoothly. Moreover, desktops also require more space.
The laptop has different built-in features that make it easy to access. One can start accessing it instantly without making many efforts. You must take the computer out of the box, plug it in, and press the power button. Once done, your laptop will be ready to use within a few minutes.
Keyboard: Desktop usually requires full-sized keyboards that feature a number pad. The desktop PC doesn't include any limitations.
The laptop's keyboard is designed per the computer's size. Laptops with 14" to 15" screens usually have smaller keyboards and don't feature a number pad on the right side, whereas the 17" screens have more prominent keyboards and include a number pad.
Screen size: Most available desktops in the market usually come up with a screen size of about 19" or more, whereas one can quickly get a laptop with a wide range of screen size options ranging from 10" to 17". 
Power usage: Desktops are usually believed to consume more power than laptops. They require a higher wattage power supply and multiple components within the computer and monitor. Fluctuating in intensity leads to the deletion of documents that are not stored. 
A laptop usually requires less power than a desktop computer. It generally features smaller components and requires smaller storage space. Laptops typically have a battery and can easily bear power fluctuations and outages without any issues. 
Laptop vs. Desktop: Which One to Choose
There are many factors to consider when purchasing a laptop or desktop computer. Some people prefer the portability of laptops, while others find that desktops offer more power for the same price. Here are some situations to consider when making your decision:
Gamers: A hot topic in gaming is the debate about laptops versus desktop computers. According to some, laptops are more convenient since they are portable. Others argue that desktops have more powerful processors and graphics cards. Personal preference ultimately determines what works for you. The portability of laptops appeals to some people, while the power of desktop computers appeals to others.
Personal Usage: In the case of a computer that will be used primarily for private purposes, such as checking email, browsing the internet, and posting on social media, you might be better off with a laptop. The portability of laptops makes them ideal for use at home, at work, or on the go. Cost is another factor to consider. The price of laptops is typically higher than that of desktop computers, but there are various price points to consider. The right choice for your needs depends on weighing all the factors before making a decision.
Running Heavy Applications: Over the past few years, laptop computers have evolved dramatically and are now more powerful than ever. They still lag behind desktop computers when it comes to running heavy applications. Laptops usually have less powerful processors and graphics cards than desktops. A laptop's cooling system is also less robust than a desktop computer, leading to overheating and decreased performance.
A desktop computer is the best choice if you need to run heavy applications. A laptop will suffice if portability is more important to you if you don't mind its performance limitations.
Laptop vs. Desktop FAQs
We have provided you with a detailed decision between the laptop vs. desktop. We provide you with the most asked queries to make things more apparent to the users.
1. What is the best laptop or desktop? 
The selection of the laptop vs. desktop should be needed to be done on the different performances or different features included. If you are looking for a portable notebook with less power consumption, the laptop would be a great idea, but if you don't, you can quickly go with any of the best laptop or desktop options.
Here is the list of recommended laptops and desktops in 2022
Laptops:
HP SPECTRE X360 14
ASUS ROG ZEPHYRUS G15
ASUS ZENBOOK PRO DUO 14
DELL XPS 13
LENOVO THINKPAD X1 NANO
Desktops:
Dell Inspiron Desktop (3891)
Lenovo Legion Tower 5i (2021)
Falcon Northwest Tiki (2022)
Alienware Aurora R13
Velocity Micro Raptor Z55 (2021)
2. Which is better for graphic design?
The graphic designs of the desktop are usually supposed to be better than that of one laptop as they are more powerful. If you find an equally good laptop, you can also choose that, which may increase the overall cost.
3. In terms of performance, which is better in games?
Finding a desktop computer with absolute performance at affordable pricing is easier. Most powerful laptops come up with higher pricing that is not easy to pay for every user.