These days, overheating is one of the most prevalent issues in laptops and PCs. It usually happens at the time of performing complex tasks as they require more resources for efficient performance, which results in an excessive rise in temperature. Overheating can lead to many problems, such as sudden shut down of the PC, lag issues, and more. It is essential to regularly track your CPU's temperature and control it by taking preventive measures. There are two different methods to check the temperature of your CPU and this article explains both in detail. We have demonstrated both methods in an intuitive manner. Check out the below-mentioned methods to analyze your CPU's temperature.
Why Would You Need to Check CPU Temperature?
There could be several reasons for continuously monitoring the temperature of your CPU. We have mentioned all the possible reasons to check the CPU temperature. 
1. Enhance CPU's Performance: Regularly tracking your CPU's temperature will help you know the actual temperature of your CPU. You can try to find some better solutions to solve the overheating issues and enhance your processors'performance. 
2. Ensure Other Components Are Safe: Sometimes, the rise in CPU temperature also harms the other component due to excessive heat. You can use the below-mentioned methods to track your CPU's temperature and implement adequate solutions. This will ensure that other components don't harm due to this. 
3. To Perform High-End Tasks: The CPU's temperature usually rises when performing complex tasks. Hence, the processors become weak in handling the pressure from executing complicated tasks. This is why it is essential to check the CPU's temperature to find solutions for that. 
4. Speed Up Low-End Specs PC: Regularly monitoring and controlling the CPU's temperature can reduce heating issues, especially if you have a low-end specs PC. It will also help in speeding up the system's performance. So, if you also have a low-specs system, we suggest checking your CPU's temperature at regular intervals.
Some common reasons for the sudden rise in CPU temperature could be an excessive load on the processors. There could be several sources of this extensive load. It can be caused by performing intense tasks or overclocking your CPU. Later, heating issues can result in several issues, like continuous freezing, sudden crashes, reboot problems, etc. 
Fortunately, there are some proven solutions to overcome overheating issues. This article discusses them in detail below. As of now, learn to track the CPU's temperature in a few easy steps. 
There are more information about CPU fTPM, if you are interested in it, you can read the article below: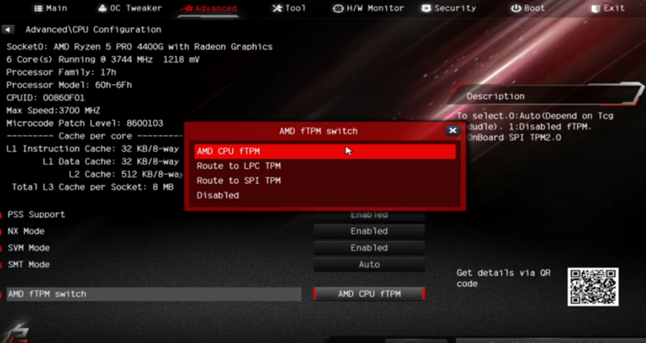 How to Check Your CPU Temperature?
There are two methods to monitor the CPU's temperature. One way to measure the temperature is to use the Core Temp app. Another way to track the same is from BIOS. This section thoroughly explains both methods. You can proceed further with any of the mentioned methods and check your PC's CPU temperature.
Method 1. To Check CPU Temperature in BIOS
You can use the Basic Input/Output Settings to track the CPU's temperature with ease. We have explained the process of doing the same through the steps below.
Step 1. Click on the "Start Icon" and type Settings in the search bar. 
Step 2. Open the "Settings" and head to the Recovery tab. 
Step 3. Click on the "Restart now" button under the Advanced startup section. 
Step 4. Select "Troubleshoot"on Choose an option window.
Step 5. Select "Advanced options" from the Troubleshoot settings. 
Step 6. Click on "UEFI Firmware Settings" to enter the BIOS settings.
Step 7. Move to the Hardware Monitor section to find your CPU's temperature on the screen. 
 Notice:

The name of the section can differ from brand to brand. It can also be named PC Health Status or Status in some systems. You need to make a little effort to find this kind of section in your BIOS.
Method 2. To Check CPU Temperature With the Core Temp App
Core Temp is a popular hardware monitoring app that lets you track your CPU's temperature. You can follow the steps below to use the Core Temp app to check your CPU's temperature. 
Step 1. Download the Core Temp app.

Step 2. Install the Core Temp app following the on-screen instructions. 
Step 3. Once done, launch the Core Temp app. 

Step 4. You can view all the temperature readings under the Temperature Readings section. 

Step 5. Click on the "Upside Arrow" on the lower right side of the taskbar to open the hidden icons. 

Step 6. Hover your arrow on the Core Temp to view all kinds of temperatures.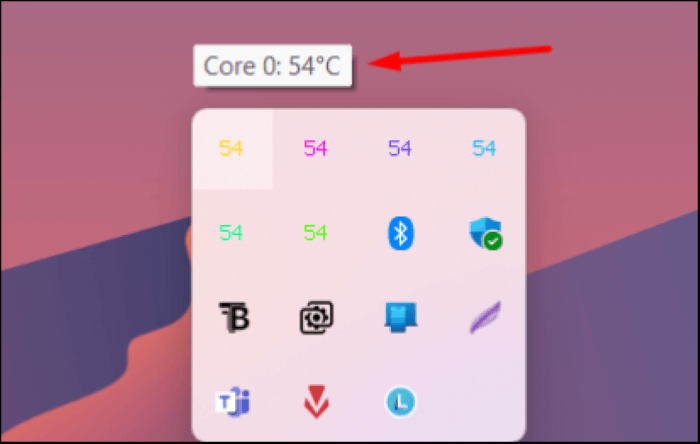 How to Lower Your CPU Temperature?
A CPU's temperature can rise for many reasons. Your CPU's temperature should never exceed 80°C. Exceeding 80°C is simply a possible sign of overheating.
One of the most common causes is the improper functioning of coolers. At the same time, it could also be possible that existing cooling fans aren't enough to lower your CPU's temperature. You don't need to fret as it is common and can be overcome by applying the below-mentioned solutions.
1. Increase the Number Of Fans: There could be a possibility that the existing numbers of fans are unable to handle the heat coming out of the components. In that case, we suggest adding more cooling fans to your system. This eliminates the problem in most cases, and you can try too. 
2. Reapply Thermal Paste: Thermal paste is another great way to maximize the heat transfer between the processors and the heat sink. Reapplying the thermal paste can help to get rid of the overheating issues. 
3. Ensure Enough Airflow: You should always ensure that your CPU gets enough space to breathe properly. It should have enough gaps to let the air come and go with ease. You should never cover the backside of the CPU, as most of the heat comes out from there. 
4. Upgrade Your Coolers: Sometimes, adding more cooling fans isn't enough to lower the CPU's temperature. We suggest upgrading your existing coolers for more cooling at a faster speed. This will indeed help in cooling down your system. 
5. Get a Water Cooling Kit: A water cooling kit is one of the best methods to control your CPU's temperature. This method is most useful for users having high-end PC specifications. It is quite impossible for cooling fans to cool down the processors and other components single-handed. This is because gaming systems use many resources, which results in more heat. 
6. Get A Laptop Cooler: Laptop users usually encounter overheating issues. You can't introduce more cooling fans because there is no way to do it. However, you can purchase a laptop cooling pad to place it beneath your laptop's ventilation area. It will cool down CPU and processors and knock out all overheating issues. 
10 Points Checklist to Look When Your PC CPU's Temperature Rises Above 80°C:
CPU Has Adequate Space for Ventilation.
Ensure There Is No Dust in the Cabinet.
Untangle All the Cables Attached to the Case.
Make Sure Fans Are Functioning Adequately.
Stop Unnecessary Startup Programs.
Update Outdated Drivers.
Upgrade Your Cooling Fans.
Reapply Thermal Paste.
Add More Cooling Fans, if Necessary.
Conclusion
Monitoring your CPU's temperature is very easy with the Core Temp app. You can simply download and launch the software to view all temperature readings under one roof. Notably, Core Temp is one of the easy ways to do this. Otherwise, you can also check your CPU's temperature from BIOS settings. You need to boot your PC into BIOS settings and head to the Hardware Monitor section to easily check your CPU's temperature. These are easy methods to monitor your CPU's temperature in a few steps.
FAQs About Checking CPU Temperature
Have some questions about today's topic and need them answered? Let us answer them in brief right here. We have responded to some FAQs in this section about measuring CPU temperature.
1. How Often To Check CPU Temperature Appropriately?
You should check your CPU's temperature regularly. You can do it once or twice a month, which suits you better. 
2. What Is the Easiest and Fastest Way To Check CPU Temperature?
You can easily monitor your CPU's temperature level using third-party hardware monitoring software, like Core Temp, NZXT's CAM, etc. 
3. What Will Happen if My CPU Temperature Is Too High?
Overheating can create many irritating issues, such as sudden system crashes, continuous lag, startup issues, etc. 
4. What's a Safe Temperature for Your CPU?
In an idle position, the safe or ideal temperature is around 48°C. While in stressful conditions, the perfect temperature is 80°C.