Mac users enjoy the benefits of the exceptional features of its powerful operating system. Whether it is high levels of security or improved process management, Mac never makes it hectic for its users. The different apps monitoring processes are one technique that helps Mac users keep an eye on their app's performance. Hence, many Mac users look to understand AGM service.
Let us understand all about the AGM services in Mac in this section. We'll go through a detailed definition of AGM service, its features, key advantages, possible disadvantages, etc. We'll also follow the detailed steps to remove the AGM service on Mac easily and quickly.
What is AGM Service (Adobe Genuine Software Service)?
Before jumping to the detailed steps to remove AGM services on Mac, it is necessary to know all details about it. Starting with a quick definition:
AGM Service: Adobe Genuine Software Service or AGM Service belongs to Adobe Systems. It is found as an AGMService.exe file. It is an executable file that must be carefully allowed to run on Mac due to possible intervention by malware or viruses.
.exe: The .exe extension indicates that the AGM service file is executable. The only problem with such files is that they may include malware or virus which can damage your Mac.
1. Features of AGM Service:
After having a quick brief of AGM service and .exe files, let us move to its quick features. These are:
AGM Service doesn't have a visible window; it doesn't appear on the taskbar.
It is found in the subdirectory of "C:\ProgramFiles\Public Documents."
AGMService.exe can track other applications.
2. Disadvantages of AGM Service:
Some of the points of concern while managing AGMServices.exe files are:
Many trojans may try to enter your Mac by calling themselves AGMServices.exe.
AGMServices.exe is considered a possible threat to the system as it can successfully track other applications.
3. Is AGM Service safe?
AGM Service file is present as AGMService.exe, which is an executable file. All executable files on Mac have the potential to carry malware or virus to the system. Hence, it is strongly recommended to think twice before running .exe files on your Mac. It is necessary to check if AGMService.exe is safe for your Mac or not before executing it to monitor it for different applications.
4. Steps to check if AGMService.exe is safe to run?
It is crucial to conduct a run for the .exe files before allowing them to make changes to your system. The quick steps for the same are:
Step 1. The location of the AGM Service exe file is "C:Program Files (x86)Common FilesAdobeAdobeGCClient".
Step 2. Go to "Task Manager" and click on the columns field. Now add the Verified Signer as one of the columns.
Step 3. Look for the Verified Signer value of AGMServices.exe. If it shows "Unable to verify," then it can be a virus.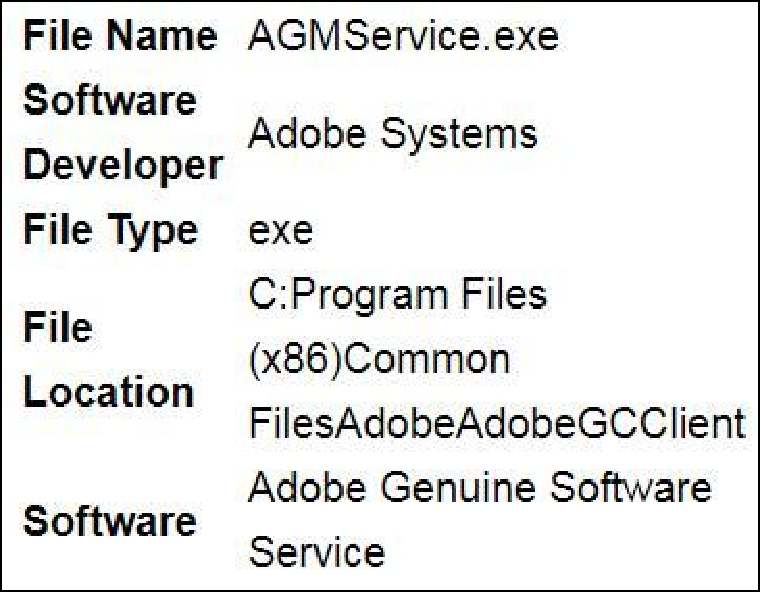 Step 4. If the software developer is legitimate, you can keep it running on your Mac. However, if the developer is not listed, it becomes necessary to uninstall this file.
How to Remove AGM Service Mac?
After having a brief about the suspicious AGMService.exe file, readers may look for detailed steps to remove it from the system. The quick steps for the same are:
Step 1. Start by running the uninstaller. It works effectively if the file is a part of the software program. This uninstaller can be located in a directory like C:Program Files>Adobe Systems>Adobe Genuine Software Service or Adobe Genuine Software Service >AGMService_uninstall.exe.
Step 2. Go to the "Applications" option on Mac and select "Move to Trash" to remove the app from the system.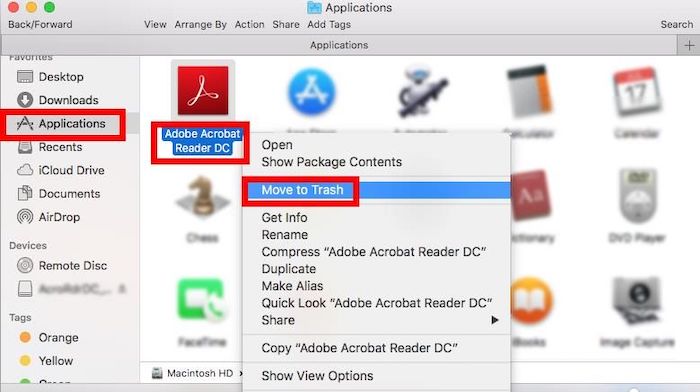 Step 3. Thus, the Adobe Genuine Software Service program and AGMService.exe file are removed from the system.
Final Verdict
Hope everything is clear and easy to understand about the AGM services on Mac. It is easy for the readers to know details like quick definitions, different types, features, and disadvantages of AGM service. Readers can go through the detailed steps mentioned above to remove the AGM service on their Mac devices.
Coming with the software developed by Adobe Systems, AGM service is an executable file in the Windows process Adobe Genuine Software System. Readers are recommended to ensure AGM service files are good to go, as different viruses and malware are transmitted through exe files only.
FAQs about AGM Service
After going through all about the AGM services in Mac, readers may have some questions related to the same. So, below is a quick list of the top and frequently asked questions about AGM service:
1. What are the differences between the AGM service and MDS service on Mac?
AGM service runs in the background of Mac to verify if it is running a genuine copy of an Adobe Creative product. MDS service on Mac sets up all the resources for different processes like installing required software packages, wiping or installing macOS, booting from an external drive or the recovery partition, etc. MDS service works with all Mac devices having Secure Boot and System Integrity Protection.
2. Does AGM service cause high CPU/ GPU usage?
AGM services never cause high CPU (Central processing unit)/ GPU (Graphics processing unit) usage. However, any unexpected CPU/ GPU usage can be due to outdated graphics drivers.