iOS 10 beta 1 version is available for developer users to gain and install in their iPhone, iPad and iPod now. Surely, iOS 10 the official version will be available for all iDevice users very soon. Here in this passage, we'll offer you effective methods to help you effortlessly update to iOS 10 without losing data on iPhone/iPad/iPod now. If you want to enjoy the new features in iOS 10 such as new Siri, iMessage, Apple Music etc, come and update your iDevice into the new system - iOS 10 now.
What's new in iOS 10?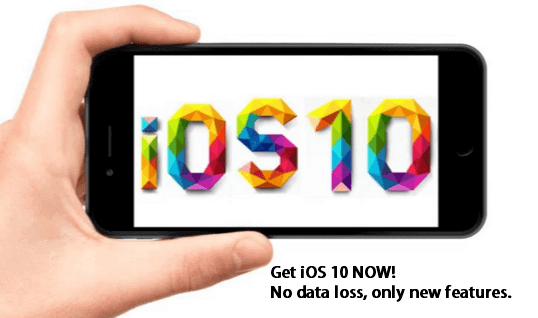 What are exactly new in the iOS 10? And why it's necessary to update your iOS devices into the latest new system - iOS 10? Before finding methods to update to iOS 10, it's highly necessary for us to understand some new features in iOS 10 that we'll benefit from and deeply fall in love with those new features. So let's see what's new in iOS 10 first:
New Siri: The new developed Siri almost exist everywhere that you can incorporate it into your apps, in this way, Siri will play will with all your beloved apps and tools in your iPhone, iPad or iPod. You can ask Siri to book a ride through Lyft or send money to your friends via Square.
New iMessage: iMessage becomes stronger than ever before that it can play videos from YouTube or songs from Music without bailing out to another app. New Stickers can also makes your communication with your friends more funny in iMessage. iMessage will easily access your favorite apps to create and share wonderful contents or even make payment.
Map: You can take a reservation in a restaurant by using the Mac in iOS to book a table for you, or even a ride with Uber.
Home: Smart Home app can help you turn on lights, unlock doors and even raise your window shades under your commands. Everything's gonna be super smart and your life will be easier and simpler with this new app.
New Apply Music, Apple News, rich notification, new hand writing etc. features will make your iPhone, iPad and iPod highly improved and smarter to understand you even assist you with your daily life and jobs. So how update your iDevices into iOS 10? Follow below tips, you'll get accesses to update to iOS 10 without losing data on iPhone, iPad, iPod now.
Tip 1. Prepare iOS devices ready before updating to iOS 10
Knowing what should be done before updating iOS system to iOS 10 will greatly help you save wonderful time and energy. It will also help you to prevent quite a lot unexpected problems such as low battery, low space to install iOS files etc. Let's see what should be done first before updating to iOS 10 now:
1. Connect iDevice such as iPhone, iPad or iPod touch with WiFi;
2. Leave at least 4GB free space for iOS 10 and install the new iOS installation files;
3. Leave at least 45% battery for installing the new system;
4. Update iTunes into the newest version;
5. Backup important data into iCloud, iTunes or PC.
Tip 2. Backup iOS device data before updating to iOS 10
Creating backups will help you avoid data loss issues while updating iDevices into iOS 10. You may turn on iCloud or iTunes to backup your personal data into iTunes or iCloud.
However, do you want to get your contacts or personal photos or confidential files leaked in the iCloud? Or do you want to face the problem that you fail to restore all backups from iTunes? If you need a more secure method, it's highly recommended for you to use an iPhone backup software to backup all important data into PC. Here EaseUS MobiSaver can help you backup contacts, messages, musics, images and even videos or notes all to the computer easily.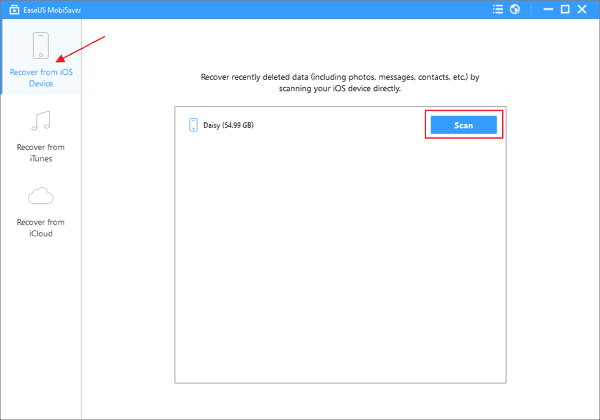 1. Connect your iOS device with PC. Launch EaseUS MobiSaver > Choose recovery mode: "Recover from iOS device".
2. Let the software scan iOS device and find all data for you.
3. Select all your data and click Recover.
Specify a secure spot in your PC to save all your iOS data as a backup then.
Tip 3. iOS 10 update
Here the following, you'll find two simplest methods to install or get iOS 10 update in your iPhone/iPad/iPod. Follow below tutorial steps, install iOS 10 and enjoy new features on your iDevices now:
Method 1. update to iOS 10 by OTA
You can directly gain iOS 10 from your iPhone, iPad or iPod touch by following this methods.
Go to Settings > General > Software Update > Download > When the download process complete, press Install.
Method 2. Use iTunes to install iOS 10
1. Update iTunes into the latest version first. Connect iOS device with PC. Wait iTunes to launch and connect to iOS device.
2. Click Device > Check for Update and it will download iOS 10automatically. > Press Download and Update.
3. Download iOS 10 IPSW firmware file and select the relative .ipsw file for your device.
4. After downloading iOS firmware file, press and hold Option key/ Shift key > press Check for Update > When the update to iOS 10 messages pops up, click Update.
5. Click Next > Agree.
Be patient when the iDevices are installing iOS 10 and reboot your iPhone, iPad or iPod when the iOS 10 update process is finished. If you find some important data were lost, don't worry. You have the backups, you can directly important them back into your iOS devices and reuse them again. Then you can enjoy wonderful new life with iOS 10.