iOS update once again caused data loss problem in your iPhone, iPad or iPod again? Lost funny iMessages, beautiful photos, and eve important notes due to iOS 10 update?
iOS 10 brings so many wonderful features to you. Will you just let it go when you lose some important files after iOS 10 update? Here below, three effective methods are available to assist you fix iOS 10 update data loss issues now.
Method 1. Restore lost data after iOS 10 update with iOS data recovery software
Applying iOS data recovery software is the most straightforward method to directly restore lost data due to deletion, careless operation or iOS update. Here we'd like to recommend you try EaseUS MobiSaver which works efficiently in retrieving lost data after iOS 10 update from the iOS devices, iCloud or iTunes. Free download this software and follow below 3 simple steps to restore lost data after iOS 10 update now:
1. Connect iDevice with PC. Launch EaseUS MobiSaver on your PC.
Choose "Recover from iOS Device", "Recover from iTunes Backup" or "Recover from iCloud Backup" and click Scan.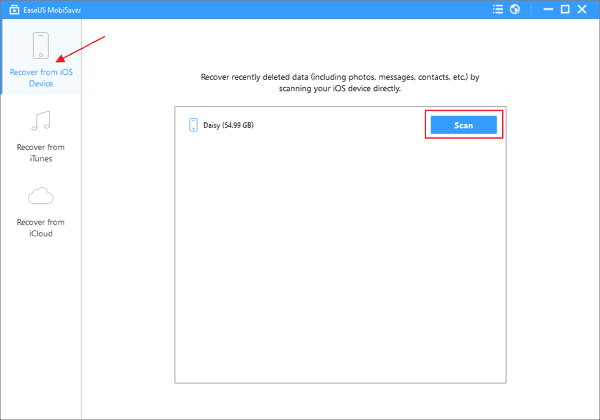 2. Scan iOS Device, iTunes or iCloud and find important data.
EaseUS Mobisaver will automatically scan iOS device, iTunes or iCloud and find present data and even some lost data for you.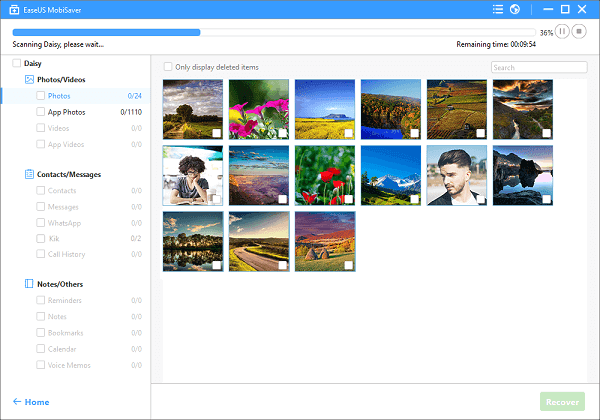 3. Preview and restore.
You can choose the important data such as your contacts, photos, SMS or or other data to click Recover and save those data to a safe spot in on PC.
So if you need a quick solution to fix the iOS data loss trouble after updating to new system in iPhone, iPad or iPod, EaseUS MobiSaver can help.
If you prefer some free methods, please follow below two recommended methods to restore lost data from iTunes or iCloud backups.
Method 2. Free restore lost data from iCloud after iOS 10 update
This method is based on the precondition that you've created backups to iCloud before updating to iOS 10. And if you haven't did so, you'll have to follow Method 1 to restore lost data.
If you have created backups into iCloud and then when you lost data in iOS devices, you can directly follow below steps to restore data from iCloud backups to your iOS devices now:
1. Turn on the iOS device: iPhone, iPad or iPod touch;
2. In the Setup Assistant, proceed to "Set up your device," tap Restore from a Backup, then sign in to iCloud.
3. Proceed to "Choose backup" ,then choose from a list of available backups in iCloud.
Method 3. Restore lost data from iTunes backup
This method also requires iOS device users to create backups to iTunes so that they can restore backups and get lost data back when data loss problem occurs.
Now let's see how to get iTunes backups back:
1. Open iTunes on PC or Mac that you used to backup your iPhone, iPad or iPod;
2. Connect iOS device to the computer with a USB cable.
Follow the onscreen steps to enter your device passcode or to trust This Computer.
3. Select your iOS device such as iPhone, iPad or iPod touch when it appears in iTunes.
4. Choose Restore Backup in iTunes and look at the date and size of each backup and select the most relevant.
5. Click Restore and wait for the restore to be finished.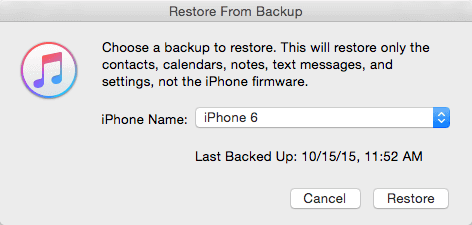 If you have encrypted the backup, enter the password for it. Do remember to keep your device connected after it restarts and wait for it to sync with your computer. You can disconnect after the sync finishes.
If it seems that you cannot thoroughly restore all backups from your iCloud or iTunes backups, just relax, EaseUS MobiSaver will help. It can completely scan all your backups and find all data and restore it to your PC. Don't bother for unable to restore lost data after iOS 10 update anymore, the most effective and complete solutions are available here now.