
Table of Contents

Reviews and Awards

Fast Video Downloader
DCIM Folder Empty | Recover DCIM Photo and Video Folder
Summary
Complete solutions are provided here to recover empty DCIM folder containing photos, videos and music inside, but appear invisible in Windows 7/8/10 computer. The fixes involve both DCIM folder empty iPhone issue and DCIM folder empty Android issue.
"Hey, I cannot see any photos in the DCIM folder of my iPhone 6 Plus when connected to my PC running Windows 10. When plugged iPhone into the PC, it was soon recognized as a storage device. But when I try to open the DCIM folder, it's showing all empty. Actually, there are over 600 photos on my iPhone. Can I recover the photos in empty DCIM folder somehow?"
Your iPhone DCIM folder contains camera roll photos, pictures, videos. When it was not showing up on a Windows PC, you should instantly try either of the solutions given behind to fix it alright. Hope the fixes would help access, get back and view your pictures, videos, music and more without a hitch.
How to Make Empty DCIM Folder Visible in a PC
To import iPhone photos to Windows 10, usually, just connect iPhone to the PC, right after the iPhone storage is showing up, copy the DCIM folder that holds the photos to the PC, then done. However, if the iPhone screen was locked while you plugged it into your computer, the DCIM folder that typically contains all the pictures on your cameral roll will be empty. Here's how to make the empty DCIM folder image files invisible.
STEP 1. Unplug your iPhone from the USB port.
STEP 2. Unlock your iPhone screen.
STEP 3. Plug your iPhone back into the USB port and open the Camera DCIM folder using explorer. Your images are now visible.
How to Recover Empty DCIM Folder Photos, Videos and Music
If the method above fails to access the files in DCIM folder showing empty, feel no hesitated to download EaseUS MobiSaver, a third-party iOS data recovery tool that scans all lost and invisible data on iPhone, iPad and iPod and retrieves them back safe and sound.
You need a Windows PC or a Mac to run EaseUS MobiSaver software, and a USB cable to connect the iPhone to the computer. Now let's start troubleshooting DCIM folder empty issue on iPhone and try to recover DCIM folder photos, pictures, videos, and music at once.
STEP 1. Connect iPhone to PC and select "Recover from iOS Device" mode.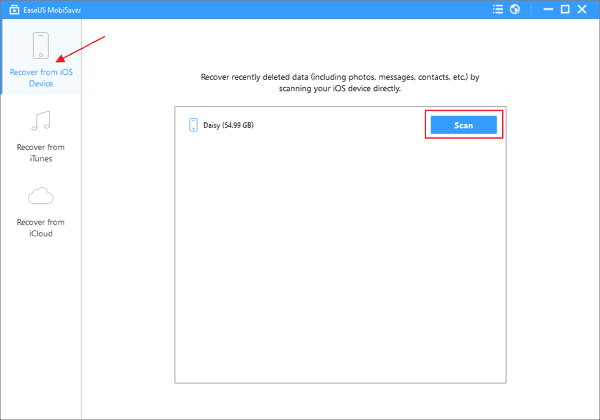 STEP 2. Scan iPhone device to find lost and invisible data.
STEP 3. Preview and recover data.
When the scan is complete, you'll see all the recoverable files which would be listed on the left panel in specific categories. Choose the photos and other files that were saved in DCIM folder, click "Recover" to export the DCIM folder files to the PC.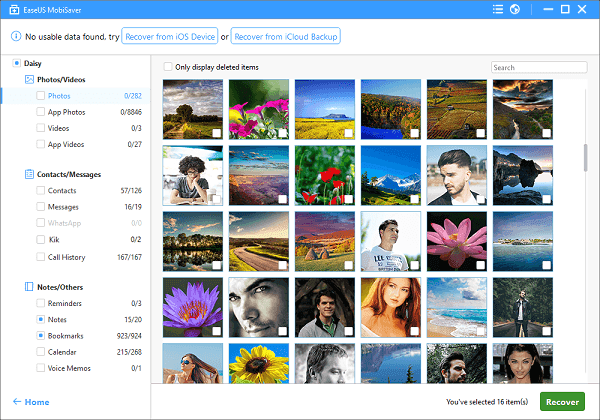 To solve DCIM folder empty issue on Android, please download EaseUS MobiSaver for Android to recover the empty DCIM folder photos, videos and music files in the same way.