Are you ready to obtain new iOS 9.3.3 or the beta version on your iPhone or iPad now? After Apply confirming that iOS 9.3.2 may have serious problems, the beta and test version iOS 9.3.3 comes out immediately. Here the following, this article will introduce tips for how to update to iOS 9.3.3 without losing data.
Overview of iOS 9.3.3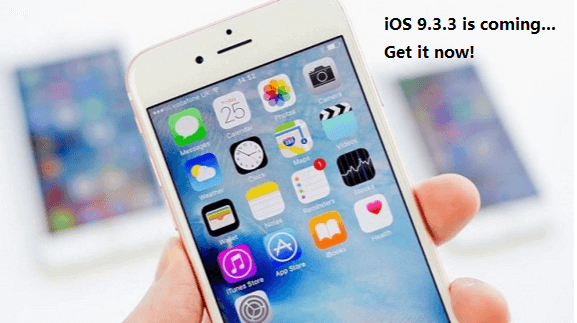 Some users may think that iOS 9.3.3 is a bug fix version right after iOS 9.3.2 for that Apple has confessed that iOS 9.3.2 did have some problems.
However, this is not all iOS 9.3.3 about. Here below are some major improvement in iOS 9.3.3, which contributes to the reasons why it's highly recommended for you to update to this new iOS system immediately.
1. iOS 9.3.3 fixes bugs in iOS 9.3.2 and fix some problems in iOS 9 OS.
2. WiFi connection problems fixed with smoother running speed.
3. Support most iOS devices: iPhone SE/ 6S/ 6S Plus/ 6/ 6 Plus/ 5S/ 5C/ iPad Pro/ iPad Air/ iPad 4/ iPad mini etc.
Are you ready to update to iOS 9.3.3 right now? No! You are not ready yet. Some preparation jobs need to be done first.
Tip 1. Prepare iOS device ready for iOS 9.3.3 update
Though it seems no big deal for most ordinary iOS users to update their iDevices with the newest iOS operating system, it still matters a lot for you to prepare everything ready for gaining a smooth iOS 9.3.3 update process. Follow below tips to get your iOS device ready for the new system first:
1. Connect iDevice such as iPhone, iPad or iPod touch with WiFi;
2. Leave at least 2GB free space for iOS 9.3.3 update and install the new system installation files;
3. Leave at least 45% battery for installing the new system;
4. Update iTunes into the newest version;
5. Backup important data into iCloud, iTunes or PC.
Tip 2. Backup iOS device data before updating to iOS 9.3.3
Usually, there are two convenient and straight methods for iOS users to backup their personal data such as contacts, text messages, musics, photos, or other documents by using iTunes or iCloud.
Here a more secure method for backing up your personal data is highly recommended for you to try and the method is to create backups for iOS device data into PC. You may think that you can extract the data one by one. Sure! This will only take a little bit more time. However, improper operation may cause data loss trouble on your iDevice. Here we'd like to recommend you to try EaseUS MobiSaver which supports to extract all your iData into PC with simple clicks. Free download this software and follow below steps to backup your iOS data to PC and even restore some deleted data with ease now:
1. Connect your iOS device with PC. Launch EaseUS MobiSaver > Choose recovery mode: "Recover from iOS device".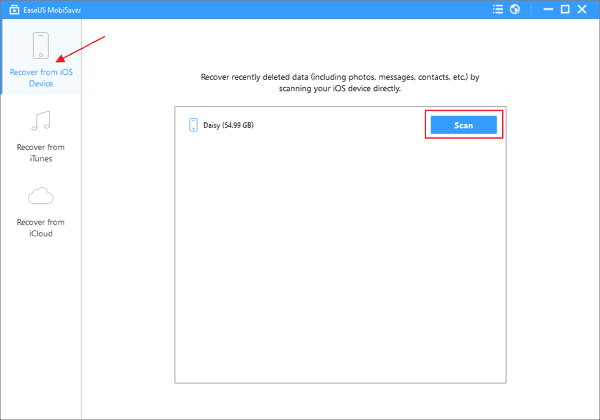 2. Let the software scan your iOS device and find all data for you.
3. Select all your data and click Recover.
Specify a secure spot in your PC to save all your iOS data as a backup then.
Tip 3. Update to iOS 9.3.3
So now you can update your iOS system to iOS 9.3.3 or the beta version now. Here we'll provide you two methods to gain the iOS 9.3.3 in your iDevices.
No.1 iOS 9.3.3 update by OTA
You can directly gain iOS 9.3.3 from your iPhone, iPad or iPod touch by following this methods.
Go to Settings > General > Software Update > Download > When the download process complete, press Install.
No.2 Use iTunes to install iOS 9.3.1
1. Update iTunes into the latest version first. Connect iOS device with PC. Wait iTunes to launch and connect to iOS device.
2.Click Device > Check for Update and it will download iOS 9.3.3 automatically. > Press Download and Update.
3.Download iOS 9.3.3 IPSW firmware file and select the relative .ipsw file for your device.
4.After downloading iOS firmware file, press and hold Option key/ Shift key > press Check for Update > When the iOS 9.3.3 update messages pops up, click Update.
5.Click Next > Agree.
Then you need to wait patiently to download iOS firmware and let iOS 9.3.3 install in you iOS device. Reboot your iDevice once or twice after getting iOS 9.3.3 till you see the Hello screen.