iOS 11 Update Failed Or Stuck Midway?
Check Your Problem And Find A Fix Right Now!
Now, with the release of iOS 11 beta, we can expect that iOS 11 official version is coming on its way and will soon be available for every user. But, just like its predecessor iOS 10, the process of downloading or installing the newest iOS version is not so smooth for everyone. Users have reported different problems like iOS 11 update won't download, verify or install while trying to update iPhone or iPad to iOS 11. Now, you can check the top 4 iOS 11 update problems and find the corresponding fix to iOS 11 update failed or stuck issue for your case.
Problem 1 - iOS 11 Software Update Failed Error
Problem 2 - iOS 11 update stuck on Verifying Update
Problem 3 - iOS 11 Update Stuck on Slide to Upgrade Screen
Problem 4 - iOS 11 Update Stuck on Apple Logo or Recovery Mode
Tips

Since not all iOS devices are fully covered when a new iOS system is released, please make sure that your iDevice is included in the list that is allowed to update to iOS 11 before trying the following troubleshooting steps to fix iOS 11 update failed or stuck problem.
Problem 1 - iOS 11 Software Update Failed Error
This Software Update Failed. An error occurred downloading iOS 11 error is the most common factor that should be blamed for iOS 11 update failure problem. If it appears and interrupts your iOS 11 upgrade process, try the following troubleshooting steps to get it fixed.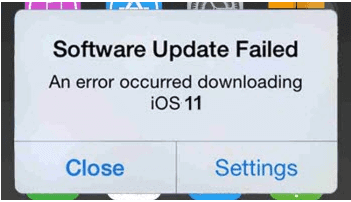 Easiest - Try downloading iOS 11 after a couple of hours, or maybe even a few days to avoid the peak period of the upgrade.
For Advanced Users - Try upgrading iOS 11 with IPSW File.
Most Effective - Try updating iOS 11 using iTunes other than iCloud.
1) Open iTunes on Mac or PC.
2) Connect iPhone via lightning cable to iTunes on Mac or PC.
3) Go to iPhone summary tab and Find Restore iPhone button. Press Alt/ Option key from Keyboard + Restore iPhone button from Mac. For Windows Shift Key and Press Restore iPhone button.
4) Wait for the complete installation setup, Next to the installation restore old backup for overwriting default settings and Data files.
Problem 2 - iOS 11 update stuck on Verifying Update
If you have successfully downloaded iOS 11 update software but cannot install it because you got stuck in Verifying Update process, follow the steps below the troubleshooting the problem.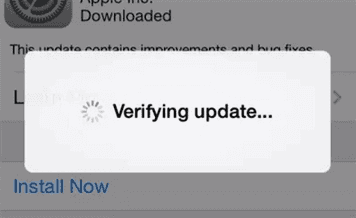 1) Keep pressing the power button for several times(5+);
2) Hold Home and Sleep/Wake buttons at the same time > Release the buttons after the screen turns off and apple logo appears;
3) Try to manually upgrade to iOS 11 with the latest iTunes from your PC.
Problem 3 - iOS 11 Update Stuck on Slide to Upgrade Screen
Sometimes, when iOS 11 update failed, it might show you a Slide to Upgrade screen and get stuck or frozen. Here, the fix we offer is to restore iPhone/iPad with iTunes.
1) Update iTunes, and then connect the iPhone/iPad to the computer.
2) Click the device button on iTunes.
3) Click on "restore backup", choose the right backup file, and then click "Restore".
4) After this, try to do iOS 11 upgrade again.
Warning

Before starting, we have to mention you that restore iPhone/iPad to fix iOS 11 update failed or stuck problem will erase all the existing data on the iDevice if you don't have an iTunes backup. If it is the case, you can try EaseUS MobiSaver to retrieve your important files.
1. Connect your iPhone or iPad to PC, launch EaseUS MobiSaver.
2. Choose "Recover from iCloud Backup" mode if you've backed up your device with iCloud. Otherwise, choose "Recover from iOS Device" mode.
3. Browse and select the files you want, then click "Recover" button to get them back from iPhone or iPad.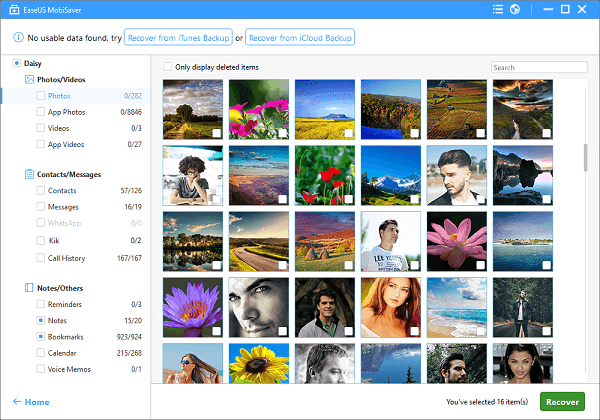 Problem 4 - iOS 11 update stuck on Apple logo or recovery mode
Some users also encountered a situation that iOS 11 failed to update and make their iPhone/iPad stuck at the Apple Logo or recovery mode. Usually, a force restart is the first and easiest way to fix the bricked iPhone and iPad. And if it doesn't work, try to put your device into recovery mode and take the assistance of iTunes to restore it.
1) Open iTunes and connect the iPhone to your PC.
2) Press and hold the Home button and the Sleep/Wake button at the same time.
3) As soon as the screen goes black release the Sleep/Wake button.
4) Continue holding the home button until you iTunes pops up a message telling you that it has detected an iPhone in recovery mode.
5) Click OK on the pop-up error, navigate to iTunes and follow the tutorial mentioned above to complete the restoring process.