Why Unlock iPhone SE?
One noticeable benefit for iPhone SE unlocking lies within the ability to use any mobile network in the world. For international travellers, no matter which country you come from or which network you use, you can use your current existing iPhone SE without paying high international roaming fees in the travelling country. And here is the real bliss, you can also use a local SIM card of the travelling country, that's how an unlocked phone is sometimes called a SIM-free or contact-free phone.
How to Unlock iPhone SE?
Since unlocking iPhone SE brings us so many substantial benefits, people in demand are eager to find out how to unlock iPhone SE. First, please confirm whether your carrier offers the unlocking permission or not, because only your carrier can unlock your iPhone. Just contact your carrier and make a request as long as you meet the requirements to qualify for unlocking. It may take a few days for the carrier t examine and verify your request since the day you submitted. Once your request is processed, you can now start to unlock your phone.
Here are two situations you will meet in the iPhone SE unlocking section.
Case 1. Have the new SIM card from a carrier other than the current carrier
Step 1. Remove the SIM card and insert the new SIM card;
Step 2. Complete the setup process as your iPhone instructed.
Case 2. Don't have another SIM card
This situation is going to be a little complex to handle, and you have to perform strictly as told. Or else, you'll suffer from severe data loss.
Step 1. Back up your iPhone SE;
You have multiple choices to backup your iPhone SE. Use iCloud or iTunes or EaseUS MobiSaver. What's the difference by using the three options?
iCloud: Store backups in the cloud; be able to make and use backups from anywhere with wifi.
iTunes: Store backups on Mac or PC; be able to make and use backups from your Mac or PC.
EaseUS MobiSaver: Store backups on Mac or PC; be able to make and use backups on your Mac or PC; be able to recover deleted iCloud backup; be able to recover data from iPhone device, iCloud backup and iTunes backup.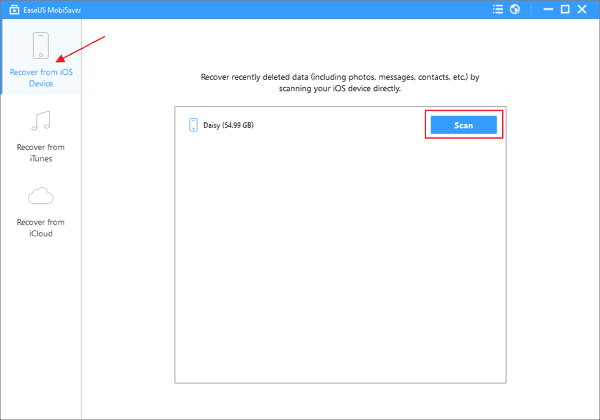 Step 2. After creating the backup, erase your iPhone;
To erase your iPhone, go to Settings > General > Reset > Erase All Content and Settings.
Step 3. Restore your iPhone from the backup you just made.