iTunes Is Not Recognizing My iPhone
I connected my iPhone 6 Plus to a Windows 10 computer, but iTunes is not recognizing my iPhone as usual. And I unplugged the USB cable several times and reconnected, still it does not work! What's the problem? If I do a hard reset, will I lose all my apps, contacts, photos or every other content? Please tell me what's the best way to fix iTunes not recognizing iPhone without risking any data on it.
Sometimes, iTunes won't detect iPhone although the device has been correctly connected to a computer with a USB cable. Many people attempted to correct the problem by doing a factory restore, believing that the problem can be solved quickly. However, such a way to fix iTunes detection failure is not recommended, because reverting to factory settings will wipe all data on iPhone clean.
You may be interested in: How to Recover iPhone Data after Restoring to Factory Settings
How to Make iTunes Detect Your iPhone
Alternatively, we find you some clues that might help work around this serious issue without losing data. Refer to the following instructions, and try to enable iTunes to recognize your iPhone without any hassle.
1. Update iTunes to the latest version. Plug in your iPhone. If iTunes still can't recognize it, then in iTunes in the top left corner click help> run diagnostics. On the box that comes up, check the last two things. Click next and it should identify your iPhone.
2. Click on your windows start menu. Type in "services". Click on it and when it pops up, on the bottom of it click on "standard". Now Scroll down to find "Apple Mobile Device" Right click it when you see it and click on "Start". When it has started, close iTunes and replug in your iPhone and it should show up.
3. Try a different USB port on your computer or try a different USB cable.
4. Verify that Apple Mobile Device Support is installed.
5. Restart the Apple Mobile Device Service and verify that the Apple Mobile Device USB Driver is installed.
6. If you just want to add some photos, songs and movies from computer to your devices, you can use an iTunes alternative to do the job.
7. Check for third-party software conflicts.
Free iPhone Data Recovery by Mishandling "iTunes Not Recognizing iPhone"
Hope you've successfully had your iPhone detected by iTunes, as excepted, no data loss during the process. However, if you've done some improper operation on your iPhone and lost contacts, SMS, apps and all media files, there is still one way to get the lost data back. EaseUS MobiSaver can help free recover lost iPhone data from the device as well as iCloud and iTunes backup with ease.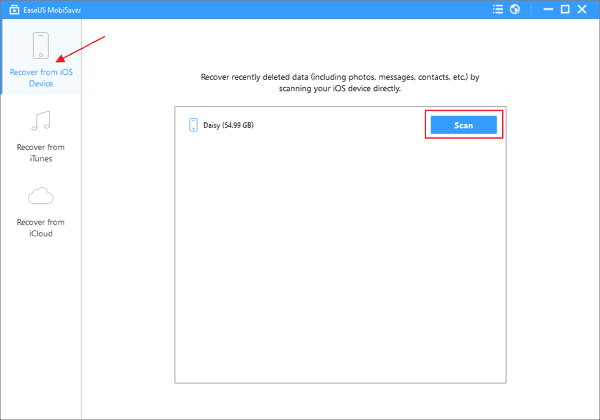 Just correctly connect your iPhone with a Mac or a Windows PC (Windows 10/8.1/8/7/XP/Vista is supported), and let EaseUS MobiSaver scan your iPhone or iCloud/iTunes backup. When the scan is completed, you can preview the found data and choose to recover.