
Table of Contents

Reviews and Awards

Fast Video Downloader
How to Fix iPhone Deleted Contacts Issue
Summary
The problem that iPhone deleted contacts can be triggered by many factors. If you want to know why your iPhone delete contacts itself and how to recover deleted contacts on iPhone, just check out the following guide.
"Why are my contacts deleted on iPhone?" is a common question asked by iPhone users in the Apple community. Actually, there is no exact answer to this question. But according to the feedbacks we collect, this problem is mostly caused by the wrong steps you make inside your Settings.
Apart from that, other factors like system bugs, update failure, device damage may also cause this problem. Whatever the reason might be, here are some solutions that can help fix the "iPhone deleted contacts" issue.
Solution 1. Fix iPhone Deleted Contacts Issue via Settings
As you know that many cloud services work by uploading a copy of your files to the cloud. If you delete files on your device, this won't delete the copy you upload to the cloud.
But iCloud works differently. If you turned on iCloud backup for your contacts, all your contacts will be stored in the cloud, not on your phone. That means if you switch this option off, your contacts will be deleted. So if you want to find your deleted contacts, you need to switch on your iCloud for contacts by following these steps.
Step 1. On your iPhone, go to the Settings.
Step 2. Tap [your name], then tap "iCloud."
Step 3. Make sure the "Contacts" button is turned on.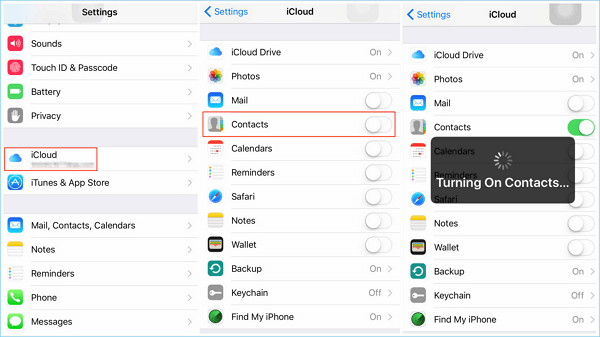 Solution 2. Fix Contacts Deleted from iPhone by Checking Your Email
Sometimes, this problem might also be caused by the wrong settings with your email account. If this is the reason, follow these steps to fix it.
Step 1. On your iPhone, open the Settings app.
Step 2. Tap "Mail" if your device running iOS 10 and earlier and "Accounts & Password" if it is iOS 11 and later.
Step 3. Tap your mail account.
Step 4. Switch on "Contacts."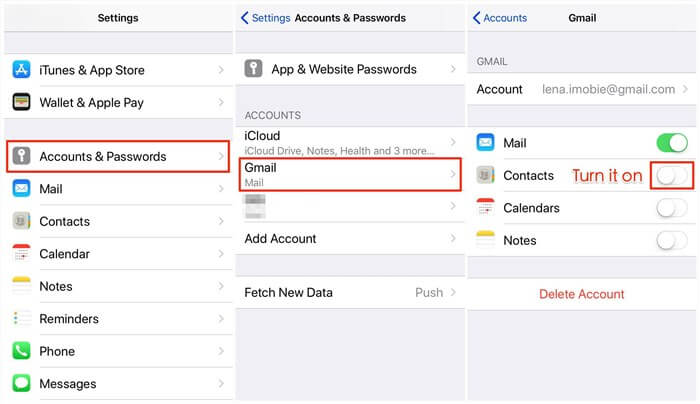 Solution 3. Recover Deleted Contacts from iPhone with EaseUS MobiSaver
If both methods we listed above don't work to help you find deleted contacts, that means your contacts might be gone due to other issues like system bugs, accidental deletion, or device damage.
In that case, you'll need this third-party iPhone data recovery tool - EaseUS MobiSaver for iOS to help retrieve lost contacts. Unlike iTunes and iCloud that require performing a full restore on your iPhone, this program allows you to recover specific data like contacts, messages, videos, etc. Beyond that, it also posses many other great features and outstanding functions, such as:
Preview data before recovering
Recover data to your device without erasing any existing files
Now, let's use EaseUS MobiSaver to retrieve deleted contacts from iPhone
Step 1. Connect your iPhone to your computer and run EaseUS MobiSaver. Choose "Recover from iOS Device," "Recover from iTunes Backup," or "Recover from iCloud Backup" and click Scan.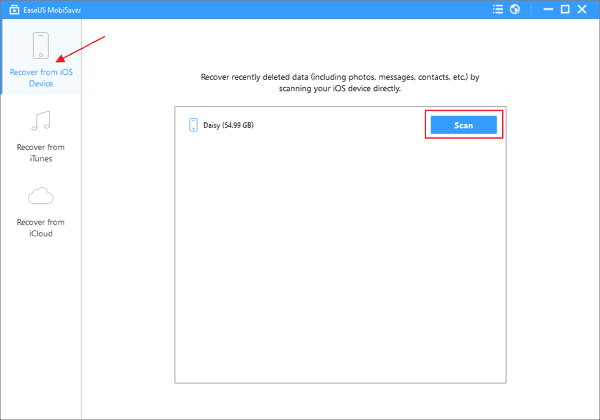 Step 2. EaseUS Mobisaver will automatically scan your iOS device, iTunes, or iCloud and find both present and lost data for you.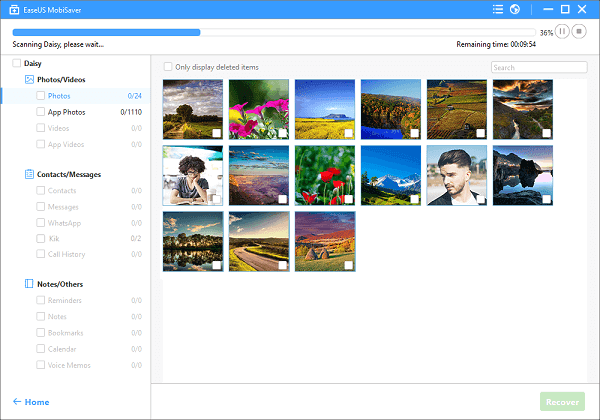 Step 3. You can choose the important data such as your contacts, photos, SMS, or other data to click "Recover" to recover them to your computer or iPhone.
Note: If installing the third-party software is not what you want, you can also restore iPhone from iTunes or iCloud. But iCloud only allows to restore data during the iPhone setup process, so you need to reset your device to factory settings first. Needless to say, this will erase all content and settings on your device. If you don't mind losing data, you can proceed without worry. If not, go back to use EaseUS MobiSaver to recover lost contacts. 
As for iTunes, it works similar to iCloud. The only difference is that iTunes won't require you to erase your device beforehand, but the data you restore will do.
In Conclusion
That's all about our guide on how to fix the "iPhone deleted contacts" issue. We hope you've fixed this issue by following the solutions we offered. If you can't find your deleted contacts, that means they might be removed by accidental deletion or system issues. In that case, you can use EaseUS MobiSaver to take them back to you.