Are you receiving iOS 9.3 errors such as unable to verify iOS 9.3 update or fail to activate iOS 9.3? Or your iOS devices get stuck after update to iOS 9.3? How to solve these issues? Here the following, EaseUS will provide you several methods to help you fix iOS 9.3 update error/problem/issue without losing data. Come and get the solutions now!
Major errors/problems/issues you may meet to update iOS 9.3
Since quite a lot users have complained that they are having problems while trying to update their iOS devices into iOS 9.3. Here EaseUS will list you some major reasons which prevent you using iOS 9.3. And you can find relative solutions for these iOS 9.3 update issues.
1. Update unavailable
2. Unable to verify iOS update
3. Unable to activate/Activation server unavailable
4. iOS device stuck or unusable after update to iOS 9.3
When you meet such problems while update iOS to the 9.3 version, what will you do? Read the following methods offered by EaseUS and solve these iOS 9.3 update errors on your own now.
Note: backup iOS data before fixing iOS 9.3 update errors
To create iOS backups for your personal data in iOS devices is quite important. You can either choose to create iOS backups to iTunes or iCloud. However, in order to protect data security and prevent your privacy from being leaked, we highly recommended to backup your iOS data to PC. It's safer than iTunes and iCloud which can be easily reached by getting your Apple ID or even hacked by other people.
Here EaseUS recommend you to try EaseUS MobiSaver which allows iOS users to backup all their personal data including contacts, messages, photos, notes or other data to PC within 3 steps. Do remember to update your iTunes to the latest version firstly.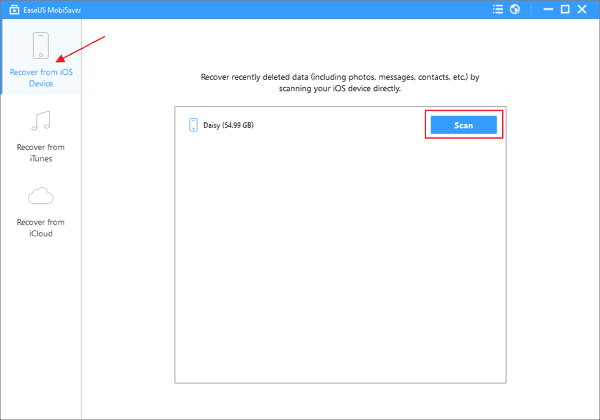 1. Free download and launch EaseUS MobiSaver > Choose recovery mode: "Recover from iOS device".
2. Let the software scan your iOS device and find all data for you.
3. Select all your data and click Recover.
Specify a secure spot in your PC to save all your iOS data as a backup then.
Solutions: fix iOS 9.3 update error/problem/issue
Method 1. Check for update/redownload installation files when iOS 9.3 update unavailable
Your iOS device may not get update, please update your iTunes into the latest version and then check for software update. If you see the update, install iOS 9.3.
If you cannot see the update, please wait for Apple to release the latest update for your device and install iOS 9.3 on your device then.
Method 2. Fix unable to verify iOS 9.3 update error
If you are receiving iOS 9.3 update verify error or information, connect your iOS devices with network or WiFi and retry again with your PC running iTunes. If it doesn't work, follow next steps:
1. Go to Settings > iCloud > Turn off Find My iPhone/iPad.
2. Connect iPhone or iPad with PC, run iTunes with USB cable.
Check and ensure that the Apple Services are "Green" before you try to activation again.
3. After connected iPad or iPhone to PC, restart PC. Launch iTunes session when the machine boots up.
Do remember to update iTunes to the latest version.
If iTunes cannot be opened with restart, you can manually open iTunes session.
4. Under Settings > Click on Summary > Tap Update to update your iOS.
Method 3. Solve iOS 9.3 "unable to activate"/ "activation server unavailable" issue
Do remember to update iTunes to the latest version and then follow bellow steps to fix unable to activate iOS 9.3 update issue now:
1. Connect iOS device to PC with a USB cable.
2. Launch iTunes > Select device in iTunes > Trigger the Activate device screen in iTunes.
3. Enter Apple ID and password and click Continue to activate the iOS device.
Then you'll be able to activate and install iOS 9.3 in your iOS devices without any problems.
Method 4. Release internal space or downgrade from iOS 9.3 to 9.2 when iOS devices stuck or unusable
1. Release internal space
When your iOS devices become stuck after getting iOS 9.3 installed, you can download some important data that you don't use frequently into PC so to release some internal memory space for iOS 9.3.
2. Downgrade from iOS 9.3 to 9.2
If your iOS device cannot run well with iOS 9.3, you can also choose to downgrade iOS 9.3 to 9.2 or previous version. This method is quite useful for those old iOS devices users.