Cannot Restore Backup from iCloud
"Get Cannot Restore Backup error message while restoring from iCloud. It lets me connect to my network, log in, view my backups and select one to start the restore process. But after about 30 seconds, the iCloud restore failed and a message appears saying "Cannot Restore backup". Is there a way to fix the issue? Any help would be appreciated!"
Overview of Cannot Restore Backup error in iCloud
Apple offers iCloud to users to sync their iPhone data backup and internal memory saving. It is quite helpful when something goes wrong with iOS or data loss disaster occurs unexpectedly. At most times, iCloud backups restore can work fine. But in some special situations, errors such as iCloud backup greyed out, cannot restore backup, the last backup could not be completed, etc happen and then iPhone doesn't restore correctly from an iCloud backup. Now, with the releasing of iOS 10, iCloud backup restore fail or stuck with "Cannot Restore backup" error become increasingly severe. More and more people are reporting that they get "Cannot Restore Backup" error message while trying to restore from iCloud backup after iOS 10 upgrade. If you happen to be one of the victims of cannot restore backup from iCloud error, please don't worry! Here we offer you a step-by-step tutorial to fix this issue without losing your data.
How to fix Cannot Restore Backup error in iCloud
"Cannot Restore Backup" error message might appear in iCloud and prevent you restore you iPhone or iPad from iCloud backup for many reasons. And there is no official solution that works 100% to fix this issue. But we have an efficient workaround - EaseUS iPhone data recovery software to avoid data loss disaster caused by this error. The program can help you extract or download iCloud backup to PC. This feature is quite helpful when iCloud backup restore failed or stuck. Now, if you want to retrieve your iPhone data from cannot restore backup from iCloud error, just download the program and follow the tutorial below to extract files from iCloud backup.
To extract iPhone data from iCloud backup, follow these steps:
Step 1. Launch EaseUS iPhone recovery software on your computer (Mac or PC), choose "Recover from iCloud Backup", and then sign in with your Apple ID.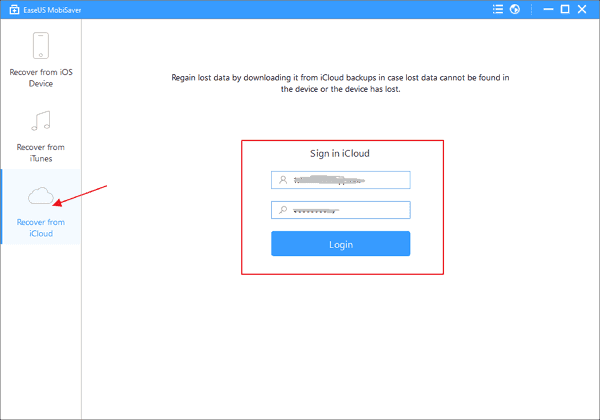 Step 2. Select the right iCloud backup you want to extract, click "Scan" to download it to your computer and search lost data.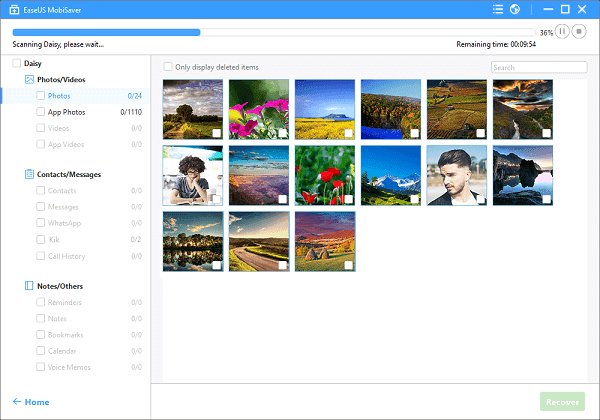 Step 3. After scan, you can choose the right file types and click the specific item to preview the detailed information. And then choose the data and files you want to restore. Finally, click "Recover" button to save them to your computer.