How to downgrade iOS 9.3 to 9.2?
"My iPhone 5C is not quite compatible with iOS 9.3 and it slows down after updating iOS 9.2 to 9.3. Everything goes so slow. I want to speed my iPhone up and can I downgrade the present iOS 9.3 back to my previous iOS system 9.2? How?"
"Believe it or not, my iPad always get stuck after I update iOS to 9.3 version. I guess it is because that my iPad is too old. It cannot run iOS 9.3 smoothly. Can I get iOS 9.2 back to my iPad with my present data?"
Though Apple has continuously updated its iOS system into many different versions, it seems that not the latest iOS system fits your iDevice the most. And some iDevices such as iPhone 4/5 or iPad 2 etc cannot really run with the latest iOS 9.3. Therefore, to gain the best experiences while using iDevices, you have to downgrade iOS into the most suitable version. So how to downgrade iOS 9.3 to 9.2 for your iDevices? Let's find solutions in the following passages.
Steps to downgrade iOS 9.3 to 9.2 without losing data
Although you may think that downgrading iOS is not complicated and you can even finish the whole process on your own. However, are you sure that you can keep everything in your iPhone or iPad with you after downgrading iOS 9.3 to 9.2? Sure you can backup data first, but what if you cannot restore everything back from backups, what will you do? Here the following, we'll introduce you effective methods from EaseUS software to help you thoroughly downgrade iOS 9.3 to 9.2 without losing data:
Step 1. Create iOS data backup before downgrading iOS
You have two methods to backup data: backup iOS data to iCloud or backup to iTunes. Here the following are detail steps:
Make a backup using iCloud
Please connect your iDevice to a Wi-Fi network first. Make sue that your iCloud Backup is turned on.
Go to Settings > iCloud > Backup > Backup Up Now.
Make a backup using iTunes
Do remember to update your iTunes to the latest version first whenever you need to create backups via iTunes.
Open iTunes and connect iDevices to PC.
Save content that you downloaded from iTunes Store/App Store by clicking File > Devices > Transfer Purchases.
Wait for the transfer to finish.
Click File > Devices > Back up.
Step 2. Downgrade iOS 9.3 to 9.2
Please do make sure that your iTunes has been updated to the latest version. If not, update it first.
1. Connect iOS Deivce with PC, download iTunes and launch it on your PC.
2. Activate the Restore mode in your iDevice.
Press and hold Power + Home buttons until the Apple logo shows up. Then you'll see "Connect to iTunes" message on the screen.
3. iTunes will detect your iDevice in recovery mode and you'll be given an option to update your device or restore it. Click Update.
4. Accept new terms of use for iOS and click Download and Update.
5. Wait for iTunes to download iOS and after the downloading, you'll have the previous iOS on your iDevice.
iTunes will install iOS on your iDevice.
6. When the download process is finished, go through settings and setup your iDevice.
Step 3. Recover iDevice data after downgrading iOS 9.2
After downgrading from iOS 9.3 to 9.2, then you can either choose to restore data from your backups via iTunes or iCloud. No matter which way you choose to restore, please do remember to check whether you have got all backups restored back to your iDevice. Here we'd like to introduce a comprehensive iOS data recovery software - EaseUS MobiSaver for you.
EaseUS MobiSaver supports all iOS devices and allows to restore all data and backups from iCloud, iDevices and even iTunes.
1. Download and launch EaseUS MobiSaver on your PC. Connect your iDevice with it.
Choose "Recover from iCloud Backup" or "Recover from iTunes Backup" and click Scan. You need to sign in iCloud or let the program detect iTunes.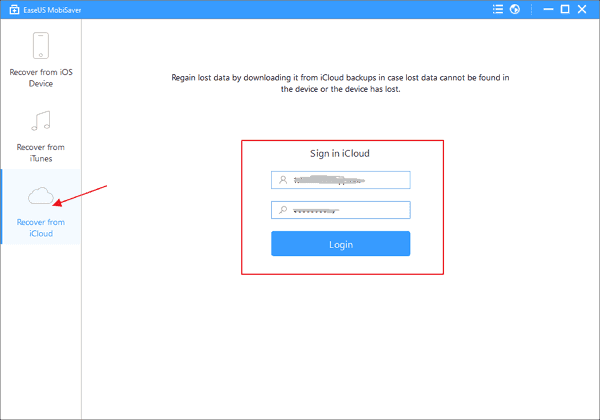 2. Scan iCloud/iTunes backups.
EaseUS Mobisaver will automatically scan iCloud/iTunes backups for you.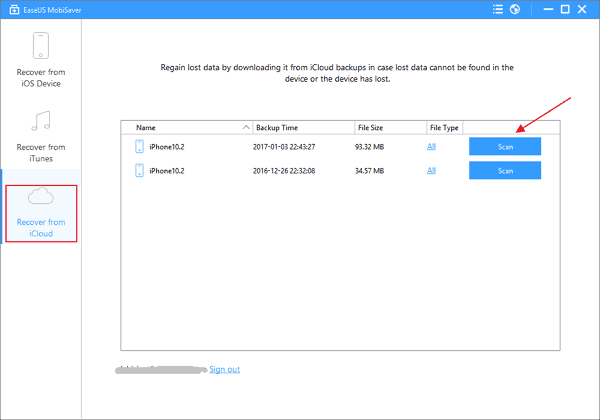 3. Preview and restore found data from iCloud/iTunes to PC
Mark the files that you want and click "Recover" button to get all of them back once.
Specify a folder on the computer to save all the data to your PC.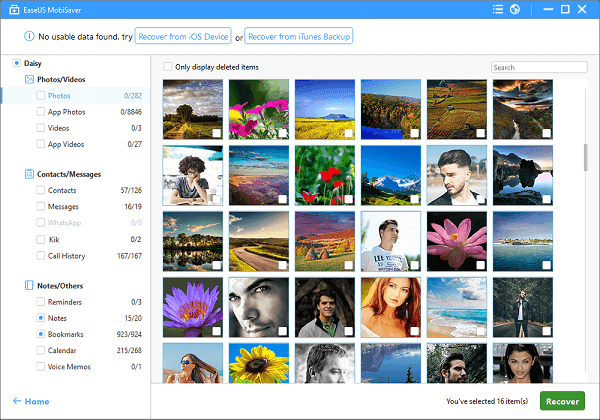 After this, you can then import all iCloud data into your iDevice and continue enjoy new life after downgrading iOS 9.3 to 9.2. This method also applies to downgrading iOS in other iOS devices such as iPad or iPod touch. Don't hesite if you don't like your present iOS system, downgrade it and install your previous version now.