iCloud backup is helpful to recover lost iPhone data when you suffer unexpected data loss disaster due to some reasons. But do you know how to access iCloud backup? This page tells you how to download iCloud backup and view them on your computer. Now read on to get more details.
Is it possible to access iCloud backup files?
"Recently, I accidentally deleted some picture files from my iPhone 6 and really wanted to get them back. I remember that I have backed-up my phone to iCloud. But I cannot completely access iCloud backup from my computer. So, I was wondering that if it is possible to access iCloud backup files? If yes, how can I do it?"
If you accidentally delete any important files on your iPhone or get your data lost due to some other reasons, you can choose to retrieve the lost data from iCloud backup. However, for data security and privacy protection, Apple makes it is difficult to access iCloud backup. But don't worry! This page introduces you two ways to access the iCloud backup data. You can use any of then to access all the data backup content on your iCloud.
How to access iCloud backup from iCloud.com
In fact, Apple allows you to check your backup content by logging to iCloud official site. But it gives you only limited access to data. You can only access part of data including contacts, calendar, notes, mail, Pages, reminders, Numbers and Keynote documents, not complete data. If you only need to access this data, it's fine to log in and use your iCloud account. Here is what you need to do:
1. Open the web browser and navigate to iCloud website.
2. Log in with your Apple ID and password.
3. Now you can view the files in iCloud, and you can also click iCloud Drive to view the files in it.
How to access iCloud backup with EaseUS iPhone data recovery software
Apple doesn't allow you to access entire iCloud backup, so if you need an access to complete data that includes text messages, pictures, wallpaper, recorded videos, apps, MMS messages, iMessage, ringtones, visual voicemail, and more files in iCloud, the above method will not help. Is there any other way that allows you to access iCloud backup? Actually, EaseUS iPhone data recovery software can do you a favor. It can help you download iCloud backup files and view them on your PC with ease. Here is the detailed.
Step 1. Launch EaseUS iPhone recovery software on your computer (Mac or PC), choose Recover from iCloud Backup, and then sign in with your Apple ID.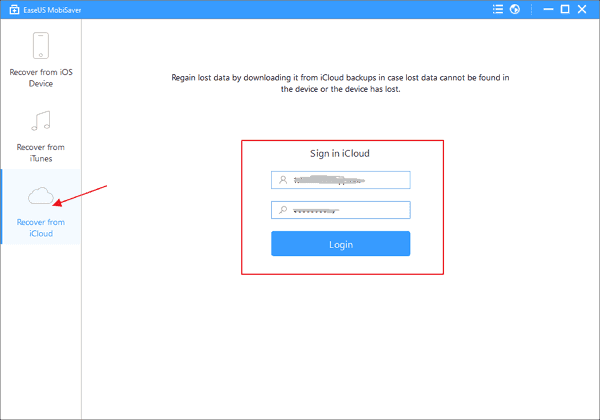 Step 2. Select the right iCloud backup you want to extract, click Scan to download it to your computer and search lost data.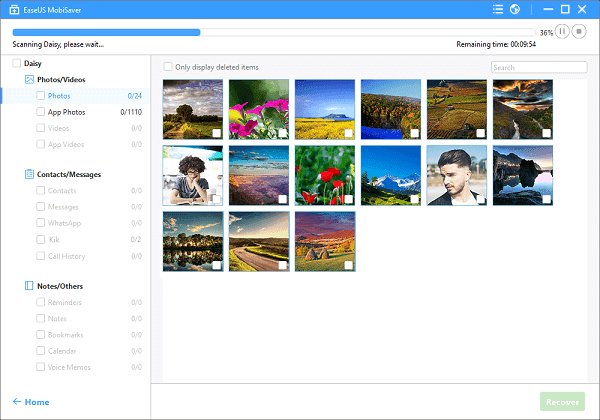 Step 3. After scan, you can choose the right file types and click the specific item to preview the detailed information. And then choose the data and files you want to restore. Finally, click Recover button to save them to your computer.