Nowadays, you can see people take photos or record videos with the handy iPhone or iPad everywhere. With the high-tech iSight camera, iPhone and iPad have become the most popular photographic equipment for non-photography professionals. Sometimes, after you have saved hundreds of pictures on your iPhone, you may need to transfer photos from iPhone to iPad to back up/free up/sync files. Therefore, it's necessary for you to know how to transfer photos from iPhone to iPad. In this guide, we will show you four ways in total to send photos from iPhone to iPad wired or wirelessly.
Overview of the content table:
Part 1
The free and most efficient way to transfer photos from iPhone to iPad
EaseUS MobiMover Free is one of the easiest iPhone data transfer tools. Once installed on your PC, you can transfer files between two iOS devices (iPhone/iPad in iOS 8 or later) or between the iOS device and the computer. To be specific, with MobiMover, you can back up iPhone data to the computer in a readable way, transfer files from PC/Mac to iPhone in a data safe way (like put music to iPhone without iTunes), transfer contacts/messages/videos/music from one iOS device to another directly. What's more, it has the amazing file managing function, you can manage your music files, photos, contacts and other data on iPhone with just a few clicks.
Excellent features on photos transfer from iPhone to iPad with MobiMover:
Move certain or the whole photos from iPhone to iPad at one time
Send photos to iPad and orderly
Transfer photos to iPad without any data loss on iPad
Sync photos from iPhone to iPad without iTunes or iCloud
Now, click the button below to safely download and install EaseUS MobiMover Free on your computer, then follow the steps to learn how to copy photos from your iPhone to iPad within minutes. For more tips on managing iOS content, go to the how-to articles page to find what you need.
Step 1. Connect both of your iOS devices to your computer (Mac/PC). Launch EaseUS MobiMover, and choose "Phone to Phone" on the screen. Correctly set the source device and target device, and click the "Next" button to continue.
Step 2. Check the category/categories you want to transfer from your iPhone to iPad or from iPad to iPhone. As you can see, in addition to photos, you can also copy videos, audios, contacts, messages, and more between your iPhone and iPad.
Step 3. After checking the settings, click the "Transfer" button to start transferring photos from your iPhone to iPad or iPad to iPhone. When it has completed, go to the "Photos" app on your target device to check the newly imported items.
EaseUS MobiMover allows you to efficiently download photos from iPhone to iPad using the USB cable. If you just want to copy several pictures, you may try the wireless AirDrop, iCloud, or Email solution listed below. Move on and check details.
Part 2
How to transfer photos from iPhone to iPad wirelessly
Tip 1:

AirDrop

AirDrop is a built-in utility on the iOS devices to share data in a wireless way. You can use it to sync photos, contacts, notes, and videos. You can also use AirDrop to send data between Mac and iOS devices. Read the article on how to turn on AirDrop on Mac to learn how to make it.
Tips

AirDrop is the simplest way to help you sync a few files. If you have several hundreds of pictures to be exported, MobiMover in Part 1 is the most useful way.
Step 1: Open Control Center by swiping up from the bottom of the screen on your devices.
Step 2: Tap on AirDrop to turn it on and set your devices to be discovered by Contacts Only or Everyone.
Step 3: Go to Photos App on your iPhone and select the photos you'd like to transfer.
Step 4: Tap on the Share button and choose your iPad.
Step 5: Click Accept on your iPad to begin to transfer photos from iPhone to iPad.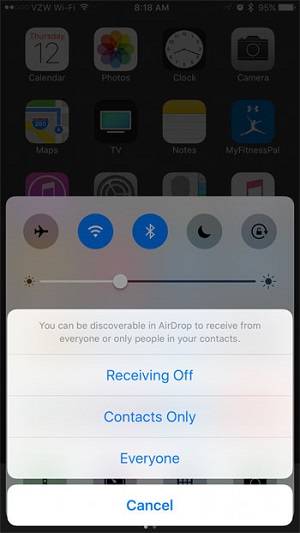 Tip 2:

iCloud

iCloud enables you to sync the photos on all your iOS device without using USB cable as long as you have signed in with the same iCloud account. Connect your iPhone and iPad to Wi-Fi and perform the following steps on both of your devices.
Notice

iCloud offers limited 5 GB space to update and restore data for free. If your photos are larger than 5 GB but you don't plan to purchase more. MobiMover is a good choice as it cost no money to transfer files unlimited.
In iOS 10.2 or earlier:
Step 1: Go to Settings and click iCloud.
Step 2: Tap on Photos and toggle on My Photo Stream.
In iOS 10.3 or later:
Step 1: Open Settings.
Step 2: Tap on your name and go to iCloud.
Step 3: Go to Photos and switch on Upload to My Photo Stream.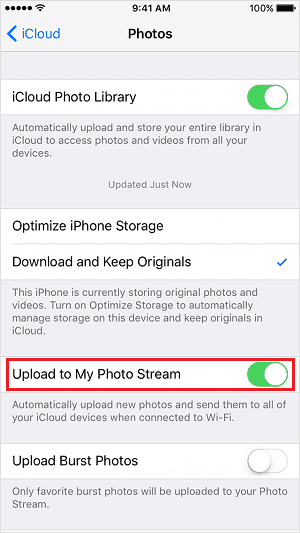 Tip 3:

Email

This method requires you to have the Mail app configured on both your iPhone and iPad. And please remember that, if you use Email to send too many photos, it will be a very slow and long process. If you have no enough time to wait for it accomplishes, it's better for you to use the method in Part 1 to do it quickly.

Step 1: Open the Photos app on your iPhone. Select photo(s) you want to send to your iPad.
Step 2: Tap the Share button in the lower-left corner of the screen. Choose Mail and this will open a new screen allowing you to log in your email.
Step 3: Enter your own email address and tap Send.
Step 4: Open the Mail app on your iPad. Find the new email message in the Inbox.
Step 5: Open the photo. And then press and hold on the image. Tap Save Image and you can have the photos on your iPad.
Words in the end
All the above four tips can help you transfer photos from iPhone to iPad with or without lightning cables. You can choose the best solutions based on your own needs. What we want to emphasize is when you have large amounts of photos to be transferred between iPhone and iPad, EaseUS MobiMover is the fastest, simplest and safest way you can rely on. If you have such needs, don't hesitate and try it anyway.